Cop killers & killer cops: Lives lost in US officer-involved shootings in 2016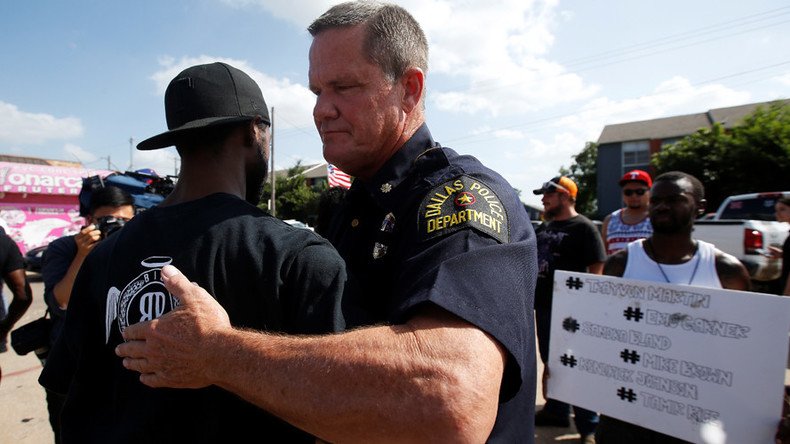 While the disturbing trend of officer-involved shootings continued to garner national attention in 2016, the year also saw a disturbing rise in police being murdered. Ambushes of cops shook the country, while protests over police brutality continued.
READ MORE: RT America's coverage of police-involved shootings in 2016
In 2016, at least 64 police officers were killed in the line of duty nationwide, according to statistics from the National Law Enforcement Officers Memorial Fund (NLEOMF). Cops killed more than 1,100 civilians over the course of the year, the vast majority in shootings, the open-source reporting project Killed by Police (KBP) found.
Blue lives ended
The back-to-back rampages targeting officers in Texas and Louisiana were the deadliest shootings of law enforcement this year, and seemed to usher in an era of ambushes. Late in the evening on July 7, Micah Xavier Johnson, a 25-year-old former Army reservist, opened fire on officers at a protest against police brutality in Dallas, Texas, using a sniper rifle. He killed five and injured seven law enforcement personnel as part of a planned attack before he was killed by a police robot bomb. Ten days later, Gavin Eugene Long, a former Marine who had reportedly been a Nation of Islam member at one point, killed three officers and injured three more in an ambush targeting law enforcement in Baton Rouge, Louisiana.
These were not the only ambushes of police at the beginning of July. In the early morning hours of July 7, a man armed with a rifle and a pistol and upset over officer-involved shootings of black men fired at civilians along Volunteer Parkway in Tennessee, in order to exchange fire with police responding to 911 calls. The next day, police officers were ambushed and shot in Valdosta, Georgia and the St. Louis suburb of Ballwin, Missouri. There was another spate of attacks on police on November 21, when four police officers were shot in Texas, Missouri, and Florida, one of whom died.
Multiple officers were also killed over the course of the year in unrelated attacks in California, Iowa, Maryland and Michigan. At least four attacks on police were stopped before they could happen, including Maine, Oregon and two threats in Louisiana.
Other police deaths that garnered headlines included that of Officer Ashley Guindon, who was killed in February while responding to a domestic violence call on her first day of work after taking the oath of office. In Arkansas, an early morning call in August led three law enforcement officers into an ambush. The suspect opened fire, killing one officer and injuring a sheriff – as well as a K-9 officer, a German Shepherd named Kina, who went missing for several days.
The 64 officer deaths in 2016 were above the 10-year average of 53 police shooting deaths and a 68 percent increase over last year, according to the NLEOMF. However, the highest number of shooting fatalities over the past decade was 73 officers in 2011.
Meanwhile, Americans' respect for police officers appeared to grow as the number of on-duty officers shot and killed rose. An October Gallup poll found that respect for law enforcement has reached its highest since the late 1960s, with 76 percent saying they have a "great deal" of respect for police in their areas.
Killed by police
The national focus on shootings of civilians by law enforcement skyrocketed after the August 2014 death of Michael Brown, an unarmed black teenager, at the hands of a white officer in Ferguson, Missouri. This year, roughly 100 fewer people were killed by police than in 2015, when more than 1,200 died at the hands of officers, according to the KBP database.
Several officer-involved shootings in 2016 made national top headlines, including Alton Sterling, Philando Castile, Charles Kinsey, Korryn Gaines, Terrence Crutcher and Keith Lamont Scott ‒ all of whom were minorities.
The back-to-back killings of Sterling in Baton Rouge on July 5 and Castile outside of Minneapolis, Minnesota on July 6 are what spurred the anti-police brutality protest in Dallas on July 7 where five officers were killed, as well as the targeting of officers in Baton Rouge later in the month.
In Louisiana, police responded to a 911 call that a man with a gun was selling CDs outside a convenience store. Upon arriving, one officer used a stun gun on Sterling, while a second tackled him. Sterling struggled with police, who shot him at least four times. The incident was captured on several cameras, but much of the investigation – including the autopsy results – has been clouded in secrecy. The following day, Castile was driving with his girlfriend and her four-year-old daughter when he was pulled over by an officer in the Minneapolis suburb of Falcon Heights for a broken taillight. When Castile told Officer Jeronimo Yanez that he had a legally permitted gun in the car, Yanez panicked and shot Castile several times in the chest. The girlfriend, Diamond Reynolds, streamed the aftermath of the shooting on Facebook Live. In November, Yanez was charged with second-degree manslaughter, with the county attorney saying that the "use of deadly force by Officer Yanez was not justified."
On July 9, four days after Sterling was killed and two days after the massacre in Dallas, police in Houston, Texas fatally shot Alva Braziel ten times after he reportedly pointed a gun at law enforcement.
The country was again horrified on July 18, when police in North Miami, Florida shot Kinsey ‒ an unarmed black man ‒ while he was lying on the ground with his hands raised, trying to prevent officers from shooting his patient, a man with autism who was sitting in the street and playing with a toy truck.
On August 1, just over three weeks after Sterling's death, Gaines was shot and killed during a live-streamed standoff with police in Baltimore County, Maryland; her 5-year-old son was shot and injured during the confrontation in which she pointed her shotgun at officers who arrived at her home to deliver a warrant for a failure to appear in court for previous traffic violations. Facebook has been heavily criticized for working with the police department to shut down Gaines' account and removed videos of the standoff from her page.
September saw another spate of officer-involved shootings over the course of 10 days. On September 11, police in Washington, DC shot and killed unarmed motorcyclist Terrence Sterling during an attempted traffic stop; his death prompted changes to the department's bodycam policy because the officers involved didn't turn on their cameras until after the shooting.
Five days later, in Tulsa, Oklahoma, Crutcher's car broke down. Two officers responded to a call of an abandoned car running. While video of their interaction with Crutcher appeared to show him complying with police commands, one officer tased him and Officer Betty Shelby shot him, saying she felt threatened and feared he was under the influence of PCP. Shelby was charged with first-degree manslaughter and released on $50,000 bail. A vial of PCP was found on the scene, and an autopsy later revealed the presence of the drug in Crutcher's system.
On September 20, police in Charlotte, North Carolina confronted Scott after they said they saw him in possession of marijuana. He was holding a gun and refusing to comply with commands, according to the officers – although his wife, who was present, said he didn't have a gun and had just taken medication for a traumatic brain injury. Despite her pleas, which she recorded and later released, police fired four shots at Scott, killing him. Authorities have declined to charge the officers involved.
A week later, in El Cajon, California, police shot and killed Alfred Olango after he pointed a vape smoking device at them. During protests after Olango's death, a bystander was shot in the face by a beanbag round fired by law enforcement.
Other fatal officer-involved shootings made headlines because of their context. In January, the armed occupation of Malheur Wildlife National Refuge culminated with an Oregon State Trooper shooting one of the leaders of the anti-government group, Robert 'LaVoy' Finicum, in the back a total of three times, one of which pierced his heart. The shooting was ruled as justified, although Finicum's family has accused the FBI, which was involved in the shooting, of a cover-up.
In May, the chief of the San Francisco Police Department in California resigned after an officer-involved shooting.
Some officer-involved shootings clearly occurred during situations that saved lives of bystanders, including a University of Colorado cop who killed a man who began slashing people with a machete after driving his car into a crowd; officers in Azusa, California who fatally shot a gunman who had been binging on cocaine or methamphetamine before going on an Election Day shooting rampage; and an Oklahoma police sniper who took out an armed suspect in a kidnapping-and-hostage situation.
Effects of officer-involved shootings
At least two officers got in trouble for not firing their weapons at suspects. In May, Officer Stephen Mader was fired from the Weirton Police Department in West Virginia for refusing to shoot an armed black man who appeared to be trying to commit "suicide by cop." Two other officers eventually killed the man. The second occurred in October in Chicago, Illinois, when a female police officer was beat up by a suspect and refused to shoot her attacker because "she didn't want her family or the department to go through the scrutiny the next day on national news."
Reports looking at officer-involved shootings offered stark findings: Despite a study that found police are far more likely to shoot unarmed black men compared to whites or Latinos, and another that found about two-thirds of during arrests over a one-year period can be considered homicides, officers avoided federal civil rights charges in 96 percent of cases in which they were accused of violating someone's civil rights over the course of 20 years, according to a third report. Despite the increased interest in officer-involved shootings, the names of one in five cops involved in fatal incidents are never released, and many police killings are ruled as justified without public knowledge.
Several high-profile cases involving officer-involved shootings from years before drew to a close in 2016. In April, more than 10 years after Hurricane Katrina struck Louisiana, five former New Orleans police officers pleaded guilty to shooting six unarmed civilians who were crossing Danziger Bridge in the wake of the devastating storm. That same month, the city of Cleveland, Ohio was ordered to pay $6 million to the family of Tamir Rice, a 12-year-old black boy fatally shot by police in 2014; the officers involved had already been cleared by a grand jury. In August, New York City agreed to pay a similar settlement of $4.5 million to the family of Akai Gurley, an unarmed African-American who was fatally shot in 2014 by a police officer in a Brooklyn housing complex. Although the officer, Peter Liang, was found guilty of second-degree manslaughter and official misconduct in February, a judge ruled in April that Liang would not have to serve any jail time. In October, the Minneapolis police chief announced that the officers who killed Jamar Clark, an African-American man shot in the head after a confrontation with police in November 2015, would not be disciplined. Prosecutors had already decided that the officers wouldn't face state or federal charges. In December, a judge declared a mistrial for the South Carolina officer charged in the April 2015 death of Walter Scott, an African-American man who was shot eight times as he tried to run away.
Federal and state governments have tried to stem the tides of both killings of police and of officer-involved shootings. The US Department of Justice announced in October that it would start collecting nationwide data on violent encounters involving police in 2017, while a bill introduced in Congress earlier in the year would cut public funding to police departments if officers don't avoid taking all steps possible before using their firearms. In Louisiana, a law went into effect that makes intentional attacks on police or first responders a hate crime; the Texas governor proposed a similar law in July. The Pennsylvania governor vetoed a bill that would have prohibited the release of officers' names for up to 30 days after a police-related death has occurred.
You can share this story on social media: