2 bailiffs, shooter dead after shots fired at Michigan courthouse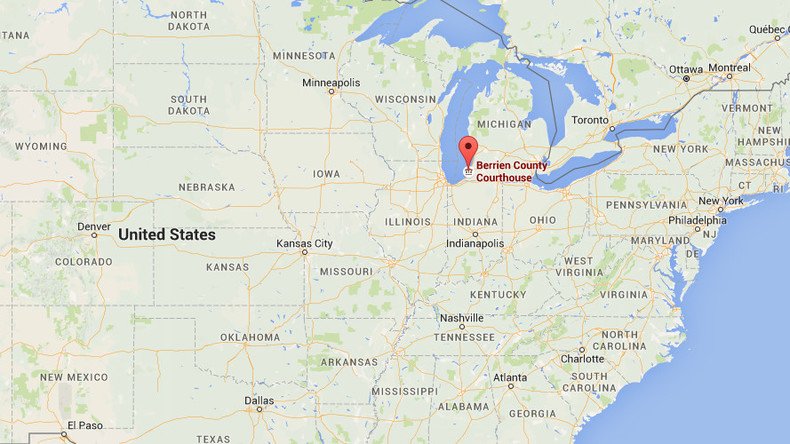 Two court bailiffs and the shooter are dead after shots were fired at the Berrien County Courthouse in St. Joseph, Michigan, according to the local police sheriff. A sheriff's deputy was also shot in the left arm and finger.
Two court bailiffs and the shooter were killed in the incident, Berrien County Sheriff Paul Bailey told reporters. Several civilians were also injured, but Bailey didn't know how many.
"Brave officers" took down the shooter, Bailey said.
A county commissioner told WBND that a man on his way to jail took a gun off a deputy and opened fire.
There is heavy police presence at the courthouse, according to Berrien County police dispatch.
The courthouse has been evacuated, WSJM reported. A three-block perimeter was set up around the courthouse.
The gunshots were first heard around 2:20 p.m. local time. By 3 p.m., the situation was under control, Berrien County Sheriff Paul Bailey told WSBT.
READ MORE Protests, outrage & grief in aftermath of fatal shooting of cops in Dallas
The incident took place outside the courtroom of Judge Charles LaSata, a witness told WSJM.
"They had a gentleman in there, in his jail greens and handcuffs," witness Mark Laukus said. "One of the sheriff's bailiffs took him into another hallway, and you heard a scuffle, you heard someone hit the floor. Then the courtroom bailiff went into that room, and you heard a gunshot."
Michigan State Police told RT their officers are on the way to the scene.
Victims were taken to Lakeland Hospital, and a chaplain has been called to the scene, WSBT reported.
You can share this story on social media: