Protests, outrage & grief in aftermath of fatal shooting of cops in Dallas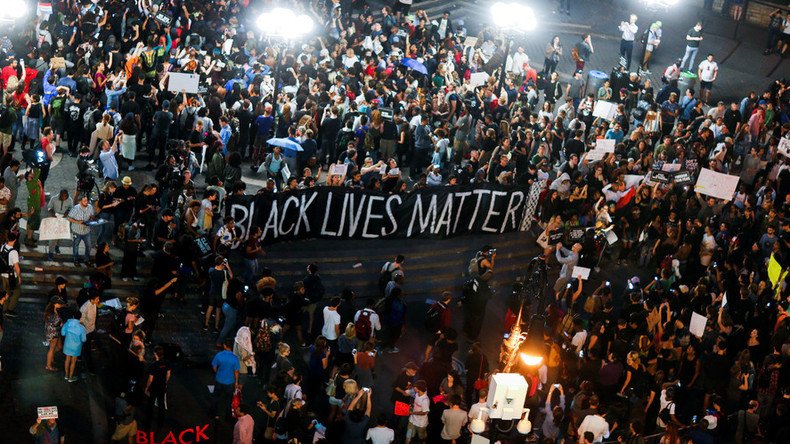 Five police officers have been killed in Dallas with a further seven injured. This followed mass protests that have been taking place following the fatal shooting of two black men, Alton Sterling and Philando Castile, by police.
12 July 2016

04:29 GMT

Protesters with Shut it Down NYC explained the situation that led to the arrest of four participants and the pepper spraying of five others.

Peter Soeller told RT that they began marching at 116th Street and 2nd Avenue in East Harlem on Monday, in order to spread awareness of Kathryn Johnston, a 92-year-old woman who was shot in her home in 2006 during a falsified drug raid.

Soeller described a heavy police presence that followed NYC Shut it Down's People's Monday demonstration. Although the group he was marching with had "60 to 80 people, maybe 100," they were followed by an estimated 30 members of the Strategic Response Group (SRG), a protest police unit.

Soeller explained that around 116th Street between Malcolm X Boulevard and 5th Avenue, people began being arrested.

"One person was arrested on a bike," Soeller said, "even though he was riding with traffic in the street."

It was around this time that Soeller felt his eyes burn and realized, "holy sh**, it's pepper spray."

Relief came when another person purchased a gallon of milk to use to treat the burning from the pepper spray. About five people were directly affected by the canister.

In total, four people were arrested at this specific demonstration. So far, two have been released.

Soeller plans to return next Monday.

01:44 GMT

Arrests have been reported in New York City, along with allegations of pepper spray use by the NYPD on protesters.

01:14 GMT

Protesters in Atlanta are reportedly nearing the governor's mansion in the Buckhead district, where there is a massive police presence.

01:00 GMT

In Atlanta, police began making arrests on some people protesting in the street. According to Jim Chambers, a local organizer for Black Lives Matter, the officers gave "no warning, no order," but "just grabbed a ton of folks."

11 July 2016

22:34 GMT

Shooter, a TV drama about a sniper, was set to premier on July 19, but the USA Network has decided "out of respect for the victims, their families and our viewers," to push it back a week, to July 26, according to the Hollywood Reporter.

Based on the 2007 movie of the same name, Shooter is about a US veteran sniper who must overcome false accusations to be reunited with his family.

16:43 GMT

The district attorney in Baton Rouge, Louisiana has recused himself from the investigation into the death of Alton Sterling.

Hillar Moore made the announcement Monday morning, citing a long-term personal and professional relationship with the family of one of the officers involved in the shooting.

The investigation will be conducted by the US Department of Justice.

DA Hillar Moore announces he'll recuse himself from the #AltonSterling case, cites relationship w Officer Salamoni's parents (both police).

— Bryn Stole (@BrynStole) July 11, 2016

15:42 GMT

Brown called on the public, including protertors, to ensure their safety and not be inconsiderate of the officers' safety. He said that Thursday march was unplanned, spontaneous and officers improvised to deal w/ that, block traffic.
"Democracy requires participation," Brown said.

15:35 GMT

"Me and my family have received death threats almost immediately after shootings," said Dallas police chief David Brown. He noted that
that everyone is experiencing a heightened awareness of people who i think aren't stable.

15:30 GMT

11 officers used their firearms, 2 officers used an explosive devise against the suspect in Dallas shooting, according to Dallas police chief.

He said that out of the 9 officers wounded, 4 were Dallas police, 3 were DART officers, 2 were community college police officers there at el centro.
One of the DART officers that was wounded fired his weapon.



14:39 GMT

Dallas gunman Micah Xavier Johnson was "disappointed" by his military experience, his mother, Delphine Johnson, told TheBlaze website

"The military was not what Micah thought it would be," his mother said. "He was very disappointed. Very disappointed."

He had turned from a fun-loving extrovert into a "hermit" after his return from a seven-month deployment to Afghanistan, she added.

"It may be that the ideal that he thought of our government, what he thought the military represented, it just didn't live up to his expectations," his mother said.