'He doesn't have a gun!' Keith Scott's wife releases footage of fatal shooting (VIDEO)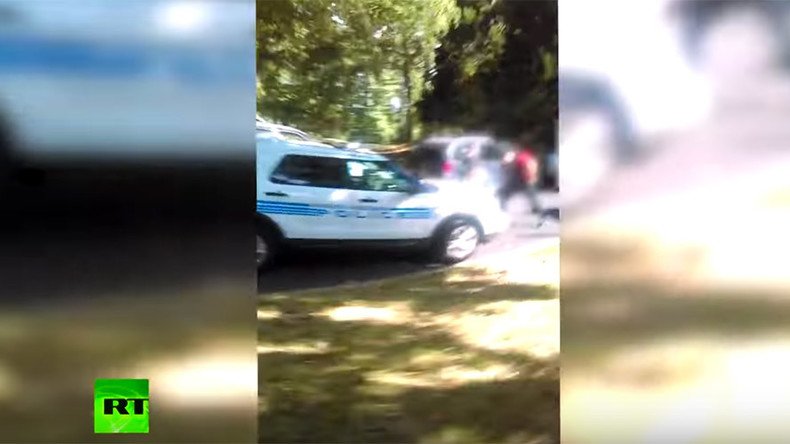 Keith Scott's family has released a video of police officers fatally shooting him that was recorded by his wife, who was talking to police from a distance. It was released to NBC News after law enforcement once again refused to release their footage.
Despite law enforcement's refusal to release any footage, Scott's family made the video recorded by his wife public.
"Don't shoot him! Don't shoot him! He has no weapon, he has no weapon," Scott's wife Rakeyia Scott says.
Officers then can be heard yelling in the background to drop the gun: "Drop the gun! Drop the f***ing gun!"
"He doesn't have a gun, he has a TBI [traumatic brain injury], he's not going to do anything. He just took his medicine," she tells officers.
Scott suffered the traumatic brain injury about a year ago, the family's lawyers have said.
Multiple officers can be heard telling Scott to drop the gun, as one yells either: "I'm about to get f***ing shot over here!" or "Can I get a f***ing baton over here?"

Scott's wife then tells her husband not to let police break the windows of the pickup truck, and begs him to "come on out the car."
"Keith, don't you do it!" Scott's wife yells several times, before at least four gunshots are heard.
"Did you shoot him? Did you shoot him? Did you shoot him? He better not be f***ing dead!" she screamed. "I'm not going to come to you, I'm going to record though!"
The wife then called 911 to report on the officers who shot her husband.
"He better live. He better live 'cause he didn't do nothing to them," she tells the dispatcher.
Authorities in Charlotte, North Carolina are refusing to make public the videos of the shooting despite strong public demands. Part of the reason that the Charlotte-Mecklenburg Police Department won't release the footage is because they have turned over the investigation to the State Bureau of Investigation (SBI), which will run an independent probe.
"A thorough investigation relies on multiple factors, and I can tell you one piece of evidence will never, ever make a good case," Charlotte-Mecklenburg Police Department Chief Kerr Putney told reporters Friday morning. "I know the expectation that video footage can be the panacea, and I can tell you that is not quite the case. There are a lot of other factors that have to support and corroborate even what you might visually see."
Although police won't release video they recorded, at least one of the officer's body cameras were working, Putney said. "I've seen it."
Charlotte Mayor Jennifer Roberts admitted that she initially thought that the police footage should be released in the name of transparency, but she changed her mind after realizing that not all eyewitnesses have been interviewed.
"If you have already seen something on the internet or wherever, it can cloud your memory, it can alter what you think you saw," Roberts said. "We want to have integrity in this investigation. We want those eyewitnesses to tell us without being led or have their memories changed by something else they heard or saw."
The family decided to release the cell phone video "was made in the name of truth and transparency," but are still hoping that the city or the police department will release the other videos from the scene, Charles G. Monnett, one of the attorney's for the Scott family, said in a statement.
"We encourage everyone to reserve judgment until all the facts are known. This is simply one step in our quest to find the truth for this family," Monnett said.
You can share this story on social media: