'Fed up & scared': Demonstrators speak to RT about Keith Lamont Scott protests (VIDEOS)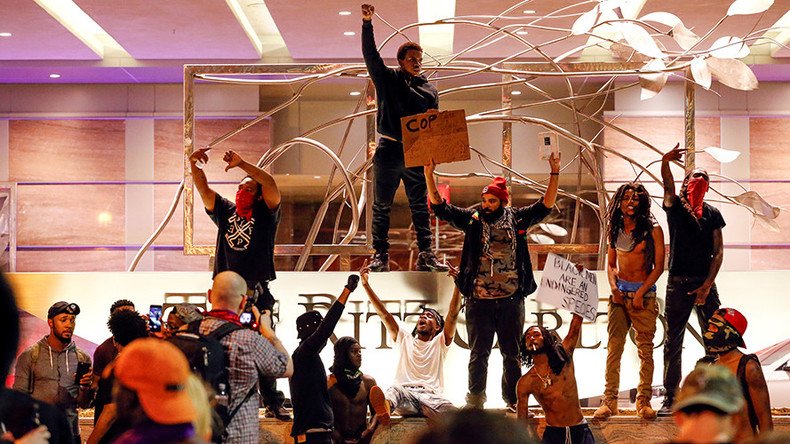 Protesters in Charlotte, North Carolina, have come out in force over the killing of Keith Lamont Scott because the black community is "fed up" and seeking answers, a demonstrator told RT. Some residents are calling for an economic boycott of the city.
READ MORE: 1 shot, troops deployed as police brutality protests turn violent in Charlotte
Speaking to RT from a protest in Marshall Park, demonstrator Tre Davis said he feels "scared" for his life because of the color of his skin.
"There's no reason I should wake up every morning scared for my life because I'm black...that's no excuse to be scared," he said.
Davis also said he doesn't understand why police brutality against black people continues to happen, even when the victims do everything that is asked of them by authorities.
"It complicates me [sic] and it confuses me that we do everything you guys ask us to do, we march with our hands up, we say 'No justice no peace,' we pray, we do everything – everything but violence. And what does that get us? A bullet to the back of the head," said Davis, who says he is friends with Scott's son.
Davis went on to state that the black community is "fed up" and "tired."
"My people, we've tried peace, we've tried everything, and it hasn't worked. So we're not angry, we don't hate anybody. We're confused. We want to know what's going on, we need answers."
But activist Hero Vincent, who also attended Charlotte protests, told RT that people are "upset and angry," particularly because no one seems to be listening to the community.
"In the past few years, you've seen a build-up of this aggression, and it's starting to come out in big, big protests...and because nobody is taking the time to actually hear and understand what our community is going through – whether it be the black community or the Charlotte community or wherever you may be, because it's happening all over the country. It doesn't seem like there are actual actions taking place to make substantial changes within our community."
"Because nobody seems to be listening or trying to hear or understand what our plight may be, it comes out in this form of expression – whether it be self-destruction or destruction in the streets."
Vincent stressed that the majority of protesters don't want violence or destructive behavior at the protests, but a "select few people" have gone down that road because they "couldn't express in an articulate manner how they were feeling, so it just came out in that way."
Speaking to RT about those who may say the issue of racism doesn't exist in the Scott case because the officer who shot him was also black, civil rights activist Perry Redd said he is "totally insulted" by that sentiment.
"The fact of the matter is that black people execute the acts of race and racism on behalf of a white establishment, of a system that's designed to fail, so it cannot be excused in any way, shape or form. A bullet is a bullet. And it doesn't matter if it comes from a black male or if it comes from a white one. The fact is the system is what's oppressive."
Meanwhile, some members of Charlotte's black community have rallied for an economic boycott of the city, with BJ Murphy from the black nationalist political and religious organization Nation of Islam saying in a press conference Wednesday: "...So what I'm calling for, and what we're calling for, is an economic boycott of the whole city of Charlotte. Since black matters do not matter for this city, then our black dollar shouldn't matter."
Graylan Scott Haglar of the Plymouth Congregational United Church of Christ told RT that while such a tactic can be used, it needs to be a targeted approach.
"The fact is that when you begin to focus on a strategy like boycott, it has to be targeted, it has to be clearly defined, and you also have to bring along the populace with you to begin to apply pressure. I think that some of the calls for boycott have been so nebulous, that there is clearly very little focus and therefore it's not lasered in the way that it needs to be lasered to be most effective, and so that's one of the tools we do use, but I think we have to be strategic on how it's used and basically be able to articulate the ways for using it, on whatever particular entity it's used on," he said.
You can share this story on social media: