'He only did what police asked him to do': Girlfriend's emotional statement on Castile shooting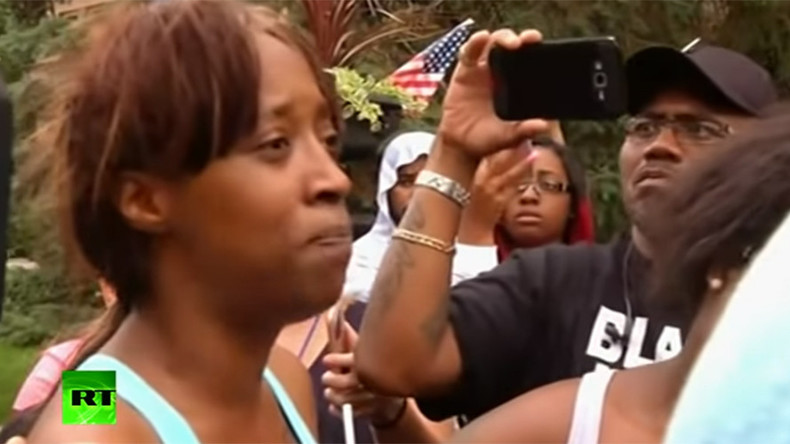 Diamond Reynolds, girlfriend of Philando Castile who was shot by police in Falcon Heights, Minnesota, has made a powerful statement about the details of her partner's death, and her treatment after the fact.
Speaking at a conference on Thursday morning, Reynold expressed anger at the conduct of the police, and called on Governor Mark Dayton to get more involved with police officers, "who have mental problems."
"When they're coming out here to serve and protect, they're not here to serve and protect, because they're damaged from all the past and previous people that they killed," she said.
Reynolds gave details of the on Wednesday night encounter with police that led to Castile's death. After pulling the couple over for "allegedly what was supposed to be a broken taillight", the police officer asked the couple to put their hands in the air.
"My boyfriend carries all his information in a thick wallet in his right side back pocket," Reynolds explained. "As he's reaching for his back pocket wallet he lets the officer know, 'Officer, I have a firearm on me.' I begin to yell, 'But he's licensed to carry.' "
After that, the officer began to shoot, saying "Don't move", Reynolds detailed. "It's either you want my hands in the air, or you want my information."
Reynolds' four year-old daughter was in the backseat at the time. "He killed him in front of us for no reason." she cried. "Without this little angel by my side, I would never have been able to make it through this."
The mother described her late boyfriend and "best friend" as quiet, laidback and loving. "Nothing within his body said intimidation, nothing within his body language said, shoot me."
"He did not do nothing but what the police officer asked of us," she said.
Castile, a public school cafeteria supervisor, died of his injuries at Hennepin County Medical Center on Wednesday.
Reynolds had streamed the aftermath of the shooting on Facebook Live on Wednesday, showing Castile bleeding out as the officer continued to point his weapon at him.
Reynolds delivered an impassioned and scathing attack on police brutality and corruption.
"They're taking innocent people away from their families, they're taking people off the streets, and it's not okay," she said.
"They tamper with evidence, they took me off the scene. I was not allowed to talk to anybody, and up until 5 o'clock this morning when they dropped me to my doorstep."
Reporters told her police said she had been released, which she denied. "I was not released. My name is Diamond Reynolds, and I was not released until 5 o'clock this morning, when I arrived at my house in with two squad cars."