No federal charges for officers in Jamar Clark shooting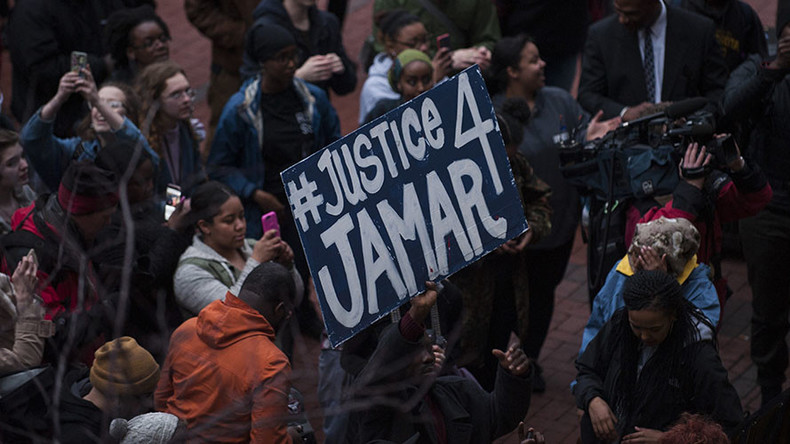 Two Minneapolis, Minnesota police officers won't face federal charges in the shooting of an African-American man. The November death of Jamar Clark resulted in 18 days of protests outside a police precinct and a march that shut down the Mall of America.
An independent federal investigation "found insufficient evidence to support federal criminal civil rights charges" against Minneapolis Police Department Officers Mark Ringgenberg and Dustin Schwarze, US Attorney Andrew Luger announced Wednesday.
Interviews with 29 witnesses to the shooting "do not provide any consistent narrative that establishes the details of exactly what happened" between the officers and Clark, Luger said in a statement. None of the witnesses were close enough to see what happened, while the video from the ambulance that partially caught the confrontation seems to corroborate Ringgenberg's version of events, the federal official added.
Clark was shot in the head on November 15 in North Minneapolis, following a confrontation with the officers. The police were called by paramedics who said that Clark was obstructing their efforts to render aid to a woman that claimed he had assaulted her.
Several witnesses testified that Clark had been handcuffed at the time he was shot. According to Hennepin County Attorney Mike Freeman, however, there was no evidence Clark had been handcuffed at any point, and his DNA was found on the grip of Ringgenberg's gun.
Freeman declined to press charges against the officers in March. With the Department of Justice declining to prosecute, Ringgenberg and Schwarze are facing only an internal review at this point.
Officers testified that they had struggled with Clark and attempted to handcuff him when he reached for Ringgenberg's service weapon and was shot in self-defense.
Black Lives Matter protesters picketed the MPD's Fourth Precinct for 18 days before their encampment was dismantled.
Hundreds of protesters rallied at the Mall of America on December 23, defying a restraining order and forcing the shopping center to shut down for several hours. The protest spilled over to the nearby MSP International Airport, shutting down one terminal and delaying flights.