Baton Rouge man arrested for videos threatening police & former KKK grand wizard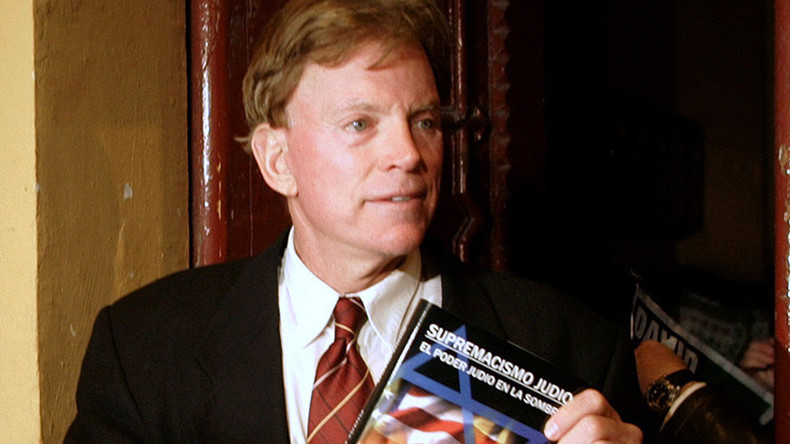 A Baton Rouge man has been arrested for posting threatening videos on YouTube targeting police and David Duke, a candidate for US Senate and former KKK grand wizard. The suspect has been charged with terrorizing and cyberstalking.
Online records show Anthony Moore was being held in the East Baton Rouge Parish Jail on Thursday charged with terrorizing and cyberstalking, according to WAFB.
Police said Moore, 22, was arrested on Wednesday after investigators were made aware of two YouTube videos. One allegedly threatened violence against Baton Rouge police, while another allegedly made a threat against former Ku Klux Klan leader David Duke, who is running for the US Senate in Louisiana. State Troopers said the videos were posted on July 6 and July 23.
"I am killing for that man, straight up, I am stepping for that man," Moore said, according to the arrest affidavit, reported WAFB. "I don't know you, dude, but I am stepping for you out the gate man, 'cause y'all wrong for that, ya heard me."
The report said the suspect referred to Alton Sterling, but investigators did not indicate to whom the video was directed, only saying that the suspect was pointing a gun at the camera while speaking.
Troopers said Duke was named as a target in the second video.
"Look, if David Duke 'comes senator for Louisiana, bro, I am killing this man. I am going to do it," the suspect said, according to the report, as cited by WAFB.
The arrest report said the speaker identified himself as Ant Honcho. Troopers said they learned "Ant Honcho" was Moore's nickname.
Sergeant Jared Sandifer said there is no evidence that Moore actually plotted to carry out attacks, according to the Associated Press.
Moore's bail has been set at $15,000.