Charles Kinsey shooting exposes troubled department, police union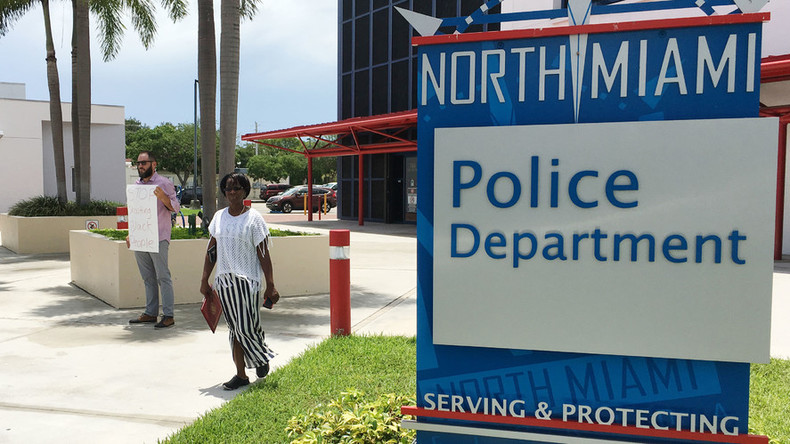 Charles Kinsey was lying on the ground, face up, with his hands in the air, when he was shot by a police officer. Now a closer look at the North Miami Police Department shows systematic negligence and improper training, falling short of state standards.
Charles Kinsey was shot in the leg by Jonathan Aledda, a member of the SWAT team who had spent four years as a law enforcement officer. In September 2013 and October 2014, Aledda had been named the North Miami Police Department's officer of the month. However, a deeper look into the department shows that perhaps that title is not as honorable as it sounds.
During a three-day inspection by the Florida Commission on Law Enforcement Accreditation in April, problems were found in everything from record-keeping to training to even having the proper equipment, the Miami New Times reported.
Accreditation is optional for police departments, but it is a symbol of meeting the highest standards and practices required of law enforcement. It is something of a trophy for agencies, the Miami Sun Sentinel reported.
Nevertheless, what the commission (comprising three officers from other departments), discovered was alarming. The inspectors went to the North Miami Police headquarters, and upon reading the station's records, opened a can of worms.
An excerpt from the assessment report reads, "The assessment team worked with the agency to bring as many of their files into compliance in order to meet accreditation requirements. However, due to the length of time this took, it inhibited the assessment team from spending adequate time with personnel and reviewing agency facilities."
Additional issues discovered by the inspectors included an officer relying on a Taser with a cartridge that had expired in November 2014.
"This did not appear to be a systemic problem, and the member's cartridge was immediately replaced," the assessment notes.
But that was not the only issue with Tasers. The department admitted to not having run Taser training in two years and their Taser instructor's certificate had expired.
Additionally, "community notification for sexual predators conducted were not in compliance with the statutory requirements of F.S. 775.21 as they did not include any demographic information, a description of the crime for which the individual was convicted and classified as a sexual predator, nor any indication if the victim of that crime was an adult or a minor."
Evidence was also mishandled as jewelry, money and drugs were not given the extra security measures required by the commission, but rather were "commingled with other evidence associated with specific cases."
The report notes, "Due to the fact that many standards were uncompleted and inconclusive, the numbers of non-compliance or corrective actions were unknown." It goes on to say, "The team had made a recommendation to the Executive Staff to consider withdrawing from the process until all standards could be brought into compliance."
Then North Miami Police Chief Leonard Burgess resigned following the inspection on May 2, citing a desire to spend more time with his family. The report was released on May 23.
Current Police Chief Gary Eugene took over from there, but played down the importance of the evaluation, telling the Miami New Times, "It's too early to say there's any connection," adding, "Maybe so. But of course the [Florida Department of Law Enforcement] is investigating, and if they find any information that our training was at fault, that will come out in their work."
Aledda was placed on paid leave earlier this week, shortly after the release of the video.
However, on Friday, his Commander Emile Hollant was suspended without pay for "conflicting statements given to the investigators," North Miami City Manager Larry M. Spring Jr told reporters at a news conference.
In a month marked with high tensions between law enforcement and the public, particularly the black community, the shooting of Charles Kinsey felt especially egregious to many who viewed the video.
The video was recorded with a cellphone and shows Kinsey lying on his back with his arms in the air. Next to him was a man with autism who had wandered away from the group home where Kinsey worked as a behavioral therapist.
As the man played with a toy truck, Kinsey shouted to the police, "All he has is a toy truck in his hand," and "That's all it is. There is no need for guns."
Despite this, Aledda fired three shots, one of which hit Kinsey in the leg.
The Miami Dade County Association of Chiefs of Police blamed the backlash on the news stories of the shooting, calling it "sensationalism."
John Rivera of the Dade County Police Benevolent Association advised journalists to, "be responsible," and asking the community "to please allow facts – not sensationalism, not politics – facts to allow to work their way through the system."
"It appeared to the officers that the white male was trying to do harm to Mr. Kinsey," Rivera told reporters. "The officers, realizing and believing that there was a firearm — many officers thought the white male had a firearm. Only much later, when we're able to 'Monday-morning quarterback,' do we find out that it's a toy."
Hilton Napoleon, Kinsey's attorney, found that hard to believe.
"I don't understand if he's aiming at the autistic kid, how he could miss," Napoleon told the Miami Herald, adding that "he had plenty of time to tell my client to move."
Javier Ortiz, head of the Miami Fraternal Order of Police, took to Facebook to call the shooting "sensationalism at its best."
Ortiz is currently facing a lawsuit over the wrongful arrest of a security guard who was pulled over by another officer, but refused to have his car searched without a warrant. The officer called for his supervisor, Ortiz, who handcuffed him and searched the car.
The security guard, Ruben Sebastian, was arrested for resisting arrest and reckless display of a firearm after police recovered the weapon he used for his job – despite having a concealed-carry permit, the Miami New Times reported.
This is not the first time that Ortiz has been in the news. In February, he called for a police boycott of Beyonce's Formation concert in Miami because of her Superbowl performance.
Prior to that, he was known for doxing - searching for and publishing personally-identifiable information - a woman who had the audacity to question a police officer for speeding. Before that, he had taken to Twitter to say Tamir Rice was a thug. Rice was a 12-year-old who was shot by police for holding a toy gun in a park in Cleveland.
In August 2015, he criticized Marilyn Smith, a woman who posted a video of Miami police beating a man in handcuffs. Smith claims that police tried to knock her cellphone out of her hands and demanded that she delete the video.
Ortiz responded to the incident in a press release, saying, "What is extremely concerning is that the poster of this video (aka Facebook Marilyn Smith) has photographs of her with young men armed with handguns. It seems that no one cares to address this."
Horacio Stuart Aguirre, chairman of the Civilian Investigative Panel – a group that conducts reviews and investigations into the Miami Police Department's use of force policies, said of Ortiz, "In his mind, any time a cop fires a gun, it's justified."