Bullet that struck Charles Kinsey meant for client w/ autism – police union head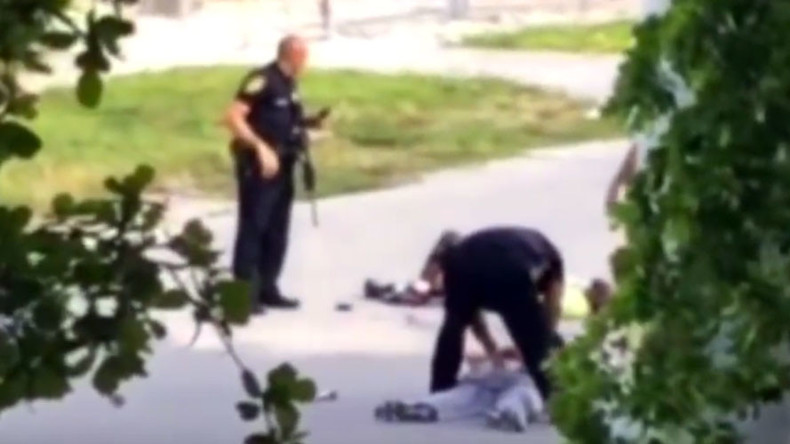 The North Miami police officer who shot unarmed mental health worker Charles Kinsey did so accidentally – he was actually aiming at Kinsey's autistic charge who was holding what turned out to be a toy truck, the police union representing the officer said.
The North Miami, Florida officers whom Kinsey encountered thought that his life was in danger because his 23-year-old charge, "Rinaldo," was holding an object thought to be a gun in his hands, John Rivera, president of the Dade County Police Benevolent Association, said during a Thursday press conference.
An officer aimed at Rinaldo, who has autism, and fired three rounds from a rifle, but ended up wounding Kinsey instead, Rivera said.
Cell phone video of the incident shows Kinsey lying on his back with his arms stretched in the air, repeatedly explaining the situation and asking officers not to fire, but Rivera says that officers couldn't hear his pleas.
"Mr. Kinsey did everything right," Rivera told reporters at the union's offices. "What the officer didn't know [were] the white individual's intentions. He thought Mr. Kinsey was about to be killed."
Rivera called the press conference in order to dispel fears that the Monday incident was another example of a police officer shooting a black suspect for no reason.
"Folks, this is not what the rest of the nation is going through," Rivera said.
"This is not a case of police abuse. This is a case where a police officer was trying to save Mr. Kinsey's life and unfortunately his shot went astray," he added.
Despite the incident making national and international news, the North Miami Police Department hasn't said much on the matter. During a brief Thursday press conference, Chief Gary Eugene said only that a 30-year-old Hispanic male who had been with the department for four years had been placed on administrative leave, indicating that was the officer who fired the bullets.
The officer was later identified as Jonathan Aledda.
Rivera asked the public to wait for the investigation to be complete before jumping to conclusions about the officer and the police department, and read a statement that the officer in question sent via text message.
"I took this job to save lives and help people," the text said. "I did what I had to do in a split second to accomplish that and hate to hear others paint me as something I am not."
Retired US Marshal Matthew Fogg told RT America that that the officer probably fired the shots because he panicked.
"A lot of this situations it seems like officers just overreact," Fogg said. "It comes down to these instant decisions that officers make when there's no life-threatening situation at hand."
"But [Rinaldo] wasn't even aiming it," Fogg added, referring to the toy truck he had in his hands.
Kinsey is currently recovering from the bullet wound in a local hospital.