Fla. police shoot unarmed therapist lying on ground beside patient w/ autism (VIDEOS)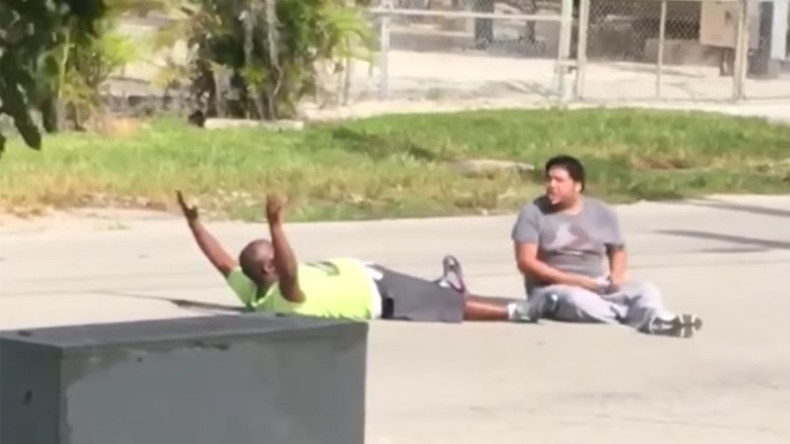 Cellphone footage has surfaced of the moments leading up to the police shooting and arrest of an unarmed caretaker in Miami as he lay on the ground with his hands in the air.
Charles Kinsey, a behavior therapist at a mental health center, was helping his 23-year-old patient with autism who had run away from a local group home when he was approached by police, the Miami Herald reports.
Officers had received a call regarding a suicidal man with a gun in the area, who turned out to be Kinsey's patient wielding a toy truck.
Kinsey was filmed repeatedly trying to explain the situation to officers as he lay on the ground with his hands in the air.
However, when the man with autism didn't comply with police orders to lie down, a Miami officer reportedly fired his assault rifle three times, hitting Kinsey once in the leg.
READ MORE: Arizona police shoot dead transgender man with Asperger's syndrome
The video was obtained by Kinsey's attorney Hilton Napoleon and aired by WSVN on Wednesday. In an interview with the news channel, Kinsey, 47, said he asked the officer why he had shot him and the cop responded: "I don't know".
After he was injured, police proceeded to turn Kinsey onto his stomach and cuff him as he lay wounded on the street before being transported to Jackson Memorial Hospital.
"Arriving officers attempted to negotiate with two men on the scene, one of whom was later identified as suffering from autism," the North Miami Police Department in a statement.
"At some point during the on-scene negotiation, one of the responding officers discharged his weapon, striking the employee."
The officer involved has been placed on administrative leave, KTLA5 reports.
Assistant Police Chief Neal Cuevas said he didn't know who the unnamed officer was aiming for when he hit Kinsey and added that the investigation has been turned over to the Miami-Dade State Attorney's Office.
READ MORE: 'Hate cops?': Billboard advising 'call a crackhead' provokes outrage
Miami-Dade State Attorney Katherine Fernandez Rundle said in a statement Thursday that her office has launched an investigation into the shooting "to determine whether the actions of the shooting officer constitute a criminal act that can be proven beyond and to the exclusion of every reasonable doubt."
"We will release detailed information about all of the evidence once our investigation is complete," she added.
At a press conference, North Miami Police Chief Gary Eugene stressed that department is committed to transparency.
"There is a process dictated by law and we are following that process. Let me add by saying that I can assure you our department is committed to keeping the community safe," Eugene said. "As your newly appointed police chief, and with my team in place, transparency and justice for all will be the law as we're moving forward."
The chief would not identify the officer who fired the shot, referring such questions to the Florida Department of Law Enforcement, which has taken over the investigations.
You can share this story on social media: