'Hate cops?': Billboard advising 'call a crackhead' provokes outrage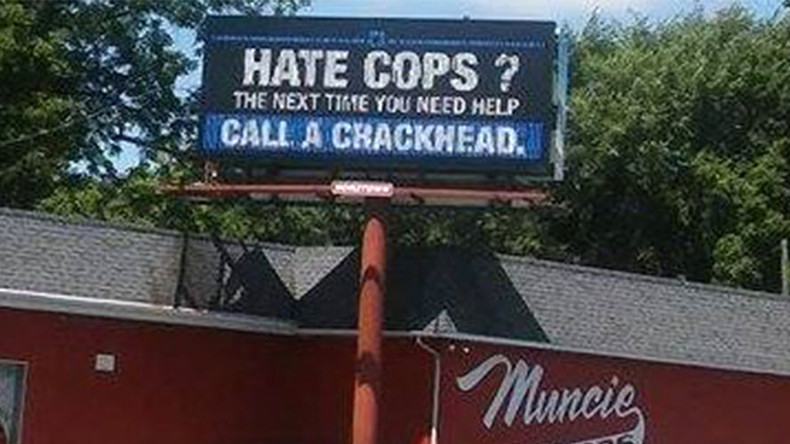 With the recent spate of deadly shootings both police-involved and against officers, an electronic billboard reading, "Hate cops?" in Muncie, Indiana, left at least one local resident dismayed. Offended, she posted a photo to Facebook, stirring more controversy.
In its entirety, the billboard reads, "Hate cops? The next time you need help call a crackhead."
Muncie resident Megan Thomas noticed the sign on Saturday, when she was walking with her niece.
She questioned whether taxpayer dollars had paid for the sign.
"This outrageously offensive and covertly racist sign says 'HATE COPS? The next time you need help CALL A CRACKHEAD,'" Thomas stated.
"We have no local in-patient addiction treatment center, yet we have money for this?" she added.
Read more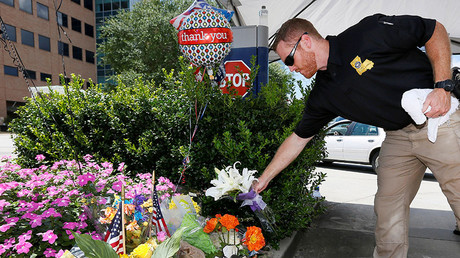 As of Tuesday afternoon, her post had over 1,000 shares.
Thomas Muncie Star Press she was offended by a message, which she described as "vulgar, discriminatory to many different classes of people in our city," and that the sign had appeared just before the start of a planned demonstration against police brutality a few blocks away.
"I was very ashamed that something so dividing was present in Muncie," Thomas said on Sunday.
As of Sunday morning, the billboard featured just a series of ads for car dealerships, a local restaurant, the city bus system and Hometown Outdoor Advertising, the company that owns the electronic billboard.
A sign reading "Love, Respect, Support Law Enforcement" appeared on the electronic billboard on Monday.
Muncie Police Sgt. Chris Kirby wrote on Facebook that the city, the police department and the Fraternal Order of Police were not connected to the sign, according to local newspaper The Star Press.