'Threat and shooter bias': Study shows US police fatally shoot unarmed black men in greater numbers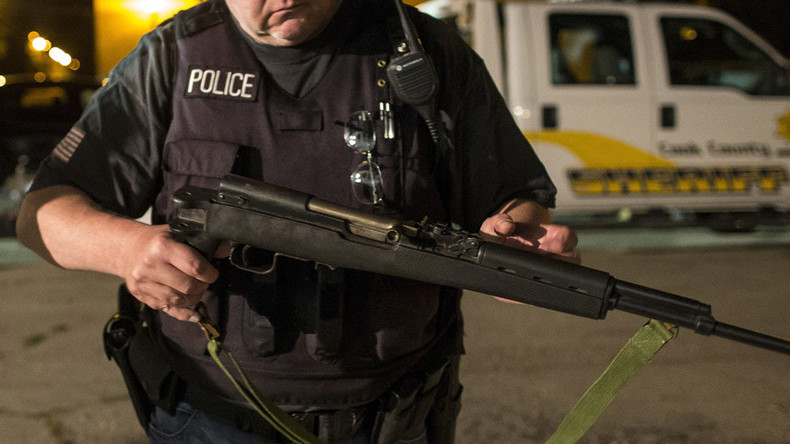 Race looms large when it comes to police shootings, as a new study finds a greater number of unarmed black men are shot compared to whites or Latinos. Blacks were also less likely to have been attacking when fatally shot than their white counterparts.
Black men accounted for 40 percent of the 93 fatal police shootings of unarmed people in 2015, according to a new study from the University of Louisville and the University of South Carolina.
According to the report, 38 of those killed were black men, 32 were white, and 18 were of Latino descent.
"The only thing that was significant in predicting whether someone shot and killed unarmed was whether nor they were Black," said Justin Nix, one of the report's authors and a criminal justice researcher at the University of Louisville, told The Washington Post.
"Crime variables did not matter in terms of predicting whether the person killed was unarmed," Nix added.
Researchers took into account mental illness, whether the victim had been attacking the police, and what the crime rate was in the neighborhood where the shooting took place.
Black individuals shot and killed by police were less likely to have been attacking police officers than white individuals, the study found.
"This just bolsters our confidence that there is some sort of implicit bias going on. Officers are perceiving a greater threat when encountered by unarmed black citizens," Nix told The Post. "In other words, the police – who are trained in the first place to be suspicious – become conditioned to view minorities with added suspicion."
The report, entitled "Fatal Shootings by US Police Officers in 2015: A Bird's Eye View," will be shared this week with members of the Major Cities Chief Police Association, which includes officials from departments in the 50 largest cities and metropolitan areas, according to The Washington Post.
Researchers are hoping the report will encourage better training of police officers in order to reduce bias.
The study's data was compiled by The Washington Post and the Guardian's"The Counted," a tallying of police shootings. No US government agency maintains a similar listing. There were 990 fatal shootings in 2015, according to the data.
"For the first time in history the media has better data than the researchers," said Geoffrey Alpert, a criminal justice professor at the University of South Carolina and one of the report's authors.
Alpert said the Post's data was limited, as it only covered one year and did not include information about non-fatal shootings by police.
In the first three months of 2016, there were 260 fatal shootings, in which 12 percent of blacks killed by police were unarmed compared to 6 percent of whites, according to The Washington Post.
You can share this story on social media: