Texas governor makes bid to extend hate crime protections to cops in Police Protection Act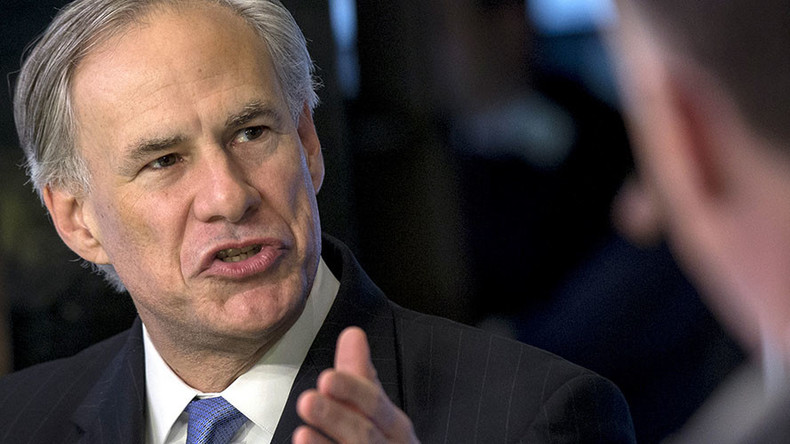 Texas Governor Greg Abbott is pushing for the introduction of stronger penalties for crimes against police officers and extend hate crime protections to cops through his Police Protection Act, he revealed Monday.
The proposed law would make it a hate crime if someone acts criminally against a cop out of bias against police. It would also increase penalties for all crimes against law enforcement regardless of whether it falls under the label of hate crime.
An assault on an officer, which is currently a third degree felony, in line with assaults on other public servants, would be bunked up to a second degree felony under the proposed legislation.

Republican Governor Abbott's bill comes in the wake of the fatal shootings of five police officers in Dallas, Texas earlier this month and a surge, generally, in violence against police.
READ MORE: 'Striking that killing of US police officers happened in Southern states'
Three more policemen were killed in Baton Rouge, Louisiana Sunday, less than two weeks after police in the area shot dead 37-year-old Alton Sterling. His killing, which was captured on video, along with the police shooting of Philando Castille triggered protests and subsequent violence against the force.
"While our state and the nation continue to mourn the heroes lost in Dallas, it is time for us to unite as Texans to say no more," Governor Abbott said in a statement.

"The men and women in uniform risk their lives every day to protect the public, and it is time we show them the State of Texas has their back. Texas will no longer tolerate disrespect for those who serve, and it must be made clear to anyone targeting our law enforcement officials that their actions will be met with severe justice," he continued.
Abbott also proposed launching a campaign to educate young Texans on the value police officers bring to their communities and foster a culture of respect for the force.

The bill has been praised by a number of law enforcement organizations across the state including the Texas, Houston and Dallas police associations as well as the Sheriff's Association of Texas.
"Every Texas Sheriff feels this should be a precedent for the leadership in other states to follow, and we support our Governor," said Grimes County Sheriff and President of the Sheriff's Association of Texas, Donald Sowell.
Governor Abbott signed the Texas Open Carry Bill for Concealed Handgun Holders, which became effective from the start of this year, into law last June.
READ MORE:Right to 'bare' arms: Open carry to become legal in Texas
He has been a vocal critic of President Obama's proposals on gun control even posting a defiant tweet last January in response to Obama's plans for executive actions on firearms.
Abbott will seek to pass his Police Protection Act in next year's legislative session.