Baton Rouge shooting: 3 police dead & 3 injured, shooter dead – LA superintendent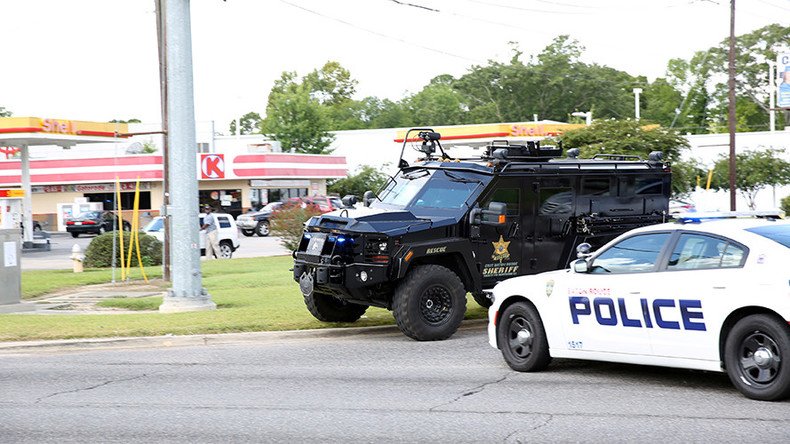 Three police officers are confirmed dead and three injured in a shooting on Airline Highway near Old Hammond Highway in the state capital of Baton Rouge, Louisiana. The suspected gunman was killed, state police superintendent said.
UPDATE: Baton Rouge shooter identified as former marine, reportedly ex-Nation of Islam member
The attack was a lone-wolf incident, Colonel Mike Edmondson, the Superintendent of the Louisiana State Police said at the press conference following the incident, according to Reuters. The active shooter situation declared in Baton Rouge on Sunday has come to an end, the gunman is dead, he added.
"We do not have an active shooter scenario in Baton Rouge," Edmonson said.
Louisiana authorities will hold another press conference regarding the Baton Rouge shootings at 1pm CDT (1800 GMT) on Monday, Reuters reported.
According to earlier reports, police believed there could have been at least two more suspects on the loose.
Three officers out of five transported to Our Lady of the Lake Hospital have died from their injuries. Two others remain in hospital, with one being in fair condition and the other in a critical state, according to WAFB and Reuters. The condition of the third policeman transported to the hospital remains unknown.
The Baton Rouge police department reportedly used a robot to check the area for explosive devices.
"We do know, and do believe there are more than one suspect. That's why we're alerting the community. We sending in the robot to see if there are any explosives in the area or any explosives on him," said Corporal L'Jean McKneely, WAFB reported.
Two of the officers killed were from the Baton Rouge police, and the third was an East Baton Rouge Parish Sheriff's deputy, Baton Rouge Chief Administrative Officer William Daniel said earlier, as cited by The Advocate.
The shooting took place at the B-Quik convenience store at a gas station, Baton Rouge police said, according to AP. The body of the suspect was found outside the store, at the door of a nearby fitness club. The city was on high alert following the incident.
East Baton Rouge Parish Sheriff's Office spokeswoman Casey Rayborn Hicks said earlier that one gunman had been killed, and police believed two more shooters may have been at large.
WAFB said that the shootout began in the early hours of Sunday morning on Airline Highway near Old Hammond Highway in Baton Rouge, less than one mile from police headquarters.
Police reportedly have no clear picture on what started the shooting, but it seems there was a running gun fight in the area of the shopping center and convenience store. They were first notified of the incident at about 8:45 a.m. Sunday.
Baton Rouge police responded to a call reporting a "suspicious person walking down Airline Highway with an assault rifle," a CNN source said, adding that the person opened fire as soon as the police squad arrived.
According to a witness, there were at least 25-30 gunshots heard before police arrived, WAFB reported. Police officers were probably not the initial target, another witness said.
"This was not a come at police shooting. There were men out here shooting at each other before police ever got here," a witness said.
Our Lady of the Lake hospital was guarded by policemen armed with long guns wearing bulletproof vests, media report.
According to reports, two hospitals in Baton Rouge were on lockdown with police guards.
A black man was detained by Baton Rouge police at Our Lady of the Lake Hospital. Police saw that the man was carrying a gun. Officers searched his car but found nothing incriminating, according to social media reports. He was reportedly released after a woman identified as his mother explained that her son had come to hospital to see a doctor. He also had a license for the gun, she said.
"There is still an active scene. They are investigating," Kip Holden, the mayor-president of East Baton Rouge Parish told CNN when the operation was in progress. "Right now we are trying to get our arms around everything."
"Everything is moving fast and I have not been able to verify everything," he noted, adding that the gunman is believed to be down.
The immediate area has been cordoned off and closed to traffic, the Louisiana Department of Transportation and Development said.
Less than 2 weeks after Dallas shooting
The attack follows the fatal shooting of a 37-year-old black man, Alton Sterling, by two white police officers in Baton Rouge earlier in July. Officers Blane Salamoni and Howie Lake responded to a call that a man was allegedly using a gun to threaten another man outside a convenience store.
Following the arrival of the police, Sterling was pinned to the ground and shot several times at point-blank range. The two officers, who are both currently suspended, claimed Sterling reached for a gun before being shot at by law enforcers. In a video recording of the incident, one of the officers, presumably Salamoni, shouted "He's got a gun! Gun!" prompting his partner to pull out his service pistol and fire several shots. The US Department of Justice is leading a criminal investigation into the case, joined by the FBI and state police of Louisiana.
The American Civil Liberties Union is suing the Baton Rouge Police Department over the response to the protests that followed. "The lawsuit alleges that the police used excessive force, physical and verbal abuse, and wrongful arrests to disperse protesters who were gathered peacefully to speak out against the police killing of Alton Sterling," the ACLU said in a statement.
The shooting led to massive protests against police violence in the US. One of the demonstrations spilled into yet more bloodshed. Five officers were killed in Dallas on July 7 while guarding a rally against excessive use of force by police.
The perpetrator, a 25-year-old Micah Johnson, used a sniper rifle while targeting officers in what was reported to be a revenge attack for police killings of black people.
"We're convinced that this suspect had other plans and thought that what he was doing was righteous and believed that he was going to target law enforcement – make us pay for what he sees as law enforcement's efforts to punish people of color," Dallas Police Chief David said following the incident.
Following a standoff with law enforcers Johnson was shot dead. He had served as a reservist in the army until April 2015 and was also deployed to Afghanistan from November 2003 to July 2014. Officials noted that they did not believe the man was part of a terrorist organization and that the assault was a lone-wolf attack.
You can share this story on social media: