DC names cop who shot Terrence Sterling, releases bodycam footage (GRAPHIC VIDEO)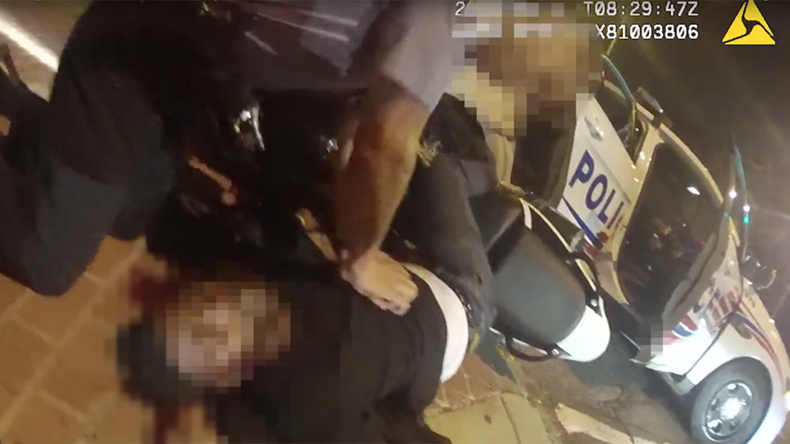 Washington, DC police have released body camera footage from of the officer-involved shooting of unarmed black motorist Terrence Sterling earlier this month, identifying the officer. Sterling's death prompted changes to the department's bodycam policy.
Officer Brian Trainer, 27, turned on his bodycam after firing his service weapon on the evening of September 11, the mayor's office said in a statement. The camera captured graphic video of Trainer and his partner giving aid to Sterling, who was bleeding out on the street.
"Keep breathing! Look at me!" an as-yet unidentified officer says repeatedly while trying to give the motorist CPR. Sterling died later at a local hospital.
Sterling, 31, was a heating and air conditioning technician who lived in nearby Fort Washington, Maryland. He was riding his motorcycle "erratically" when the two officers attempted to pull him over, the Metropolitan Police Department said.
"The person that was riding the motorcycle attempted to flee, ended up striking the police car and at that point… shots were fired," said Interim Police Chief Peter Newsham.
According to the department, Sterling nearly ran into Trainer, who stepped out of the police cruiser on the passenger side, and the officer fired in self-defense. There is no video to corroborate this, however, as Trainer had not turned his body camera on.
Several eyewitnesses told local media that Trainer had rolled down his window and fired from inside the police cruiser, and that Sterling was not aiming at the car.
The death of the African-American motorist prompted DC Mayor Muriel Bowser to order a change to the MPD bodycam policy, ordering officers to confirm to dispatch that their cameras were on and recording.
In the month preceding Sterling's death, MPD officers turned their bodycams on about 55,000 times, capturing 11,000 hours of video, according to Newsham. During that time, only 10 officers failed to turn on their bodycams.
Last year, $5 million of DC taxpayer money funded the purchase of 2,500 body cameras. About 1,300 have been assigned at this point. In the wake of Sterling's death, Bowser said the rest should be deployed by the end of the year.
You can share this story on social media: