Veteran and newlywed among officers killed in Dallas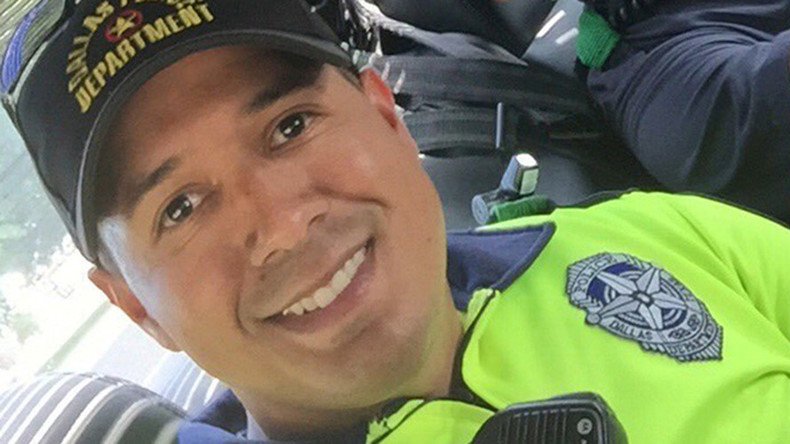 The names of the five officers killed during the Dallas shootings have been identified. The first victim recently married a fellow officer, but his life ended abruptly, just two weeks after the wedding.
The Dallas Area Rapid Transit (DART) authority said that Brent Thompson, 43, has become the first DART officer to be killed in the line of duty since DART formed a police unit in 1989. Thompson joined DART's police department in 2009.
Follow RT America's Live Updates: Dallas protest turns violent, 5 officers dead

"As you can imagine, our hearts are broken," DART spokesman Morgan Lyons said in a statement. "This is something that touches every part of our organization. We have received countless expressions of support and sympathy from around the world through the evening. We are grateful for every message."
Thompson recently married a fellow officer, according to DART police chief J.D. Spiller.
"He was recently married in the last two weeks, so this is very heartbreaking," Spiller told NBC's TODAY, adding that "Brent was a great officer. We will definitely miss him. But we are also making sure that his family is taken care of."
A Go Fund Me Account has been set up in honor of Thompson. It seeks to raise $100 to help his family "in this tragic event."
Three additional DART officers were wounded and are expected to recover, Lyons said.
DART identified those wounded officers as Omar Cannon, 44; Misty McBride, 32; and Jesus Retana, 39.
Cannon has been a DART officer since July 2009. McBride, a former jailer in the Dallas County Sheriff's Department, joined DART in 2010. Retana joined DART in 2006.
Although the Dallas Police Department has not officially released any names of its police officers that were killed or wounded in the incident, four officers names have been identified by family members or outside sources. They are Patrick Zamarripa, Lorne Ahrens, Michael J. Smith, and Michael Krol.
"This isn't supposed to happen,"said Zamarripa's aunt, identified only as 'Martinez' by the Dallas Morning News. "You always think it's somebody else. You feel for the fallen officers when we see something on TV; we hurt. You never expect for it to happen to you."
Zamarripa was married with a young daughter. He served three tours of duty in Iraq as a military police officer, according to the Washington Post.
"He comes to the United States to protect people here," his father, Rick Zamarripa, told the Post. "And they take his life."
Officer Michael Krol was confirmed to have been killed, according to the Sheriff's Department in Wayne County, Michigan where Krol worked until 2007, when he moved to Texas and joined the Dallas PD.
Dallas Police Chief David Brown said snipers using rifles shot a total of 12 officers and two civilians at around 9pm on Thursday during a demonstration in downtown Dallas over recent controversial police shootings of black men in Louisiana and Minnesota.
"We're hurting, our profession is hurting," Brown said at a news conference. "There are no words to describe the atrocity that occurred to our city. All I know is that this must stop, this divisiveness between our police and our citizens."
Another The fourth Dallas police officer killed in the shooting has been identified as Sr. Cpl. Lorne Ahrens, who according to the Dallas Morning News, served with the Dallas Police Department for 14 years.
Fifty-five year-old Michael Smith was contemplating retirement from the force, his brother-in-law told WFAA, calling the officer, "an exceptional father to two young girls." Smith a graduate of Lamar Institute of Technology also served as an Army Ranger.
Three shooting suspects are in custody while a fourth — Micah Johnson, 25, according to KXAS — was killed by a police robot following an exchange of gunfire with police. The suspects in custody are not cooperating with authorities, according to the Dallas Morning News. Johnson, a self-identified black nationalist according to the Daily Beast, was a corporal in the US Army Reserve's 284th Engineering Company out of New Mexico and was previously deployed to Afghanistan.
You can share this story on social media: