Suspect in 2 police killings arrested in Des Moines, Iowa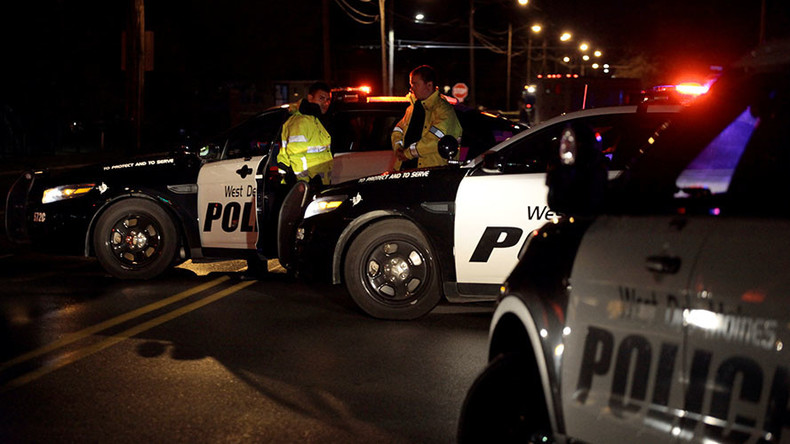 Police have arrested a suspect in the "ambush-style" killings of two officers Wednesday morning in Des Moines, Iowa.
Police have confirmed that Sgt Anthony 'Tony' Beminio and Urbandale Police Officer Justin Martin were shot dead while sitting in their cars in two related incidents.
The first shooting happened just after 1 a.m. Wednesday near 70th Street and Aurora Avenue, close to Urbandale High School according to local news reports, when one officer was shot and killed.
Then 20 minutes later a second police officer was shot dead, just blocks away at Merle Hay Road and Sheridan Avenue.
Police had released a photo of the suspect, identified as 41-year-old Scott Michael Green, and warned the public that he was considered armed and dangerous. He was reportedly driving a blue Ford F-150 truck.
People were asked to immediately contact 911 if they saw Green, but not to approach him, the Des Moines Register reports.
Greene was located in Dallas County, Iowa by the local sheriff's office and the Iowa State Patrol at around 9 a.m, according to KCCI.
A resident of Urbandale, Greene is now in police custody.
Des Moines Police Sergeant Paul Parizek said during a press briefing Wednesday morning that the second officer was on the way to the crime scene in Urbandale at the time of his killing.
"It looks like the officers were ambushed," he said.
"There's definitely danger out there, someone is out there shooting police officers," officer Parizek said.
Des Moines PD have paired up their officers as a precaution following the shootings.
"We are always vigilant about our safety, but we still got to get out there and do it," Parizek told the media.
The Urbandale Schools District said that all schools will be closed Wednesday as a result of the fatal shootings and ongoing investigation.
In a statement the governor's office said that "an attack on public safety officers is an attack on the public safety of all Iowans."
"We call on Iowans to support our law enforcement officials in bringing this suspect to justice," it added.
The number of police officers killed in ambush-style attacks is up by 300 percent from 2015, according to the National Law Enforcement Officers Memorial Fund. A report published by the organization showed that 14 officers were killed in ambushes between January and the end of July 2016, including eight in the Dallas and Baton Rouge attacks.
US Attorney General Loretta Lynch described Wednesday's double killing as "senseless" and "appalling".
"I know that this is a time of particular tension and mistrust between law enforcement and many communities," she added. "I know that while we do not yet know what led the perpetrator to commit these awful crimes, many will be nevertheless be tempted to read a message or motive into this assault. But let me be clear: there is no message in murder.
"[W]e are determined to hold to account anyone who targets police officers simply because they have the courage and the selflessness to wear the badge each and every day," Lynch said in a statement.
Democratic vice-presidential candidate Tim Kaine and former President Bill Clinton have canceled a planned campaign appearance in Des Moines following Wednesday morning's fatal shootings, Reuters reports. The pair were due to appear at an event encouraging Iowans to cast their votes early.