Ambush on Arkansas police officers leaves one dead and K-9 missing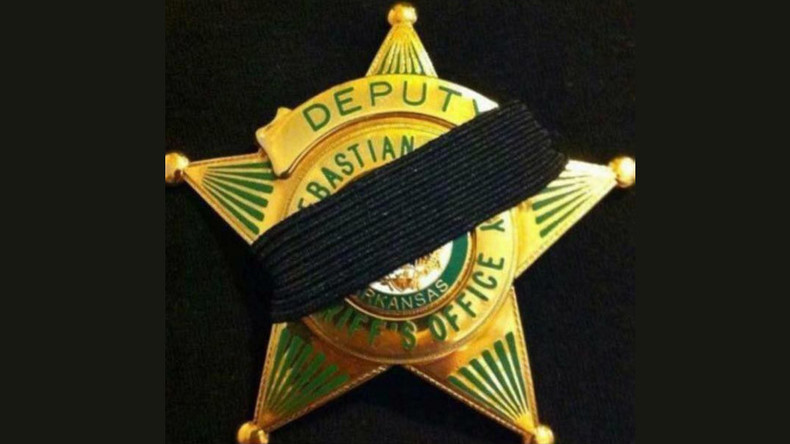 An early morning call led three law enforcement officers to an ambush in Sebastian County, Arkansas. The suspect opened fire, killing one officer and injuring a sheriff as well as a K-9 officer.
Billy Monroe Jones, 35, of Greenwood is believed to be responsible for the death of Sebastian County Deputy Bill Cooper, injuring Hackett Police Chief Darrell Spells and shooting a K-9 officer named Kina. The officers were responding to a call at 7 a.m. on Wednesday morning claiming that Jones had pulled a gun on his father, KFSM reported.
When police arrived about ten minutes after dispatch received the call, he greeted them by pointing a rifle at them. Sebastian County Sheriff Bill Hollenbeck told reporters that he may have also been wearing some sort of ballistic vest.
"Immediately when three officers got [to the house] they were basically ambushed," Sgt. Daniel Grubbs with the Fort Smith Police Department told KFSM. "The information we have received right now is it appears this guy was waiting for us to get here. It seems [he had] full intent to inflict violence against us."
He began shooting at approximately 7:15 a.m. and 25 minutes later, Cooper was shot in the neck and Spells' head was grazed by a bullet.
"When the shots were fired, [the officers] were pinned down for quite a time before we could get them out and to medical attention," Grubbs told KSFM.
The shooting prevented the officers from reaching help sooner. Other deputies took the risk and pulled Cooper and Spells away from the area and to first responders to be transported to the hospital. Cooper underwent surgery, but died at 1:15 p.m.
It took Jones until 11:45 a.m. to surrender to the 300 law enforcement personnel from multiple agencies that responded to the scene. Prior to that, he managed to shoot and disable a police robot. After he was apprehended, investigators called in a bomb squad after learning that he had some kind of license to work with explosives.
A K-9 officer, a German Shepherd named Kina, was likely shot. Her handler, Corporal Dennis Wisner, pulled up to the scene while Jones was shooting. He believes she was shot inside of his vehicle and ran away when he popped his truck. He reports finding blood in her kennel. She's been a veteran of the force for four years, KSFM reported, and officers are searching for her.
Cooper spent the past fifteen years with the Sebastian County Sheriff's Office. Before that, he spent five years with the Fort Smith Police Department and was a Marine Corps veteran. Politicians across Arkansas offered their condolences for the loss of the law enforcement officer.
A petition to revoke a suspended sentence was supposed to bring Jones into court on Wednesday morning, according to KSFM. His most recent conviction was in February for charges of firearms by certain persons and possessions of a controlled substance, schedule I and II. Those drugs could range from marijuana to narcotics, such as amphetamines, methadone or morphine.
His criminal record shows that he had been given two 60-month sentences, both of which were suspended.
The first was in 2007 for manufacture and possession of a controlled substance, schedule IV, V. That group includes prescription drugs, such as Xanax, Klonopin, Ativan and Valium along with cough medicine with codeine.
The second was in 2011 for theft of property.