No charges for Minneapolis officers involved in Jamar Clark death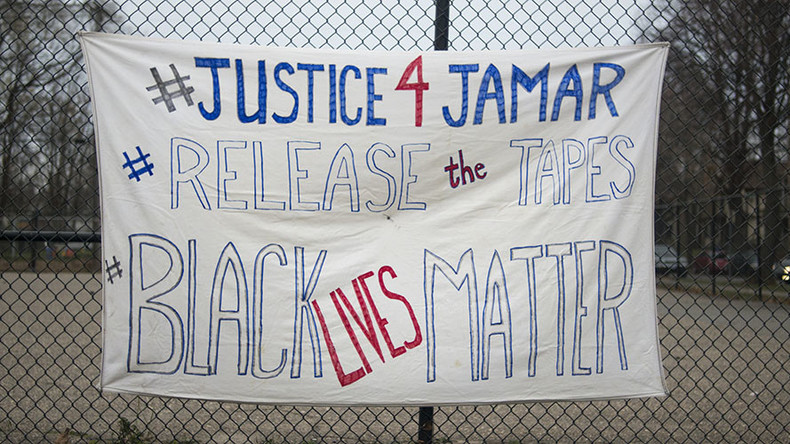 Two white police officers in Minneapolis, Minnesota will not face criminal charges for their involvement in the shooting of Jamar Clark, an unarmed African-American man whose death sparked weeks of protests in the city.
Hennepin County Attorney Mike Freeman made the announcement Wednesday, saying the investigation determined that Clark, 24, was not handcuffed at the time of the November shooting, as some witnesses claimed. He also said that Clark had struggled with Officers Mark Ringgenberg and Dustin Schwarze, before Schwarze shot him in the head.
Freeman added that Clark had one of his hands on a gun belonging to Ringgenberg, and that he refused to remove his hand despite multiple orders to do so. "I am ready to die," Clark said more than once, according to a Minneapolis Star Tribune report on the investigation.
"Criminal charges are not warranted against either officer," said Freeman on Wednesday, as quoted by NBC News. Officials said the shooting was justified because the officers reasonably believed Clark was reaching for a gun.
Soon after Freeman announced the news, protesters and Black Lives Matter activists gathered near the spot where Clark was shot.
"We are coming for him," said one protester, referring to Freeman. "We will find justice on the streets."
Police with riot gear were also seen arriving at the site.
Clark was shot on November 15, after responded to reports of him assaulting his girlfriend. Police said Clark was interfering with paramedics who were trying to render aid to the woman when the confrontation began.
Some witnesses said that Clark was handcuffed or otherwise restrained when he was shot, but Freeman said that, although handcuffs were found at the scene, "forensic evidence established that Clark was not handcuffed," the Washington Post reported. According to Freeman, Officer Schwarze tried to handcuff Clark but was unable to do so, dropping the cuffs to the ground. He also said no DNA from Clark was found on the inside of the cuffs.
During the scuffle, Schwarze apparently placed his gun near Clark's mouth and said, "Let go or I'm going to shoot you." At this point, Clark said he was ready to die and Schwarze pulled the trigger, about 61 seconds after the confrontations started.
Freeman said DNA evidence from Clark was found on the grip of Ringgenberg's gun.
Notably, Freeman declined to take the case to a grand jury in order to determine whether charges would be filed. Grand juries have often been used in officer-involved shootings – and generally decline to indict officers – but Freeman decided his office would determine whether charges were necessary.
Upon hearing Freeman's announcement, Clark's cousin Jeremy Baker left the room.
"They killed my cousin! They shot him in the head. Are you serious? This is so sad," he said, according to the Minneapolis Star Tribune.
Clark's death triggered weeks of protests in Minneapolis, including a camp-out in front of a police precinct that lasted for 18 days before law enforcement tore it down. Other events saw protesters throwing rocks and bricks, while police deployed pepper spray into crowds. Five protesters were also shot at a Black Lives Matter protest, resulting in the arrest of three white suspects and an Asian.
The last major protest was on December 23, when demonstrators were prevented from occupying the Mall of America and ended up briefly shutting down the nearby Minneapolis International Airport.