Police sniper fatally shoots man holding 2yo girl hostage (GRAPHIC VIDEO)
Published time: 17 Nov, 2016 19:57
Edited time: 19 Dec, 2016 17:48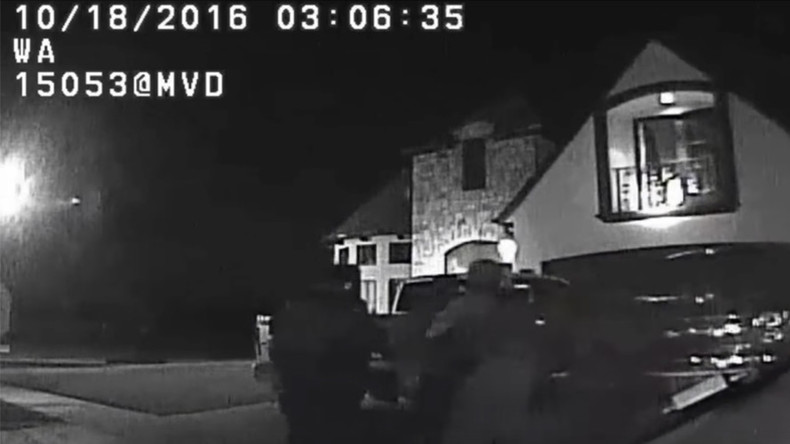 Police in Oklahoma have released dashcam footage of the moment a police sniper fatally shot an armed man who was holding a two-year-old girl hostage.
Tulsa Police Department released the video of the shooting which happened at the hostage taker's estranged wife's home last month as he held the toddler in his arms.
The footage from the early hours of October 18 shows a police sniper take down the man just after he walks out onto the balcony.
The officer can be heard yelling, "He's down," repeatedly about the suspect, before informing his colleagues "the kid's up."
About a dozen law enforcement officers storm the house once it's confirmed the target has fallen.
Another officer can be heard on the video commending the sniper, "That was a hell of a shot."
READ MORE: Police shooting of Terence Crutcher prompts federal investigation
The suspect was 44-year-old Salvador Reyes, who broke into the house on the night of October 17 armed with a gun, according to police.
Reyes grabbed the toddler, who was not his child, while his estranged wife escaped from the home with the three children she shared with him and her boyfriend, reported KFOR.
Police said the man walked out on the balcony on a number occasions during the standoff, which lasted around three hours, and pointed the gun at the officers and the child.
They claimed he held the gun with one hand and the girl with the other.
The officer who fired the shot said he feared for the girl's life, and seized the opportunity when it presented itself, according to ABC7.The little girl was not injured in the incident.
READ MORE: Oklahoma airport shooter found dead, lockdown being lifted