Charlotte police release bodycam footage of Keith Scott shooting (VIDEO)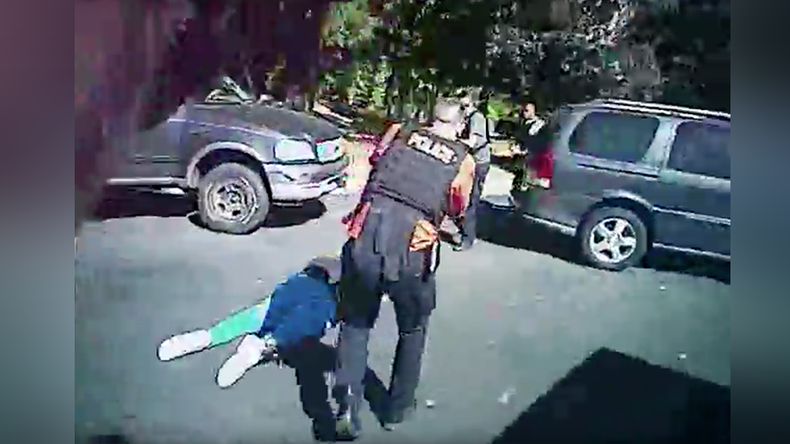 Police in Charlotte, North Carolina have released extended body camera footage showing the aftermath of an officer shooting Keith Scott. The actual moment of the shooting cannot be seen clearly.
Scott was shot and killed on Tuesday, September 20, outside a Charlotte apartment building. Protests over his death turned violent, with multiple stores looted and vehicles set on fire on Interstate 85. One protester was shot and killed, though not by police as initial reports speculated.
After Scott's wife, Rakeyia, made public a video of the confrontation she recorded on her cell phone, the Charlotte-Mecklenburg Police Department (CMPD) released partial body camera video and dashboard camera footage. The 16-minute body camera video was released Tuesday evening, after it was shown to Scott's family and its attorneys.
"It's very difficult to watch," Justin Bamberg, an attorney for Scott's family, told WCNC afterward. "There are real life consequences to the decision that an officer makes to pull the trigger."
The first 30 seconds or so of the CMPD video have no sound. The camera shakes as the officer passes behind a parked white SUV. Scott is first seen standing next to his vehicle, then on the ground, bleeding. The sound comes on as officers are calling for handcuffs. The rest of the video shows their attempts to render medical aid to the man, who was shot at least three times.
At one point, one officer can be heard saying that Scott had been "shot in the left lung." Rakeyia Scott can also be heard in the background, yelling at the officers, "He better not be dead!"
Police said that Scott attracted their attention because he was armed, and that the officers feared for their safety as well as the safety of nearby civilians. Scott's family has insisted that he did not have a gun, but was holding a copy of the Koran instead.
"You do hear officers make reference to a gun. You do not hear that it is in his hand or anything like that," said Bamberg.
Photos from the scene of the shooting show a handgun – with an evidence tag labeled "C" – the police say was found on Scott, and had his fingerprints. CMPD said they found no book, Koran or otherwise, in his truck.
Scott was struggling to recover from a traumatic brain injury, as well as two broken hips and a broken pelvis, after running his motorcycle into a tree in November 2015, his mother told the local media. A month before that accident, Rakeyia Scott filed for a restraining order, telling the police that her husband had an illegal firearm.
"He has a 9mm and threatened to use it last night. ... He does not have a permit," she wrote. "He is a felon."
The restraining order request was later dropped, however.
Scott served six years in a Texas prison for aggravated assault, and was released in 2011. His family stopped talking to the media after inquiries about Scott's criminal background, with his brother-in-law saying they shouldn't have to "humanize him in order for him to be treated fairly."
You can share this story on social media: