'It's not about me, but our country': Police shooting victim Charles Kinsey speaks out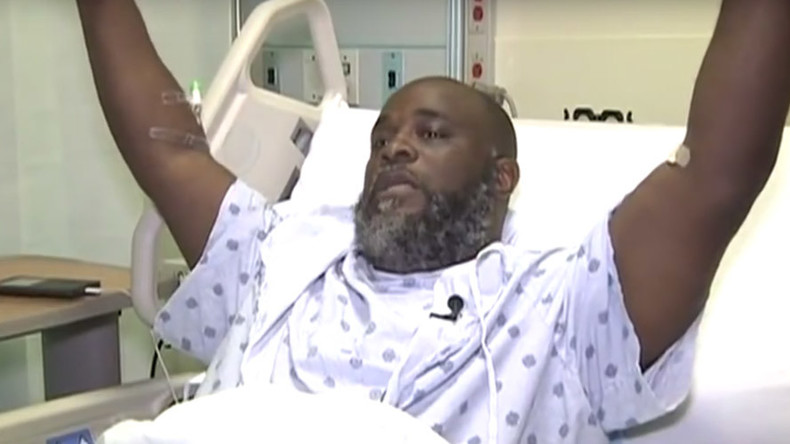 The shooting of Charles Kinsey by a North Miami police officer was shocking, particularly because Kinsey was not only unarmed and lying on the ground, but caring for a man with autism when he was shot. Now that Kinsey is recovering, he is ready to talk.
Kinsey is a mental health caregiver at the Miami Achieve Center for the Developmentally Disabled. Arnaldo Rios, a man with autism, wandered away from the center on July 18, and Kinsey went to bring him back, but ended up being shot in the leg by police.
The officers claim that they were aiming for 26-year-old Rios, believing he was carrying a gun, but Rios had no weapon – only a toy truck.
Kinsey addressed reporters on Thursday after visiting Rios in a psychiatric ward, where he has been kept since the shooting.
"First of all, I want to thank everybody for their support (from) all over the world," Kinsey said, according to WPLG. "I understand that this is a very big issue. It's not about me, and it's not about Arnaldo either. It's about our country and how we're struggling right now."
In a month fraught with tension between law enforcement and the black community, Kinsey acknowledged the increased strain in relations following his shooting.
"Just be peaceful. Although I am unable to answer specific questions, I promise that I will do so in a matter of time," Kinsey said.
He also commented on Rios' condition, saying, "He is doing very well and he was very happy to see me. He gave a real big hug and I sat with him for about 10 or 15 minutes, and that was it. So my heart is content. As long as he's fine, I'm OK."
Read more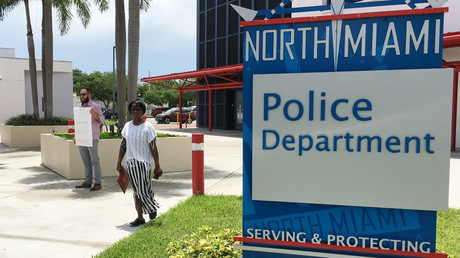 The matter of Rios remains important to Kinsey.
"When I heard about Arnaldo was in the hospital I was very sad. I wanted to come and visit him before I did anything," he told reporters. "It really touched me to see him doing well."
Gladys Soto, Rios' mother, explained that her son has been fragile since witnessing the shooting.
"He is going to need patience and love."
She also witnessed the reunion between Kinsey and her son, saying, "They hugged each other tight and Arnaldo cried a little, but he felt good with Charles."
The sweetness of the moment cannot be denied, but Rios' presence in the psych ward lingers. His attorney, Matthew Dietz, told WPLG that Rios was hospitalized after police found him "acting loopy" and talking about Disney films, something not unusual for a person with severe autism.
Officer Jonathan Aledda was responsible for shooting Kinsey. He has defended himself by saying that he was aiming for Rios, believing that the toy truck he was holding was a weapon – despite Kinsey being recorded shouting that Rios was unarmed.
"After they knew that he had autism, what did they do? They threw him on the ground," Dietz told the Associated Press.
Dietz submitted a formal letter to US Attorney General Loretta Lynch seeking the assistance of the Department of Justice in investigating the handling of Rios.
Kinsey is still getting over the shooting.
"Physically, I'm here. But mentally, I'm distraught, you know," he said. "I have to play these tapes in my head every day. I can't sleep at night. I'm just thinking this could have went the other way. You know, I'm truly blessed to be here."