Police avoided federal civil rights charges in 96% of cases over 20 years - report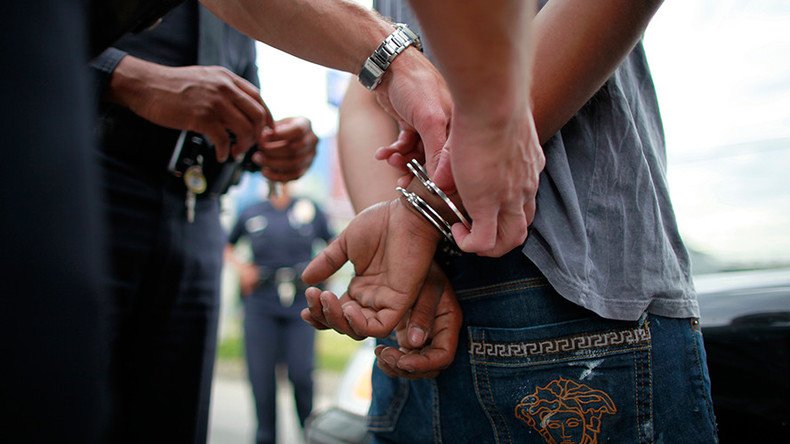 Federal prosecutors chose not to levy charges against US law enforcement officers alleged to have committed civil rights violations in 96 percent of relevant cases from 1995 to 2015, according to a new investigative report.
Based on analysis of nearly 3 million records from the US Department of Justice's National Caseload Data, the Pittsburgh Tribune-Review found that the 94 US Attorney offices declined 12,703 referrals of potential civil rights violations made by the FBI and other agencies out of a total of 13,233 complaints.
This 96 percent rejection rate for potential civil rights violations against officers contrasts with a 23 percent rejection rate that prosecutors exercised for all other allegations of criminal activity in the same time period.
The most common reasons prosecutors cited in turning down civil rights complaints included weak or insufficient evidence, a lack of clear intent to infringe on another person's civil rights, and discouragement from the Justice Department.
The Justice Department said it takes "any allegation of law enforcement misconduct seriously and will review those allegations when they are brought to our attention," according to spokeswoman Dena Iverson.
To successfully bring federal civil rights charges, a US prosecutor must prove an officer was not negligent or reckless but that he or she "willfully" deprived someone of their rights.
"This is an area, quite honestly, where the feds need to be bolder and put greater resources in," Craig Futterman, a law professor and founder of the Civil Rights and Police Accountability Project at the University of Chicago, told the Tribune-Review. "Indeed, the failure to aggressively bring those cases has allowed too many abusive officers to believe that they can operate without fear of punishment."
Federal prosecutors in 11 districts declined to pursue a single civil rights case despite receiving a total of 240 referrals from 1995 to 2015. Twelve other districts each prosecuted just one officer despite a total of 671 referrals.
Northern Mississippi was the site of the most prosecutions in the time period analyzed, bringing 24 civil rights cases against officers, with an 83 percent success rate. Western Tennessee was right behind with 22 cases and a 91 percent success rate.
Twelve of the 18 districts that filed more than half of the total nationwide cases against officers are located in the South.
In a follow-up released on Monday, the Tribune-Review reported that video recordings of police violence have not significantly led to more civil rights charges.
Activists protesting police brutality against against the poor and people of color since the August 2014 killing of African-American teenager Michael Brown in Ferguson, Missouri have argued that police in the United States use violence with impunity.
An April 2015 analysis by the Washington Post and Bowling Green State University found that only 54 police officers faced criminal charges in thousands of fatal police shootings going back to 2005. Most of the cases that ended up with officers charged involved the murder of an unarmed person, yet charges also hinged on even more incriminating details, such as a victim shot in the back, a video of the incident, damning testimony from other officers, or accusations of a cover-up. Of the officers charged, most were cleared or acquitted of cases that have been officially resolved.
The Tribune-Review said its analysis went back to 1995, a year after passage of the federal Violent Crime Control and Law Enforcement Act, the largest crime bill in US history. The law "created dozens of new federal capital crimes, mandated life sentences for some three-time offenders, and authorized more than $16 billion for state prison grants and the expansion of police forces," wrote Michelle Alexander in The Nation last month.
Speaking in support of the Violent Crime Control and Law Enforcement Act in 1996, the First Lady at the time and current Democratic presidential candidate Hillary Clinton said: "They are not just gangs of kids anymore. They are often the kinds of kids that are called 'super-predators.' No conscience, no empathy. We can talk about why they ended up that way, but first we have to bring them to heel."
Last month, Clinton disavowed those 1996 remarks, saying, "I shouldn't have used those words, and I wouldn't use them today."
You can share this story on social media: