Protesters across nation to demand higher wages, end to police brutality on MLK Day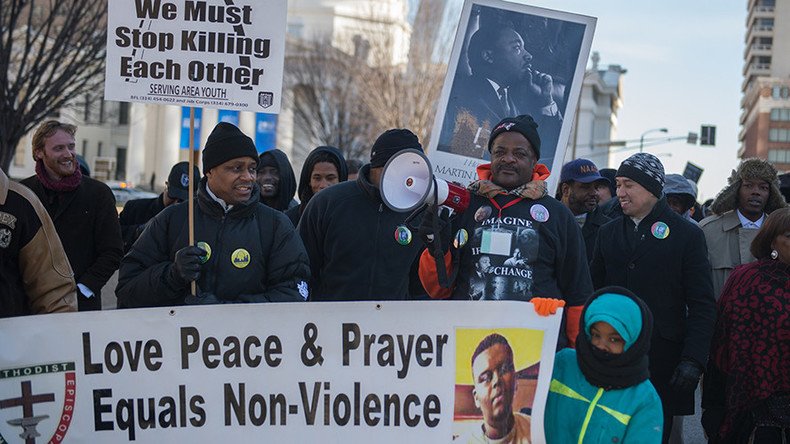 Martin Luther King, Jr. Day has brought activists from many stripes into the streets. Airport workers in nine cities planned to block traffic and demanded a $15 minimum wage, while demonstrators protesting police brutality marched elsewhere.
In their latest push for a $15 minimum wage, airport workers took a page out of Dr. Martin Luther King Jr.'s notebook by engaging in acts of civil disobedience on Monday. Fuelers, baggage handlers and other workers will risk arrest at nine airports across the US.
READ MORE: 'Fight for $15' highlights: NY, Pittsburgh raise wages, Sanders rallies for workers
In the late afternoon in San Francisco, protesters from "Black. Seed," a "black queer liberation collective," aligned with Black Lives Matter demonstrators and blocked traffic on San Francisco Bay Bridge.
Traffic was held up for an hour as protesters linked arms and chained themselves together across five westbound lanes.
One organizer called it "a strong, courageous stand in solidarity" with Dr. Martin Luther King, Jr.
About 30 minutes after the protest began, police began arresting people and moving cars. A dozen or more protesters were detained, according to the San Francisco Chronicle.
Earlier in the day Workers at Boston's Logan International Airport demonstrated on the roads and in terminals in their bid for a increased wages and union organizing rights.
At least six workers were arrested on trespassing charges.
The protests come just a day after New York Gov. Andrew Cuomo called to for the minimum wage for the region's airport workers to increase to $15 an hour. He urged the Port Authority of New York and New Jersey – which operates Newark Liberty International, where a protests will be held – to "get on board and do the same" in an opinion piece published by the New York Daily News.
"While growth at Kennedy, LaGuardia and Newark continues to take off, more than 12,000 hardworking men and women at these facilities remain grounded, barely scraping by on the minimum wage with a shrinking paycheck that just doesn't cut it anymore," Cuomo said.
Airport workers rallied at LaGuardia, New York under the slogan #PovertyDoesntFly and #ReclaimMLK.
Employees demanded that Congress ensure that taxpayer dollars stop subsidizing poverty jobs. They demanded better wages for baggage handlers, terminal cleaners and cabin cleaners, plus skycaps, wheelchair agents and customer service agents.
The SEIU said US Airports make $80 billion in profit a year, yet employees are paid so little they can't make ends meet even with full-time jobs.
"Like the striking Memphis, Tennessee sanitation workers who took action nearly 50 years ago, and with whom King stood at the end of his life, airport workers are standing up to inhuman conditions at work and the daily humiliations of poverty," the SEIU said.
In Washington, DC, as many as 200 workers at Reagan National Airport plan to block traffic near the city's Martin Luther King Jr. Memorial on the city's Tidal Basin.
Demonstrators will march from the monument along Independence Avenue SW, and ultimately plan to block traffic on the Kutz Bridge.
Massachusetts Port Authority spokesperson Jennifer Mehigan has said that the authority has pushed for airport workers to be paid above the minimum wage.
"The $11 per hour rate for certain airport workers is among the highest in the country, and the highest minimum wage in the state," Massport spokesperson Jennifer Mehigan told The Boston Globe.
Airport employees are also organizing protests in Philadelphia, Miami, Seattle, Chicago and Portland, Oregon.
The local Teamsters union honored MLK Day in Seattle, remember the impact left on the labor community.
Just last week, a coalition of workers and union groups announced they had filed a ballot measure that would seek to raise Washington state's minimum wage incrementally to $13.50 an hour over four years starting in 2017, as well as provide paid sick leave to employees. The state's current minimum wage is $9.47 an hour, which is adjusted each year for inflation.
Anti-police brutality activist are commemorating Dr. King with demonstrations of their own.
In Minneapolis – Saint Paul, a demonstration is taking place to protest the death of 24-year-old Jamar Clark at the hands of a Minneapolis police officer in the wake of a grand jury declining to indict the officers involved. Protesters plan to meet on both sides of Lake Street-Marshall Avenue Bridge connecting the twin cities at 3:30pm local time before marching towards each other and meeting at the middle of the bridge
"The idea of the march is to pull together both cities ... that are only divided by the river but share the same kinds of injustices," Twin Cities Coalition for Justice 4 Jamar said in a Facebook post.
Community activists in Cleveland, Ohio plan to protests against perceived inequalities and ineffectiveness in the criminal justice system. A 2:30pm rally will begin with a prayer vigil against police-related tragedies in the region. Still fresh in the mind of communities is the death of 12-year-old Tamir Rice at the hands of police, none of whom received an indictment.
Activists in Oakland, California have been holding protests during the days leading up to Martin Luther King Day, rallying under the banner of the #ReclaimMLK hashtag. Protesters demonstrated against the perceived mainstreaming of Martin Luther King Jr., and have been seeking to return to the radical roots of the famed civil rights activist.
A Klezmer band prompted dancing for union groups rallying on #MLKDay and #FightFor15 in Harlem, New York
You can share this story on social media: