'Unless there's a video, police go free': Call for justice after fatal shootings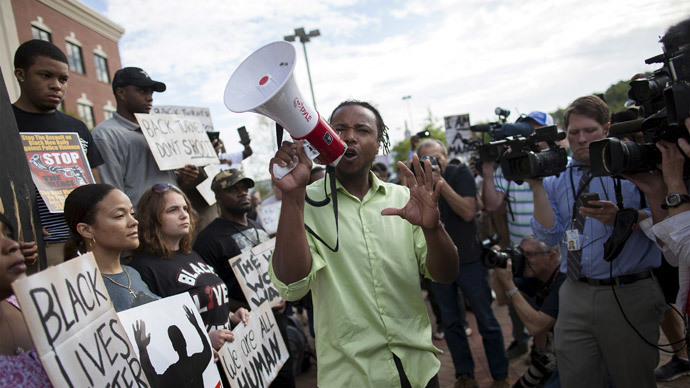 Recent high-profile, video-documented police killings of unarmed men like Eric Garner have ignited a movement for justice. Yet many pushing for accountability say similar murders not caught on camera still go unpunished.
READ MORE: #ShutDownA14: Protesters against police brutality barricade Brooklyn Bridge
One unarmed black man shot by police officers who were not charged with a crime was Abdul Kamal, a "fun loving" young man from Irvington, New Jersey, who was killed by three officers on November 11, 2013.
"After the grand jury decided not to indict the police officers, we found out that he had a cell phone in his hand, not a gun," Michele Kamal, his mother, told RT.

"In this society, unless there's a video showing a frame-by-frame shooting, police officers are never indicted."
Michael Brown, 18, was murdered by Ferguson, Missouri, police officer Darren Wilson in August. Garner was killed via a chokehold by Staten Island police officer Daniel Pantaleo in July. The officers, both white, were not indicted by respective grand juries, and, thus, the cases never went to trial. Combined, the incidents and others -- including the police slaying of 12-year-old Tamir Rice -- set off tense and at times violent confrontations between the local communities and police departments, as well as similar unrest in cities nationwide. In the case of Ferguson, the state of Missouri eventually sent the National Guard to suppress local outrage, as a mostly-white militarized police force was seen across the world as an occupying army in the black-majority St. Louis suburb.

Yet the FBI does not require law enforcement agencies to keep record or report their number of fatal shootings, so efforts to tally the number of police killings can be difficult to ascertain. Others, including FatalEncounters.org, have taken to police reports, media accounts, and other avenues to gather a count of such shootings.

According to a new analysis by the Washington Post and Bowling Green State University, only 54 police officers have been charged with a crime amid the thousands of fatal police shootings since 2005. Most of those cases that ended up with charges involved the murder of an unarmed person, yet charges also hinged on even more incriminating details, such as a victim shot in the back, a video of the incident, damning testimony from other officers, or accusations of a coverup. Of those charged, most were cleared or acquitted of cases that have been officially resolved.
Now, activists across the US, especially in communities of color, are building a movement to counter what has become a common occurrence: fatal police shootings of young men and women.
READ MORE: Louisiana cops arrested for taking company bribe to plant drugs on innocent man
"For over seven years young black and brown women and men have been shot down by the police every 28 hours," Dr. Cornel West said last week. "We've got a black president, black attorney general, black cabinet secretary of homeland security. They're fundamental aim is to ensure the citizens are secure and safe in America, but we haven't had one federal prosecution of a policeman for killing all of those folks. Something's wrong. Something's deeply wrong."

West and others were announcing the #ShutdownA14 protest that sought to encourage Americans to walk out of school or work on April 14 to shake up the status quo and demand an end "to the killing of unarmed black and Latino people."
The speaker at the #ShutDownA14 rally in NY says protesters will march the streets and shut businesses down pic.twitter.com/LsgFRMTM44

— Alexey Yaroshevsky (@Yaro_RT) April 14, 2015
Union Square right now! #ShutDownA14pic.twitter.com/Cd4eRvGq5V h/t @freedomgirl2011@Kingchili1

— Global Revolution TV (@GlobalRevLive) April 14, 2015

But is the latest movement really a resurgence or continuation of the civil rights movement of 50 years ago?

"I think it is a resurgence," Carl Dix, co-founder of Stop 'Stop and Frisk,' told RT. "I thought 40 years ago we were going to have a revolution and all this stuff would be stopped. Didn't work out that way."

"Dialogue, commissions, all of that is just talk to try to draw us out of the street. We have to be in the street. We have to say 'This must stop,'" he added.

West told RT that activists and non-activists alike must keep pushing for justice.
READ MORE: Shocking dashcam video shows fatal shooting of mentally ill Florida man
"Keep the pressure on. That means continuing to bear witness, hit the street, tell the truth, bring more and more people in, and put pressure especially on these neo-liberal opportunist politicians of various colors."

Those on the front lines of this resurgent movement must also remember how they got to this point, others said.
"The civil rights movement got us to the point where we're at now," Jose Lasalle, found of Copwatch Patrol Unit, told RT. "Now, we're fighting … to actually live what Martin Luther King had a dream of, what Malcolm X spoke about, to live in a place where we feel like we are being treated equal to everybody else."
It's the youth that are pushing for new paradigms, activists point out, in a nation that has long viewed gun violence as a natural occurrence, especially in urban communities of color.
READ MORE: Fatal Tulsa shooting highlights role of reserve officers in US police forces
"It's a dialogue being driven and controlled by the young people in the streets who are putting their lives on the line, who are risking their bodies," Josie Gonsalves, of the Anti-Racist Alliance of America, told RT. "The conversation that is happening is a conversation of the society, and the society is both black and white, and brown and yellow. So it is a conversation to make the world better."

In the meantime, those that are left behind after the violent murders of their loved ones can only hope for a better day.

"I don't know if these police officers think that because they were not indicted, that they're not going to jail at this moment, that everything is fine," Michele Kamal said. "But, I believe there will be justice. I have to."
You can share this story on social media: