Louisiana cops arrested for taking company bribe to plant drugs on innocent man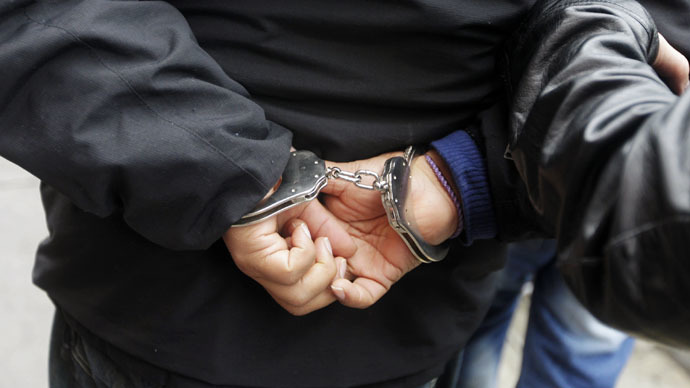 Two Louisiana law enforcement officers have been arrested on charges of racketeering for accepting a bribe of over $100,000, and unlawfully arresting an innocent man after planting drugs in his car.
The man accused of paying the bribe is Mark Knight, CEO of major oil and gas company 'Knight Oil Tools'. He and his former employee, Russell Manual, have been notified of the warrants for their arrest.
Allegedly, Mark Knight paid State Trooper Corey Jackson and Sheriff's Deputy Jason Kinch in exchange for planting containers filled with cocaine and prescription drugs underneath his brother's car, Bryan Knight, the company's co-owner. The law enforcers subsequently arrested him in June 2014.
But in March 2015, investigators established the magnetic cases recovered from the undercarriage of Bryan Knight's vehicle were purchased by Knight Oil Tools at the request of Russell Manual, an employee who answered directly to the CEO Mark Knight, KATC reports.
Statements from Russell Manual also confirmed that Mark Knight paid or arranged payment in excess of $100,000 in cash and gifts' for himself and the two officers, states a press release from Louisiana State Police and the Lafayette Parish Sheriff's Office.
Mark Knight is now wanted on racketeering charges, while Russell Manual is wanted for possession of cocaine, possession of Lortab, possession of methadone, extortion, intimidating a witness, and charges of criminal conspiracy.
Major Art LeBreton, chief deputy at the Sheriff's Department, said Mark Knight had been made aware that there was a warrant for his arrest, but that he had not been arrested as of mid-morning on Monday.
"We don't know his whereabouts," LeBreton said, the Advertiser reports.
Mark Knight stepped down from his position as CEO and president of Knight Oil Tools in January, although he remains chairman of the board of directors of the company. All charges against his brother Bryan Knight have been dropped.
Meanwhile, State Trooper Jackson was arrested on Saturday in Lafayette and charged with racketeering. Kinch was arrested on Sunday and he has been placed on administrative leave without pay pending an Internal Affairs investigation. Both men have been booked on the charges and released.
"When a member of this department violates the public trust, it is a tarnish to not only the reputation and traditions of the Louisiana State Police, but also to the hardworking men and women of law enforcement throughout our state," State Police superintendent, Colonel Mike Edmonson, wrote in a statement.
You can share this story on social media: