Shocking dashcam video shows fatal shooting of mentally ill Florida man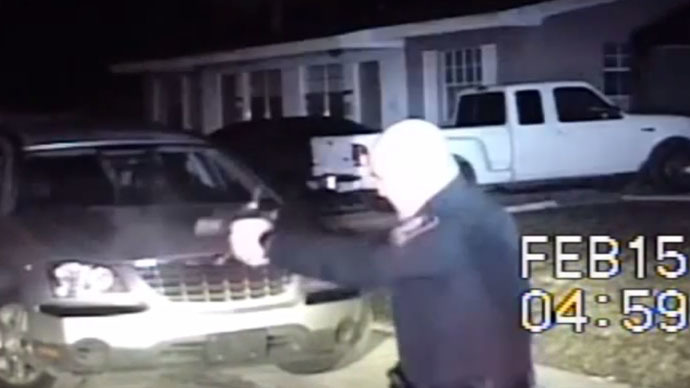 A disturbing video has been published of a mentally unstable, young black man being shot dead by Florida police. When 25-year-old Lavall Hall refused to get on the ground, a police officer shot him five times.
On February 15, Miami Gardens police officer Eddo Trimino fatally shot Lavall Hall, 25, after Catherine Daniels, Hall's mother, called 911, saying that her son was having a violent episode. Daniels told police that her son was a diagnosed schizophrenic, CBS Miami reported.
#RestInPower#LavallHall, killed by police after his mom called 4 help #WhyWeMarch#March2Justice pic @Dreamdefenderspic.twitter.com/C9NThmUpfx

— Justice League NYC (@NYjusticeleague) April 9, 2015
A 19-minute video from the patrol car's dashcam does not show the moment of the killing, but adds some details to the incident being investigated by State Attorney's office now, AP reported.
Warning: this video contains strong language, which may be offensive to some people.
Miami Gardens Police DashCam : Lavall Hall from Dream Defenders on Vimeo.
The officers claimed Hall swung the metal broomstick and allegedly hit one of the two officers. The use of tasers on Hall reportedly had no effect, and he tried to walk away.
"Every time I go near him he walks away," another officer, Peter Ehrlich, who was following Hall in the patrol car, can be heard saying in the video.
At the moment Hall is shot, Trimino comes into view immediately in front of the patrol car, backing away from an unseen opponent and yelling at him.
"Get on the ground or you're dead!" shouted Trimino, repeating, "Get on the ground!" at least four times before opening fire. He took five shots, two of which were fatal for Hall.
Catherine Daniels,mother of #LavallHall,describes night mentally ill son killed by Miami Gardens police http://t.co/U3rc2qKHIM via @youtube

— Anthony B. (@PoliticalAnt) April 10, 2015
Hall's family filed a federal wrongful death lawsuit against the city, saying he had suffered from schizophrenia and had been released from a mental hospital shortly before the incident. The lawsuit, seeking unspecified damages, also claims that police had previous encounters with Hall and "knew, or should have known, that Hall suffered from a mental condition."
Family attorney Glen Goldberg said the video from the patrol car, which was released to him by the city, raises important questions. He urged an independent investigation by an outside agency.
"The officers had made up their minds they were going to kill Hall," Goldberg said.
Two neighbors interviewed by the Miami Herald claim that Hall did not have a broom in his hand when Trimino shot him.
Trimino's lawyer, in turn, told the Miami Herald that the officer feared for his life and had to retreat from approaching Hall who disobeyed commands.
The Herald said that no Florida police officer has been indicted in a shooting death since 1989.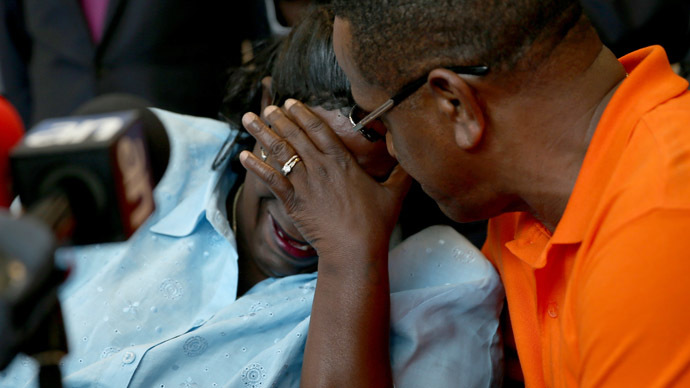 "You're trained to shoot at the center body mass. So it's going to be a bit of a lower trajectory of the gun," Trimino's attorney, Andrew Axelrad, told the Herald. "He's not shooting at eye level, that's in the movies. The video justifies the officer's actions. You can see his fear."
"After seeing the video, it's clear to me that the incident was avoidable," said Eric Pettus, NAACP (National Association for the Advancement of Colored People) executive board member in Miami.
Hall's family and the NAACP have not claimed that race was an issue in the shooting. None of the police officers is heard using racial epithets on the video.
"This was a call that was a mental health issue," Pettus said.
You can share this story on social media: