Madison cop who shot Tony Robinson also shot black motorist in 2007, video shows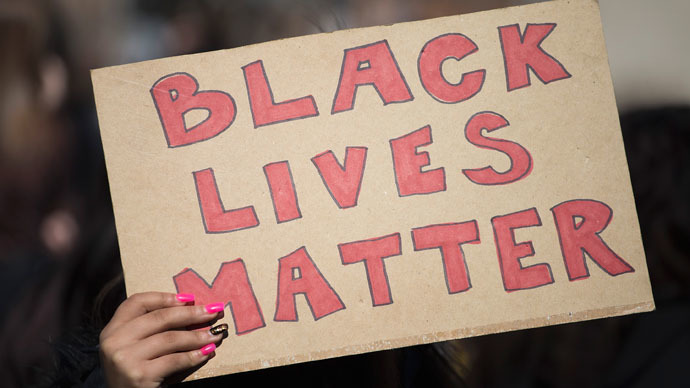 Protesters gathered at the courthouse in Madison, Wisconsin to press their demands for justice following the release of a 2007 police video of a black man being shot by the same officer who shot dead a black teenager last month.
On March 6, police officer Matt Kenny shot and killed Tony Robinson, a 19-year-old biracial man, after forcing his way into an apartment where Robinson was staying. Kenny, responding to 911 calls that said Robinson was acting aggressively, was allegedly attacked by the black teenager, prompting the white officer to draw his weapon and shoot the unarmed teenager numerous times.

"We do know that Tony was unarmed and was shot at least seven times in the chest and head by officer Kenny," said a spokesman for the Robinson family, Jerome Flowers, outside the Dane County courthouse on Monday, the Guardian reported. "This was neither reasonable nor necessary."
#TonyRobinson#DontreHamilton Join students nationwide planning to Shut It Down on April 14 pic.twitter.com/YhoTNOgMh7

— SMIN Chicago (@StopMassIncChi) April 3, 2015
Members of the Young, Gifted and Black organization, together with Robinson's family, held a news conference in front of the Dane County courthouse to call on the UN's Human Rights Council to investigate the young man's death because they feel the US government can't be trusted to handle the case.
READ MORE: Ferguson police chief resigns following DOJ report
Madison police officials have not said exactly how many times Robinson was shot, only revealing that he was hit in the head, chest and right upper extremity.

Robinson's death has attracted a fresh wave of protest against police violence, and the demonstrators are pushing for Kenny to be indicted. No announcement has been made as the Dane County district attorney continues to consider the details of the case.
People gathered on willy st to march to the courthouse for #TonyRobinson#nbc15pic.twitter.com/lbTYCLGQwG

— Sharon Yoo (@SharonNBC15) April 6, 2015
Meanwhile, a video has emerged showing that Matt Kenny was the same police officer who fatally shot another black man, Ronald Brandon, seven years ago.

Police in Madison, Wisconsin on Monday released video footage of a fatal shooting in 2007 involving the same police officer who shot dead 19-year-old Tony Robinson last month, prompting protesters to demand an investigation.
Protesters demand indictment in Tony Robinson killing #Justice4Tony#MadisonShootingpic.twitter.com/BB9AcxRom3

— Pat Schneider (@PatSchneiderCT) April 6, 2015
The footage released Monday, taken from the on-board video camera of a squad car, reportedly shows the moments immediately before Matt Kenny fatally shoots Ronald Brandon. Kenny was later cleared of guilt after it was determined that Brandon, who was 48, had allegedly pulled out a pellet gun and committed "suicide by cop."

The footage, which was redacted so as not to show the moment of death, was released in response to a request from The Associated Press.
READ MORE: Racist Ferguson police emails revealed
News of the video has rippled through the black community, still grappling with the death of Michael Brown, a black teenager who was shot dead in Ferguson, Missouri on August 9, 2014 by a white police officer.

That incident sparked a wave of grassroots protests across the country, with demonstrators using as their rallying call: "Black Lives Matter."

A report by the District of Justice, the culmination of a six-month investigation into the death of Michael Brown, pointed to a number of deep-seated problems inside of the Ferguson Police Department, including a systemic bias against blacks in Ferguson, where white police officers far outnumbered blacks although African Americans made up 67.4 percent of the population, according to the 2010 Census.