Racist Ferguson police emails revealed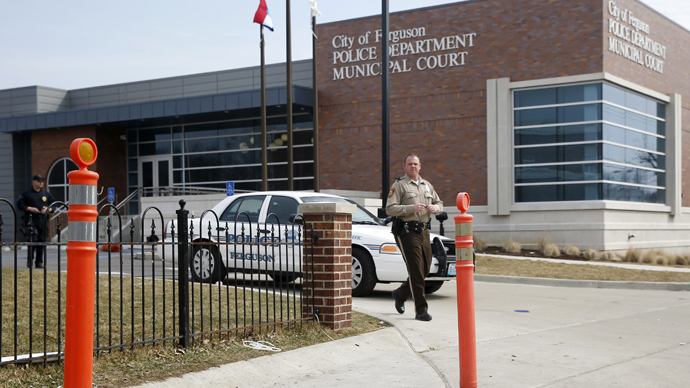 Seven racist emails exchanged between Ferguson court and police officials, which were cited in the Department of Justice (DOJ) inquiry in March, were finally released to the press. Some 50,000 messages remain unavailable.
The emails came from former Ferguson court clerk Mary Ann Twitty, former police captain Rick Henke and former police sergeant William Mudd. All were sent and received between 2008 and 2011. Twitty was fired over the emails, while Henke and Mudd resigned shortly after they were revealed.
READ MORE: Ferguson police chief resigns following DOJ report
One of the messages, sent by Twitty to Mudd and Henke in April 2011, showed a still image from the movie "Bedtime for Bonzo," with then-actor and later President Ronald Reagan bottle-feeding a chimpanzee. The caption read, "Rare photo of Ronald Reagan babysitting Barack Obama in 1962."
Another email from Twitty, from October 2011, showed a photograph of bare-chested African women dancing with a captioned of, "Michelle Obama's High School Reunion."
In June 2011, Mudd forwarded Twitty an email joke about someone who tried to sign dogs up for welfare. "So I explained to her that my dogs are mixed in color, unemployed, lazy, can't speak English and have no frigging clue who their daddies are…" the email read, concluding, "My dogs get their first check Friday."
Another email from Mudd to Twitty in May 2011 joked about how "a black woman in New Orleans" received $5,000 from Crimestoppers after her abortion.
Ferguson's ugly, racist emails released http://t.co/n5k3b3TCMI

— WGAL (@WGAL) April 3, 2015
In December 2007, Twitty forwarded a message with the subject "Insensitive One Liners." One of the jokes was about getting thrown out of a "new Muslim clothing store" after the customer asked if he could "look at some of the bomber jackets."
Ten days after the 2008 presidential election, Henke sent a message to unidentified recipients, in which he said, "I really think that some people fail to show the leader of our beloved country the proper respect that is deserving of such a honored position by indicating that we shouldn't worry about him being president very long because what black man holds a steady job for four years. Terrible, it's just terrible."
READ MORE: Missouri Supreme Court transfers all Ferguson cases to state judge
The seven messages were cited in last month's DOJ report as part of the "pattern and practice" of racial discrimination by Ferguson's police department and courts against the city's majority African-American population. It was the culmination of a six-month probe sparked by the August 2014 shooting death of Michael Brown at the hands of Ferguson PD officer Darren Wilson.
Want to know more about what the DOJ found in Ferguson? It'll cost $43,750. Ferguson wants thousands for DOJ emails: http://t.co/SKojdoRh90

— Jen Mann (@j_s_mann) April 3, 2015
Some 50,000 emails also reviewed by the DOJ remain unavailable to the public. The St. Louis Post-Dispatch quoted an estimate of $43,750 by the city clerk to redact private information from the emails in compliance with the state's public record laws. Ferguson's city attorney, Stephanie Karr, would have to redact an estimated 200 emails an hour, at the hourly rate of $175, plus a deposit and copy fee, the city clerk told the paper.
Karr herself was named in the DOJ report for dismissing a traffic ticket issued to Ferguson municipal court judge Ronald Brockmeyer, who has since resigned his position in Ferguson and four other jurisdictions. She dismissed concerns over potential conflicts of interest, saying someone else could redact emails pertaining to her.
"I don't think the taxpayers of the city of Ferguson should bear the financial burden," of the FOIA request, Karr said. Asked whether she would consider doing the redactions pro bono, Karr replied, "I don't know what you mean."
You can share this story on social media: