​Missouri Supreme Court transfers all Ferguson cases to state judge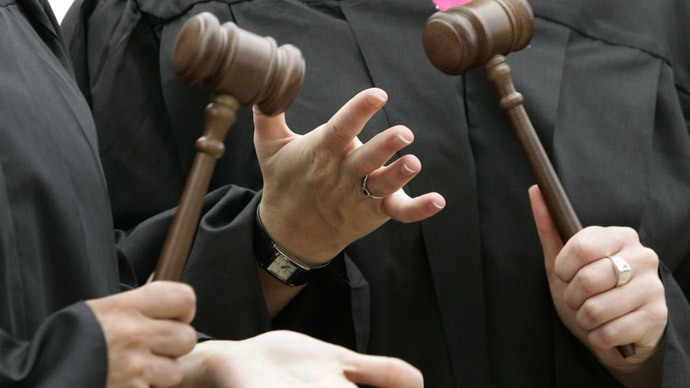 The Missouri Supreme Court has transferred all of Ferguson's pending and future municipal court cases to a state judge in the wake of an extremely critical Justice Department review of the behavior of city law enforcement and the judicial branch.
Referring to the move as an "extraordinary action," the state's high court said it is intended "to help restore public trust and confidence." There is no expiration date on the move, which can only be reversed by another court order. Under the reassignment, Judge Roy L. Richter will now oversee all of Ferguson's municipal cases.
READ MORE: Holder 'prepared' to dismantle Ferguson Police Dept, if necessary
"Judge Richter will bring a fresh, disinterested perspective to this court's practices and he is able and willing to implement needed reforms," Chief Justice Mary Russell said in a court statement.
Richer will also have the authority to implement any needed reforms in order "to ensure that the rights of defendants are respected and to help restore the integrity of the system."
"More than two-thirds of all Missouri court cases are filed in the municipal divisions," Russell added. "Though these are not courts of record, they are the first – and sometimes the only – impression Missourians have of their court system. Although we recognize the local control our statutes give these uniquely local entities, we must not sacrifice individual rights and society's collective commitment to justice."
In an email to the St. Louis Post-Dispatch, Richter said he would be reviewing the situation in Ferguson upon his arrival.
"Lawyers in general, and judges in particular, want the judicial system to operate fairly for all those who deal with the Courts," he said. "If that hasn't been the case in Ferguson or anywhere else in Missouri, that needs to change - and that's important."
READ MORE:Ferguson judge known for aggressive fines owes IRS $170,000
Meanwhile, Ferguson Judge Ronald Brockmeyer resigned from his post Monday after the Justice Department report singled him out for handing out aggressive fines against African-Americans in an unfair and discriminatory manner. The fines were wrongfully used to generate revenue for the City of Ferguson, the report stated.
A "strategy of revenue generation through policing has fostered practices in the two central parts of Ferguson's law enforcement system – policing and the courts – that are themselves unconstitutional or that contribute to constitutional violations," the report read.
At the same time that Brockmeyer was found to have raised millions of dollars for Ferguson, he was eliminating ticket fines for himself as well as his friends. He owes the government some $170,000 in taxes.
READ MORE: Misconduct among Ferguson cops 'not an isolated incident,' says Obama
In a press release delivered to the St. Louis Post-Dispatch, Brockmeyer said he "recognizes that deference to a municipal judge's judgments and court rulings depends upon public confidence." He added that the report and the ensuing media coverage "regardless of their accuracy or validity have diminished the public's confidence in the Ferguson municipal court."
Responding to the Missouri Supreme Court's action on Monday, Gov. Jay Nixon said the court system is "built on the trust of the citizens it serves." He called the court's order "strong and appropriate" before adding that it is a "solid step forward."
The spotlight on the Ferguson Police Department and court system has burned bright ever since the Justice Department report was released last week. The report stated that constitutional violations in the city "have become routine" and that officers used excessive force primarily against African-Americans.
You can share this story on social media: