​'Searing' DOJ probe finds 'distrust & hostility' between police and Ferguson residents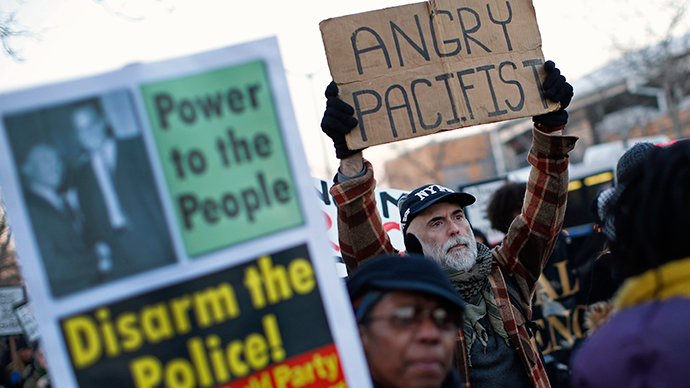 The results of a six-month-long probe conducted by the Department of Justice have revealed what federal officials have labeled a pattern of unlawful conduct exhibited by the Ferguson Police Department which is laden with constitutional violations.
Among the findings published in the 102-page report released by the Justice Department on Wednesday are well-documented trends showing that officers from the Ferguson Police Department have routinely detained and arrested residents without probable cause or suspicion, according to the DOJ, and have all too frequently resorted to using excessive force.
Eric Holder, the United States attorney general, said the "searing report" suggests the Missouri city of barely 21,000 had become a "community where deep distrust and hostility often characterized interactions between police and area residents."
The analysis, released as expected on Wednesday, comes seven months after a member of the city's police force fatally shot Michael Brown, an unarmed African American teen, and ignited a firestorm of criticism directed at law enforcement, local and otherwise. The DOJ said earlier Wednesday that a separate investigation led authorities to decide not to charge the shooter, former cop Darren Wilson, with civil rights violations related to the incident, and a grand jury decided previously that he wouldn't be indicted over Brown's death.
After nearly a year of demonstrations and rallies held across the United States to protest Brown's killing alongside an apparent nationwide epidemic of similar officer-involved incidents, the Justice Department formally acknowledges now that its lengthy investigation has yielded evidence of an approach that "reflects and reinforces racial bias, including stereotyping," according to the reports.
Examples uncovered by the DOJ during the course of the probe reveal that blacks are disproportionately targeted by the police.
"This investigation has revealed a pattern or practice of unlawful conduct within the Ferguson Police Department that violates the First, Fourth and Fourteenth Amendments to the United States Constitution, and federal statutory law," reads a portion of the 102-page report's summary.
"Ferguson's police and municipal court practices have sown deep mistrust between parts of the community and the police department, undermining law enforcement legitimacy among African Americans in particular," the DOJ concluded.
After collectively spending around 100 working days in Ferguson, near the Missouri capital city of St. Louis, and reviewing tens of thousands of pages worth of reports, the DOJ determined the African Americans are all too often the victims of police abuse, sometimes even exclusively, according to the review.
"In every canine bite incident for which racial information is available, the person bitten was African American."
Among the report's conclusions are that blacks account for 85 percent of vehicle stops, 90 percent of citations received and 93 of arrests made by Ferguson Police Department officers. According to US Census data, however, Ferguson is composed of only around 67 percent African Americans.
"Nearly 90 percent of documented force used by FPD officers was used against African Americans," the DOJ determined. "In every canine bite incident for which racial information is available, the person bitten was African American."
According to the DOJ, the Ferguson Police Department's behavior falls in line with what investigators say is a "revenue rather than by public safety needs." Officers within the department not only targets blacks indiscriminately, the investigation found, but charges, citations and arrests appear motivated not by eliminating crime but increasing local revenue.
"This emphasis on revenue has compromised the institutional character of Ferguson's police department, contributing to a pattern of unconstitutional policing, and has also shaped its municipal court, leading to procedures that raise due process concerns and inflict unnecessary harm on members of the Ferguson community," the DOJ said.
Constitutional violations
Attorney General Holder said the investigation confirms that "constitutional violations have become routine" within the city's law enforcement, and the examples outlined in the DOJ report are anything but isolated incidents.
"Our investigation showed that members of Ferguson's police force frequently escalate, rather than defuse, tensions with the residents they encounter," he said.
Speaking of the disparity in numbers with regards to race and arrests, Holder said the "deeply alarming statistic points to one of the most pernicious aspects of the conduct our investigation uncovered: That these policing practices disproportionately harm African American residents."
"In fact, our review of the evidence found no alternative explanation for the disproportionate impact on African American residents other than implicit and explicit racial bias," Holder said.
Outside the realm of law enforcement, the DOJ determined that the courts systems in Ferguson is ripe with instances of abuse as well. A "strategy of revenue generation through policing has fostered practices in the two central parts of Ferguson's law enforcement system – policing and the courts – that are themselves unconstitutional or that contribute to constitutional violations," the report reads in part.
"Officers violate the Fourth Amendment in stopping people without reasonable suspicion, arresting them without probable cause, and using unreasonable force. Officers frequently infringe on residents' First Amendment rights, interfering with their right to record police activities and making enforcement decisions based on the content of individuals' expression."
The DOJ has offered 26 recommendations for officials in Ferguson to adopt, and Holder said that he will aim "to reform their law enforcement practices and establish a public safety effort that protects and serves all members of the community" in Ferguson and elsewhere.
In a statement on Wednesday, the parents of Michael Brown said they are saddened by the decision not to charge Wilson with civil rights violations, but added they "are encouraged that the DOJ will hold the Ferguson Police Department accountable for the pattern of racial bias and profiling they found in their handling of interactions with people of color."
"It is our hope that through this action, true change will come not only in Ferguson, but around the country," they said.
You can share this story on social media: