Mark Duggan shooting: Officer cleared of 'any wrongdoing' amid police cover-up allegation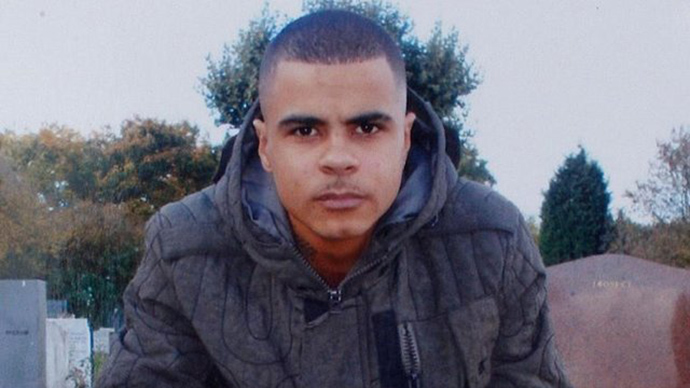 The police officer who killed Mark Duggan, sparking the English riots of 2011, has been cleared of "any wrongdoing" by a police watchdog due to a "lack of evidence." The report rules Duggan was "throwing [a] handgun away" when shot.
A three-year investigation by the Independent Police Complains Commission (IPCC) ruled the shooting of the black Londoner was "appropriate" in the circumstances.
Duggan, a suspected 'Tottenham Man Dem' gang member, was shot twice and killed after 11 specialist officers stopped a minicab he had been traveling in under the suspicion he was in possession of an illegal firearm.
No gun was found on Duggan, but a handgun was discovered in a sock 14ft (4.3 meters) from his body.
READ MORE: 'Black Lives Matter': Clashes as thousands of Londoners protest police racism [VIDEO]
The IPCC released a report calling for urgent improvements in the accountability of police operations.
It said the lack of audio and video material has "made it difficult" to discerned what really happened when Duggan was shot in Tottenham, North London, in 2011.
Radio communications between officers during the undercover firearms operation "should have been recorded" the IPCC ruled. In-car video recordings "should be made" in future undercover operations, it added.
The IPCC found it "surprising" no police officer saw the gun leaving Duggan's hand, but the report found "no credible evidence" to propose the weapon had been planted.
In January 2014, the officer who shot Duggan in the upper chest and right arm said the alleged gang member was an "imminent threat to life."
The officer, known as V53, said he shouted "armed police" and saw Duggan holding an object in his right hand, which he believed was a gun.
#j4m#justice4markpic.twitter.com/mrCzwNKTim

— justice4mark (@justice4mark) March 11, 2014
The Mark Duggan case makes my blood boil. The police came and told the world such horrifying lies. That's when I knew the public are STUPID

— #Lux Yoruba (@BabaMalt) March 25, 2015
The IPCC said its investigation "had no evidence which undermines the accounts provided" by the officer in his statements.
Co-founder of Black Lives Matter, Patrisse Cullors, told RT: "I think this is disgusting, now this is what you call racism at its finest."
'Police conspiracy?'
In a Mail on Sunday investigation released last week, it was revealed that Duggan's alleged gun supplier had used the same weapon a week before Duggan died.
The alleged supplier, Kevin Hutchinson-Foster, previously faced firearms offence charges. However during his trial at the Old Bailey, the charges were mysteriously dropped at the last moment.
The police and Crown Prosecution Service (CPS) "refused to explain why" and said it "cannot locate" the paperwork which set out the cause for their decision.
Police "missed the opportunity" to stop Foster, as they had CCTV footage of the gun suppliers' alleged offences.
IPCC says there's evidence two detectives failed to "act promptly" to investigate assault by Kevin Hutchinson-Foster who supplied gun.

— Danny Shaw (@DannyShawBBC) March 24, 2015
Duggan's family believes the failure to "shut down" Foster raises the possibility of police conspiracy, and argues that Foster was being "protected in some way in exchange for being a police informant."
"It seems to us the police tried to edit Kevin Hutchinson-Foster out of the story, to make him disappear. Why?" Mark's aunt, Carole Duggan, asked.
IPCC says even if police had responded quickly "highly unlikely" Hutchinson-Foster would have been identified and gun taken off streets

— Danny Shaw (@DannyShawBBC) March 24, 2015
Duggan "may not have been able" to get hold of the gun at the time that he did if Hutchinson-Foster was stopped.
On Twitter, the @Justice4Mark campaign said: "Evidence shows that the Met informer [Hutchinson-Foster] who gave Mark the gun posed more of a threat than Mark did."
Adding, "the Met informer" was "allowed to walk away from the scene to two other guns" which the police "knew about."
Hutchinson-Foster has since been found guilty of supplying the gun to Duggan.
'Long line of disappointments'
Dugan's family has reacted furiously to the IPCC's latest report. A spokesperson for the Justice for Mark Duggan campaign told RT "this report is a whitewash."
In a statement, Duggan's mother Pam, 56, said: "This report is another slap in the face for all the family," adding "yet again we've been let down."
The family anticipated "the IPCC would say the shooting could have been avoided," as it was highlighted in the Mail on Sunday investigation.
100's joined marks family today to demand justice, truth & accountability for the death of #markduggan 3 years ago pic.twitter.com/EH46kjxZjJ

— justice4mark (@justice4mark) August 4, 2014
"It was the latest in a long line of disappointments," she added.
"IPCC have been working on this report for three and a half years since Mark was shot dead and this is what they have come up with," she added.
We are here at #StandUpToRacism March 2015. Carole will be speaking & we will be collecting donations. #Justice4Markpic.twitter.com/IvXjVRmFUL

— justice4mark (@justice4mark) March 21, 2015
In a further statement, Duggan's family called on the IPCC to produce a "supplementary report" to address their concerns, as the report is "a chronicle of inefficiency and incompetence."
On Tuesday, the Justice for Mark campaign claimed on Twitter that Duggan "was in possession of a yellow box given to him by an informer who was allowed to walk away. Mark did not open box."
@unknown_callers he was in possession of a yellow box given to him by a police informer who was allowed to walk away. Mark did not open box.

— justice4mark (@justice4mark) March 25, 2015
The IPCC's report has given the MPS "an opportunity to improve" and recommendations will be "carefully reviewed" by the police and the Association of Chief Police Officers, Met Assistant Commissioner Patricia Gallan said.
IPCC Deputy Chair Rachel Cerfontyne said Duggan's death has had "huge ramifications for the Tottenham community and beyond."
If implemented, the recommendations would "not only shorten the investigative process, they would provide investigators with mediate, accurate and incontrovertible evidence, which would be benefit to all," she added.
You can share this story on social media: