'Black lives matter': Clashes as thousands of Londoners protest police racism (VIDEO)
Thousands of people have taken to the streets of central London in a solidarity march, following a grand jury's decision in the US city of Ferguson. Unarmed black teen Mike Brown was shot dead in August by a police officer, who was cleared of wrongdoing.
The vigil, which included a minute's silence with lit candles, started as a peaceful march of up to 5,000 people at the US embassy in London on Wednesday.
Later in the evening, some of the protesters tore down barricades, let off smoke bombs and clashed with police in Parliament Square, near the Houses of Parliament. However, no arrests were made.
READ MORE: #LondonToFerguson: Solidarity vigil at London US embassy targets police racism
One of the demonstrators explained to RT's Harry Fear why he was there. Alongside other "young people in this country" he had "one big fear: that the government doesn't look after the needs of the people."
'No justice, no peace, f*ck the police!' #Ferguson solidarity rally in London (VIDEO) http://t.co/4T0dOJs4stpic.twitter.com/aYpF4rajKj

— RT (@RT_com) November 27, 2014
Chanting a US-originated slogan "Hands up, don't shoot," protesters held signs reading "Black lives matter" and marched down Oxford Street.
They expressed their condemnation of the US grand jury decision not to prosecute Police Officer Darren Wilson, who killed Michael Brown, 18, on August 9.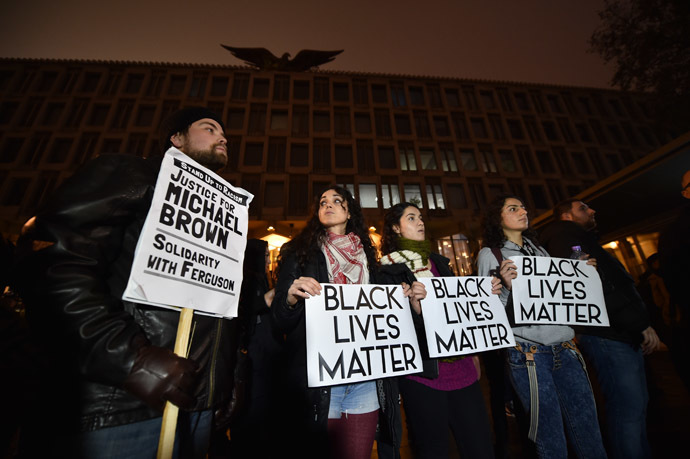 Representatives from the National Union of Students (NUS) Black Students' Campaign, Defend the Right to Protest and the London Campaign Against State and Police Violence were among the speakers at the event.
"The cheapness of black lives in the US is a reflection of racism that black communities face at the hands of the police that must be stopped," Sabby Dhalu, from Stand Up to Racism, said.
READ MORE: #LondonToFerguson: Protests spread across London LIVE UPDATES
The Ferguson incident touched the hearts of Britons, who have seen similar cases. Relatives of black locals killed by police participated in the event. The death of Mark Duggan, a black man shot by police in 2011, which sparked riots all over London and other UK cities in 2011, was widely recalled.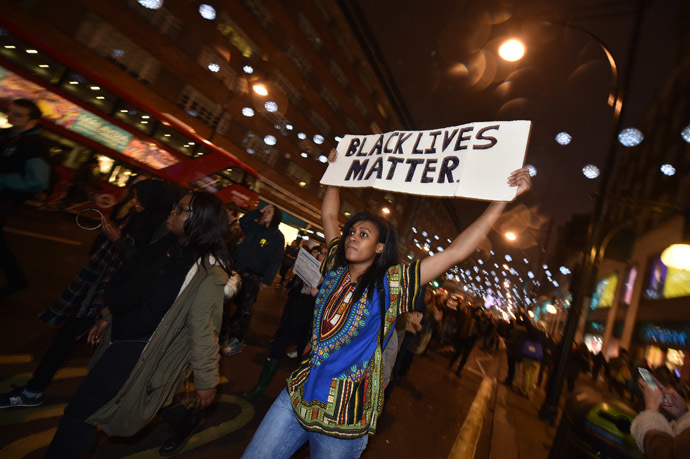 "Enough is enough. As you can see, the police are murdering black people with impunity. We all know that the American police are very aggressive and very trigger-happy," Carole Duggan, aunt of Mark Duggan, told RT's Harry Fear. "And what I'm afraid to say is that the British police are not much different. … I don't think that they realize that they are racists themselves. But they are."
The streets of #London hours ago. Thousands joined a demonstration at the heart of LDN in solidarity with #Fergusonpic.twitter.com/SzznTWdQgq

— Ferguson Solidarity (@FergusonUnity) November 27, 2014
On November 24, in Ferguson, Missouri, after weeks of trial the grand jury decision was announced on the case of Brown - who was unarmed, yet shot eight times. Wilson will not face any charges. In an interview, he also claimed to have a "clean conscience."
READ MORE: Ferguson grand jury decision divides America LIVE UPDATES
This ruling triggered a new wave of violence in Ferguson, where the incident already caused months-long demonstrations. Protests and peaceful demonstrations have also spread in other US cities, such as Seattle, New York, Cleveland, Los Angeles, Oakland, Portland and Atlanta.
You can share this story on social media: