#LondonToFerguson: Solidarity vigil at London US embassy targets police racism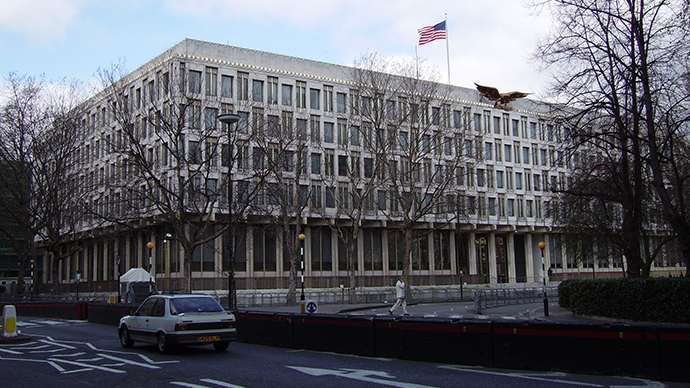 A vigil for teenager Mike Brown, shot dead by a policeman in Ferguson this year, is taking place outside the US embassy in London. Rights groups called the 'emergency' protest against a court verdict clearing Officer Darren Wilson of murder.
The shooting of Brown, on August 9 in Ferguson, Missouri, has sparked months of violent demonstrations in the US, in which buildings have been torched and over 80 people arrested.
READ MORE:#LondonToFerguson: Protests at London US embassy LIVE UPDATES
Brown was unarmed when he was shot eight times in his hometown, a predominantly black suburb of St Louis, Missouri.
The levels of violence intensified in Ferguson on November 24 after it was announced that the officer who shot Brown would not face charges over the death.
Officer Darren Wilson claims he has a "clean conscience," but the African-American community in Ferguson and throughout the US is demanding he is tried for murder.
READ MORE:Dozens arrested, traffic blocked in 170 cities on Day 2 of Ferguson protests
The verdict on Wilson's criminal charges came two days after a black 12-year-old Tamir Rice was shot by police in Cleveland while playing with a toy gun.
Protests have spread across the US to Seattle, New York, Cleveland, Los Angeles, Oakland, Portland and Atlanta. Wednesday night's demonstration in London marks a shift in the global significance of the Mike Brown shooting.
Speaking outside the US embassy this evening are representatives from the National Union of Students (NUS) Black Students Campaign, Defend the Right to Protest and the London Campaign Against State and Police Violence, among others.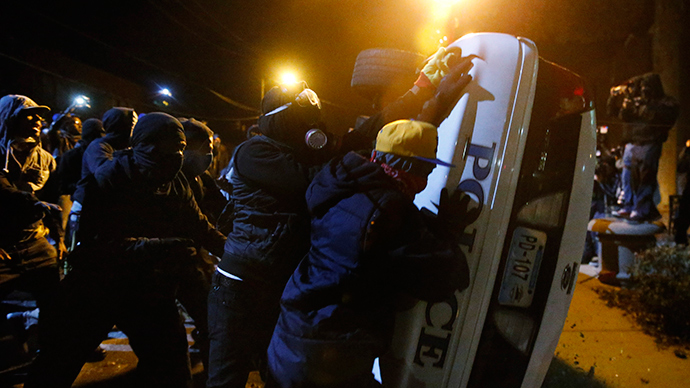 Sabby Dhalu, from Stand Up to Racism, said the group "fully support[s] the family of Mike Brown."
"The cheapness of black lives in the US is a reflection of racism that black communities face at the hands of the police that must be stopped," she added.
In London, the demonstrations have reignited the anger surrounding the death of Mark Duggan, a black man shot by police in 2011. His death sparked the summer 2011 London riots, which spread to other major UK cities.
READ MORE:What the jury heard as Darren Wilson defended the killing of Michael Brown
Carol Duggan, Mark's aunt, who will be speaking at the event, decried police shootings.
"Murder is not legitimate. No one should lose their child. Michael Brown has not got justice neither has Mark Duggan. The police are there to protect, not to kill our children," she said.
Speaking to RT, the Chair of Defend the Right to Protest Hannah Dee said the protest was part of an "international struggle" for equal police treatment.
"[It's to show] that the whole world is not only watching but joining them to demand justice for Michal Brown and for all victims of police violence and to say that black lives matter," she added.
Dee further linked the killing of Brown to the killing of Mark Duggan, saying in both instances the families of the victims were left awaiting answers for hours, while the police distributed "lies" to the "mainstream media."
"This protest is about showing there are also many people here in Britain that are ready to be part of such a movement [for justice]," Dee said.
Zita Holbourne, National Co-Chair BARAC UK, said the demonstration at the US embassy will fight for Wilson's criminal prosecution, and protest against "institutional racism."
"Until there is a balance of powers there will be no balance of the scales of justice. Oppression, institutional racism, inequality, poverty and injustice occur because of a division of rights where black people are treated like third-class citizens."
"As Martin Luther King said, a riot is the voice of the unheard. When will the powers that contribute to injustice be prepared to hear?" she added.
London MP Diane Abbott has backed the event, saying she feels the "strongest sense of injustice" for the family of Mike Brown.
You can share this story on social media: