Protesters 'lie dead,' shut down streets ahead of Ferguson grand jury decision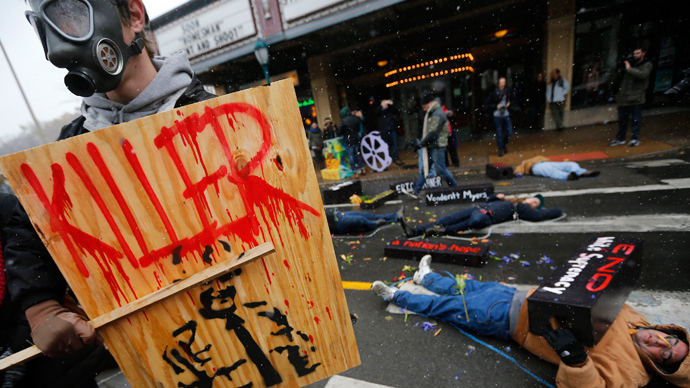 A crowd of demonstrators staged a peaceful protest in St. Louis on Sunday, marking 100 days since the fatal shooting of unarmed black teenager Mike Brown by a white police officer. Protesters laid down on chalk-marked areas, pretending to have been shot.
READ MORE: Ferguson grand jury nears end, tensions rise over outcome
The action caused temporary street closures in the city, as a couple hundred demonstrators marched in protest of the death of 18-year-old Brown, who was killed by police officer Darren Wilson in front of his home in Ferguson, Missouri in August.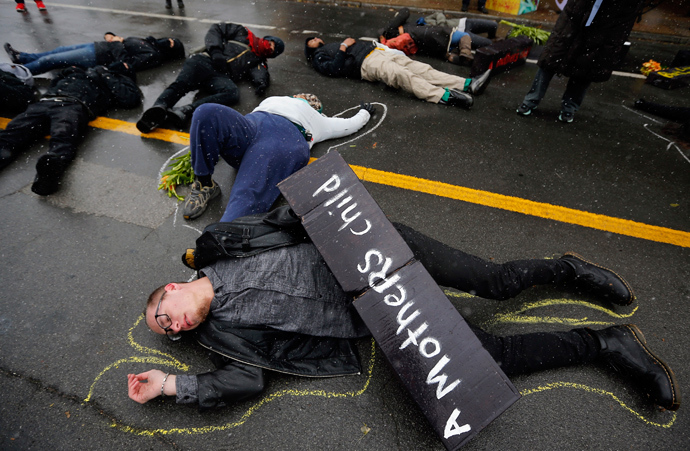 Sunday's march saw demonstrators lying down on chalk outlines of bodies, posing as individuals shot by police.
One of the central intersections near Washington University was blocked. The event was violence-free, with no major instigations reported.
"This is a mature movement. It is a different movement tha[n] it was in August. Then it just had anger, justifiable anger," protest leader DeRay McKesson told Reuters. "Now we are organized. We are strategizing. And we are going to bring our message to the power structure."
The Die-in at University City movie theatre. 1 movie goer said "this is what democracy in action looks like"#Fergusonpic.twitter.com/ZYPzo37esa

— Brooke Minters (@brookeminters) November 16, 2014
The march was organized to mark the 100th day of waiting for justice to be brought in Brown's case. The grand jury decision, which is to determine whether criminal charges will be brought against Wilson, is expected any day now. However, the date of the verdict is not expected to be announced.
100 days. Rest In Peace, Mike-Mike. We fight in your name. #Fergusonpic.twitter.com/zi6FBsttmz

— deray mckesson (@deray) November 16, 2014
Local authorities fear a new wave of violent demonstrations if the jury decides not to pursue charges against Wilson.
"We are bracing for that possibility. That is what many people are expecting. The entire community is going to be upset" if Wilson is not charged, leader of the local Latinos en Axion group Jose Chavez said.
Pics from today's "die-in" in StLouis. #Ferguson#HandsUpDontShootpic.twitter.com/WyH75fbLf6

— Rebelutionary Z (@Rebelutionary_Z) November 16, 2014
"We've decided not to wait for that decision. We've decided to get started," organizer Rockit Ali said, adding that violence could easily erupt if the grand jury fails to indict Wilson.
"Rioting and looting are the tools of those without a voice. The rioting and looting, while I didn't participate in it, was necessary. Without it we would not be standing here today," Ali said. "There is no revolution without violence."
"Dead" in front of police. University City #DarrenWilson#Ferguson die-in. 100 days since #MikeBrown killed @ajpluspic.twitter.com/YQ7V8U6ZQE

— Shadi Rahimi (@shadirahimi) November 16, 2014
It is unclear exactly what the grand jury will determine. Initial reports, as well as some witnesses, suggest that Wilson shot Brown as he was running away and trying to surrender. Wilson and other witnesses, meanwhile, say Brown was engaged in a confrontation with the officer and attempted to take his gun.
#ferguson die-in, aerial view. Blocking the street at the Tivoli in U city. "We shut s--- down." pic.twitter.com/02xz6NmhX2

— Robert Patrick (@rxpatrick) November 16, 2014
Autopsy reports show that Brown was shot at least six times, and at least two of those were in the head. Leaks regarding the county's autopsy report also suggest there is evidence indicating that Brown's hand was close to Wilson's weapon when it was fired.
Brown's death on August 9 ignited fierce, weeks-long demonstrations in Ferguson, as residents expressed outrage over the incident, the police handling of the situation, and the reaction of law enforcement to peaceful protests.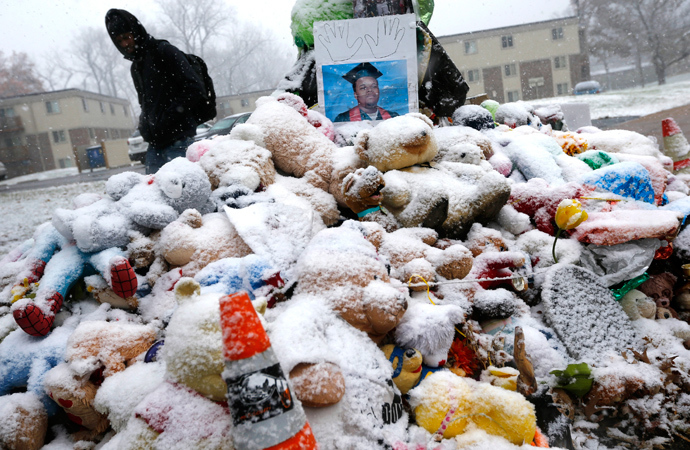 You can share this story on social media: