​Ferguson grand jury nears end, tensions rise over outcome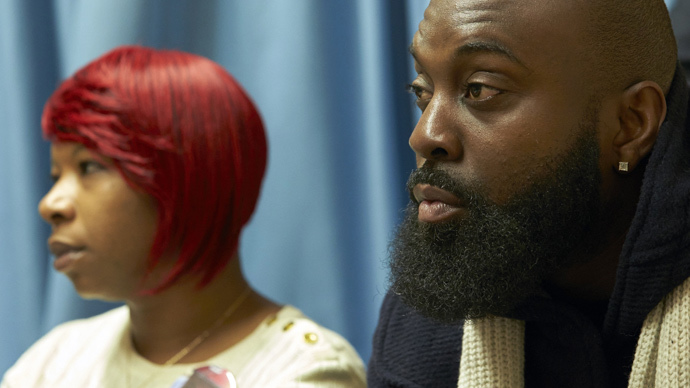 The grand jury weighing whether to bring criminal charges against the police officer who shot an unarmed black teenager in Ferguson, Missouri is reportedly nearing its end, and tension in the area is rising over the possible outcome.
Following the testimony of a private pathologist hired by the family of Michael Brown – the 18-year-old teenager shot and killed by Officer Darren Wilson – the grand jury is likely exhausting its set of witnesses. If true, it means a decision on charges could come as soon as this weekend.
"We are probably reaching the end of the road as it relates to witnesses," Brown family attorney Anthony Gray said to Reuters.
It's unclear exactly what the grand jury will determine. Initial reports, as well as some witnesses, suggested that Wilson shot Brown as he was running away and trying to surrender. Wilson and other witnesses, meanwhile, say Brown was engaged in a confrontation with the officer and attempted to take his gun.
Autopsy reports show that Brown was shot at least six times, and at least two of those were in the head. Leaks regarding the county's autopsy report also suggest there is evidence indicating that Brown's hand was close to Wilson's weapon when it was fired.
READ MORE:Ferguson grand jury decision: Gun sales spike, Missouri Gov vows strong response to protests
However, another Brown family attorney, Benjamin Crump, said Thursday that evidence paints the picture of the teenager trying to surrender.
"There is evidence that Michael Brown had his hands up, there is no doubt about that...forensic evidence," Crump said.
Brown's death on August 9 ignited fierce, weeks-long demonstrations in Ferguson, as residents expressed outrage over the incident, the police handling of the situation, and the reaction of law enforcement to peaceful protests.
While the country waits to hear the jury's decision, Ferguson and neighboring areas are bracing for another flood of protests in the event that Wilson is not charged with a crime. Gun sales have spiked recently, and businesses have boarded up their windows and enhanced security.
"The Brown family continues to call for non-violence. They continue to feel the Grand Jury will do the right thing," Parks said on Wednesday.
Speaking with RT's Manuel Rapalo, owner of Metro Shooting Supplies Steve Kingsaid that firearms sales at his shop are up 300 percent. He also defended police against some of the criticism they've faced over the past few months.
"These people have the equipment to defend themselves," he said. "I think they've shown such great restraint when they're standing in a line, getting spit on, getting rocks thrown at them, getting beer bottles thrown at them, Malotov cocktails. And yet they stood there and didn't react with what I would think would be appropriate action...they held restraint."
Others, like local resident and livestreamer Bassem Masri, disagreed.
"They [police] seem to have criminalized a whole community of people, and that's not what their job is supposed to be," Masri said.
"The police should basically respect the right to demonstrate. Instead of looking at us like the narrative of the media – that we're rioters and looters – they should look at us as citizens wanting to be heard."
Another resident, Marcellus Buckley, told RT that the National Guard may be better equipped to handle demonstrators than local law enforcement.
"I would have rather had the National Guard out here dealing with us, watching over us than the police officers, because we don't have post-traumatic stress disorder from the National Guard...they're not harassing us every day," he said.
READ MORE:Michael Brown autopsy results may support Ferguson cop's claim
On Tuesday, Missouri Gov. Jay Nixon announced that the state would be ready to quickly respond to any reports of violence that may occur in the wake of the grand jury decision. The National Guard will be on standby and ready to intervene if necessary, he said.
Nixon added that 1,000 officers have taken part in new training procedures specifically intended to deal with protests. So far, they have logged some 5,000 hours learning new procedures and preparing for whatever may happen when the decision is revealed. Nixon said the violence that occurred in the wake of Brown's death would not tolerated.
"That ugliness was not representative of Missouri and it cannot be repeated," he said. "These measures are not being taken because we are convinced that violence will occur, but because we have a responsibility to prepare for any contingency."