Ferguson grand jury decision: Gun sales spike, Missouri Gov vows strong response to protests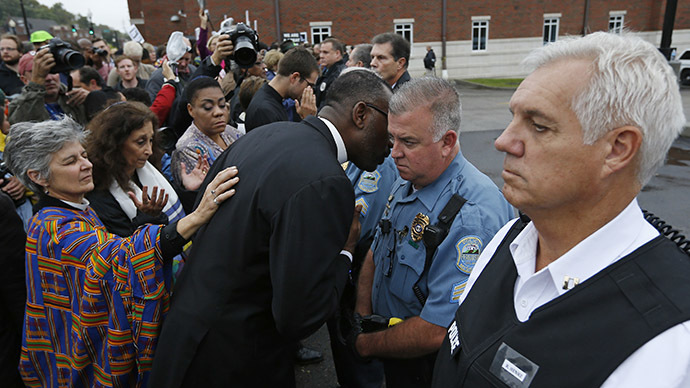 Gun shops near Ferguson, Missouri are reporting a surge in sales as residents wait to hear if a local police officer will be charged in the death of an unarmed teenager. State Gov. Jay Nixon has vowed a strong response to potential protests and violence.
Retailers like Metro Shooting Supplies in Bridgeton, MO have seen gun sales triple in recent days, KMOV News reported this week, and similar shops throughout the region are reporting that items are flying off the shelves, apparently amidst fears that the impending grand jury decision concerning Ferguson Police Officer Darren Wilson may rekindle violent demonstrations.
Sales on Friday were at a "fevered pitch," Metro's Steven King told KMOV, with the store selling over 100 guns in only three days instead of a more routine 30 weapons or so.
"This is very abnormal," King told the station. "With all the rumors on the internet, they are saying every neighborhood is unsafe, there is a possibility of a strike in any neighborhood."
According to CNN, similar shops in the Show-Me State are experiencing the same type of uptake as a grand jury gets closer to deciding if Wilson will be indicted over the officer-involved shooting death of Michael Brown, 18, earlier this year. A shooting range in Bridgeton visited by the network, for example, said sales there had surged by up to 50 percent within recent days; Dan McMullen, a local insurance man, told the station that he brings an "extra gun" with him to his Ferguson office now after demonstrations in town during the last few weeks left businesses looted or, worse, burned to the ground.
"So maybe I get trapped here or something and have to have a John Wayne shootout," McMullen told CNN with a smile. "That's the silly part about it: Is that going to happen? Not a chance. But I guess, could it? I'm the only white person here."
The August 9 incident that left Brown dead quickly spawned protests not just in Ferguson but around the world as anger grew among Americans outraged over the absence of charges filed against Wilson, 28. Those demonstrations, which at times became violent, attracted not just thousands of demonstrators, but a gauntlet of highly armed police officials who garnered attention in their own right, not over the potential case against Wilson, but rather the law enforcement response than has largely been labeled as overly excessive.
Now with a grand jury reportedly days, if not moments away from announcing whether or not Wilson will be charged, Missourians seem fearful that a similar showdown may soon erupt.
"Every time that door opens, we're seeing new faces," John Stephenson of the Metro Shooting Range in Bridgeton told CNN, citing specifically what the network described as concerns over the grand jury response.
With respect to home defense shotguns sold at Metro, Stephenson told CNN, "We've sold tons."
But Sgt. Brian Schellman of the St. Louis County Police Department warned the network that the influx of weapons in Ferguson could prove problematic, even if just one person perturbed over the grand jury verdict acts out their frustration.
"It only takes one in 10 with bad intentions to make the entire situation spiral out of control," he said. "A few protesters take it above and beyond not just aimed at police anymore, but sometimes these threats are going against police officers' families."
Indeed, Ferguson Mayor James Knowles even went as far as to warn local media this week that authorities must "prepare for the worst" as the city awaits a new series of demonstrations that may rival what was seen after the Aug. 9 killing.
"I think you have to prepare for the worst, but I think we all hope the best out of people," Knowles said. "I don't believe that there is even a small fraction of residents in the city of Ferguson who want to do any damage or harm to any other residents or to any businesses...the concern would be who comes (from) outside the area."
Previously, King from Metro and other area gun retailers said they saw a similar spike in gun sales in mid-August and the Ferguson protests began to take hold. On Tuesday this week, Missouri Governor Jay Nixon said over 1,000 officers have received specialized training in crowd control since the last major round of protests, and said "Violence will not be tolerated" when the Darren Wilson decision is finally made, which may come as early as this week.
Missouri Gov.: past 'ugliness' cannot be repeated
Meanwhile, Governor Jay Nixon announced on Tuesday that the state would be ready to quickly respond to any reports of violence that may occur in the wake of the grand jury decision. The National Guard will be on standby and ready to intervene, if necessary, he said.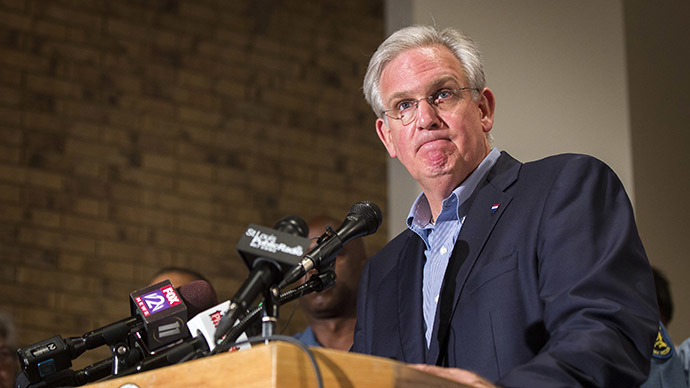 Nixon added that 1,000 officers have taken part in new training procedures specifically intended to deal with protests. So far, they have logged some 5,000 hours learning new procedures and preparing for whatever may happen when the decision is revealed.
Referring to clashes between protesters and police that occurred in the weeks after Brown's death, Nixon said it would be unacceptable for similar events to unfold again.
"That ugliness was not representative of Missouri and it cannot be repeated," Nixon said, as quoted by Reuters. "These measures are not being taken because we are convinced that violence will occur, but because we have a responsibility to prepare for any contingency."
While Nixon did not delve into specifics, he emphasized that the civil rights of protesters will not be violated should they take to the streets. Previously, a federal judge ruled that officers did violate the rights of demonstrators when they threatened arrests if people did not move after a few seconds.
Nixon reiterated that protests would be permitted so long as they are peaceful.
"This is America," he said. "People have the right to express their views and grievances, but they do not have the right to place their fellow citizens and property at risk."
You can share this story on social media: