​SoCal sheriff suspends 10 deputies involved in suspect's brutal beating after 3hr horse pursuit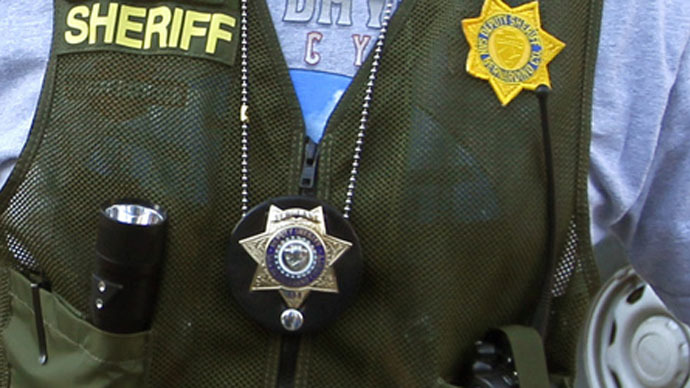 The San Bernardino County Sheriff has put ten deputies on paid administrative leave pending an internal investigation into the brutal beating of a surrendering suspect after a three-hour horse pursuit through the desert.
The last few minutes of the desert chase were caught on video by an NBC Los Angeles news helicopter. The aerial footage appears to show the deputies shooting a suspect, identified as 30-year-old Francis Jared Pusok, with a stun gun, before repeatedly punching and kicking him as he lies on the ground with his hands behind his back.
"I ask the citizens for their patience while we conduct a thorough investigation" @sheriffmcmahonpic.twitter.com/4LxABVe6Tz

— SB County Sheriff (@sbcountysheriff) April 10, 2015
"We have identified 10 deputies involved in the use of force during the arrest & they have been placed on paid admin leave" @sheriffmcmahon

— SB County Sheriff (@sbcountysheriff) April 10, 2015
"It is disturbing and it appears on its face that there are violations of policy, but that will ultimately be determined in the investigation and to what degree," Sheriff John McMahon said Thursday.
He added that he has ordered an internal investigation into the pursuit and apparent beating, as well as a separate criminal investigation into Pusok's actions and those of the deputies involved in the arrest.
"If our deputy sheriffs did something wrong, they'll be put off work and they'll be dealt with appropriately, all in accordance with the law as well as our department policy," he said.
Video footage of the beating, which lasts about two minutes, shows deputies kicking Pusok more than 15 times, punching him several dozen times and striking him with a baton four times. Within a minute, the two officers involved in aggressively subduing the man are joined by nine other deputies.
Pusok's girlfriend, Jolene Binder, told NBC news that the Sheriff's Department has refused to provide her with information about Pusok's condition or tell her where he is being treated.
"They have not told me a thing," she said. "How can you be [tasered] and still feel it's necessary to beat him like that? I don't understand."
The American Civil Liberties Union of Southern California (ACLU SoCal) has condemned the beating.
"The ACLU of Southern California understands that police officers are authorized to use force when reasonably necessary," Hector Villagra, the executive director of the ACLU SoCal said. "However, we are deeply troubled by the video images that appear to show San Bernardino County sheriff's deputies beating a man after he surrendered, placing his hands behind his back."
Booking photo of Francis Pusok pic.twitter.com/nfzXxZfIAl

— SB County Sheriff (@sbcountysheriff) April 10, 2015
Three officers were also hospitalized as result of the chase. Two are being treated for symptoms of dehydration, while a third sustained injuries after being kicked by the horse.
The horse was also hurt after the suspect rode it through steep and rugged terrain.
Pusok was the "prime suspect" in an identity theft investigation. After deputies arrived to serve a search warrant to an Apple Valley house, Pusok fled, leading deputies on a three-hour chase through the desert.
He abandoned his vehicle and began to run on foot before stealing the horse from a group of people at the Deep Creek Hot Springs.
Thursday's incident comes about a month after footage was leaked of Los Angeles police fatally shooting a homeless man on skid row.
You can share this story on social media: