LA gunman who killed 1 and wounded 2 on Election Day 'high on coke or meth'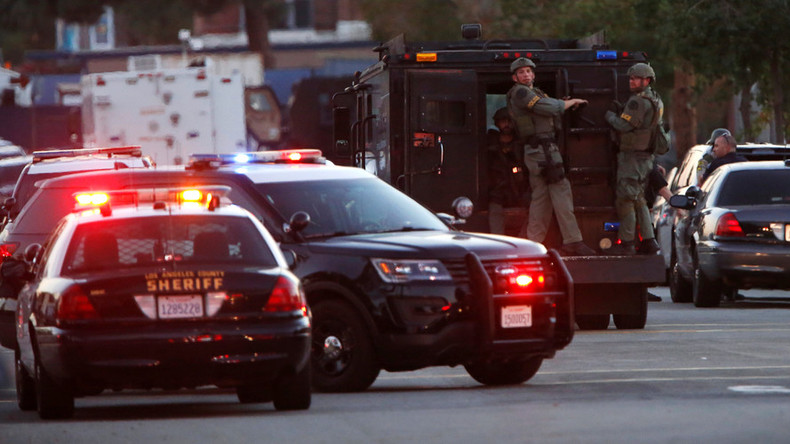 California police said the gunman who undertook a lethal rampage on election day was likely high on cocaine or meth. The shooter caused a lockdown at two Azusa polling stations, leaving one dead and two others wounded before being shot dead by police.
The shooter had been binging on cocaine or methamphetamine when he armed himself with various guns, went outside and opened fire, Los Angeles County Sheriff's Lieutenant John Corina said of the shooting in Azusa, according to AP.
The man, who told his family that he used to be in the military, was a "gun fanatic" who atarted taking drugs at least a day earlier, prompting his wife and two children to leave their home Monday evening "because he was getting out of control," Corina said.
Azusa update: shooter binged on cocaine; was a gun fanatic; came out and started shooting randomly at cars and people

— Rob McMillan (@abc7robmcmillan) November 9, 2016
Corina said the shooting "had nothing to do with the ballot or voting."
Three people were shot during the attack on Tuesday, one fatally.
"According to witnesses he came out into the street with guns and just started shooting randomly at people and cars," Corina said, according to AP.
The man shot a woman who was driving a van, which later crashed. He then walked up to a neighbor, 77-year old Francis Varney, who had stepped outside to see what had happened, and fatally shot her.
The gunman shot another woman who was outside down the street. The wounded women, who are 59 and 65 years old, were shot in the face and torso respectively. Both were hospitalized in a critical condition.
"The doctor said last night that it didn't look good, but I think they're progressing better this morning," Corina said. "They're still alive."
When police officers arrived at the scene to help the victims, the gunman opened fire on them with an assault rifle. The man was found dead in the entryway to a home after an hours-long standoff with police.The shooter's name has not been released.
Investigators suspect he was lying about his military record.