Police officer killed during 1st shift, Army sgt. charged
Published time: 1 Mar, 2016 00:59
Edited time: 20 Dec, 2016 00:13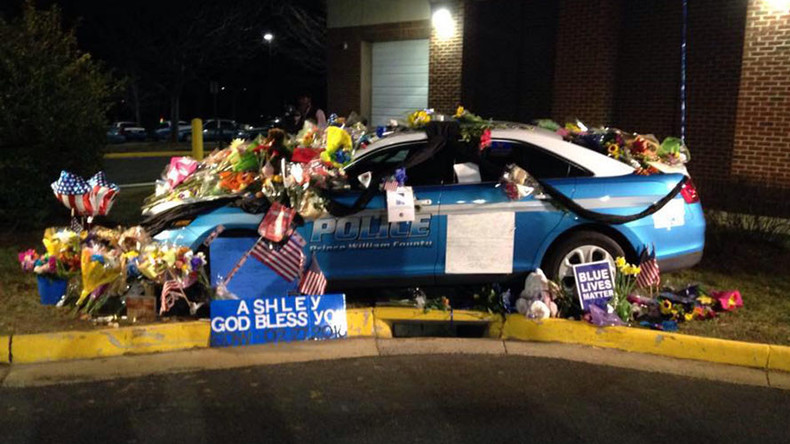 Just a day after being sworn in, Officer Ashley Guindon responded to what would tragically be both her first and final police call. A domestic disturbance turned deadly for Guindon and the wife of the suspect, Army staff sergeant Ronald Hamilton.
On Friday, Guindon, 28, took her constitutional oath of office, and on Saturday, she and two other Prince William County Police Department officers were fired upon as they approached a home in Woodbridge, Virginia, from which a 911 call had been made.
Hamilton, 32, allegedly killed his 29-year-old wife, Crystal Hamilton, who had made the 911 call, not long before officers arrived. Guindon was the only downed officer not to survive the alleged shooting by Hamilton, who is on active duty and assigned to the Joint Staff Support Center at the Pentagon.
"The Prince William County Police Department is in deep mourning," Police Chief Steve Hudson said at a Sunday news conference. "This is a sad day for everybody in this room, a sad day for law enforcement."
Officer Jesse Hempen, a 31-year-old 8-year veteran of the force and 10-year veteran Officer David McKeown, 33, are in recovery at the Inova Fairfax Hospital, Hudson told reporters.
Guindon's death marks the fourth on-duty police death in the county since 1970, according to the police department's website.
Guindon had previously shown interest in joining law enforcement, but was stalled by personal commitments before returning about a year later to start her new career.
"We were struck by her passion to do this job," Hudson said at the press conference. "She couldn't get it out of her blood. She clearly had a passion to serve others that went beyond herself."
A funeral for Guindon is scheduled for Tuesday at Hylton Memorial Chapel in Woodbridge, but police have already begun honoring her death. On Sunday evening, more than 100 squad cars escorted the vehicle taking Guindon's body to the medical examiner's office. The Prince William County Police Association has also set up a funeral fund for the Guindon family.
Maurice Canady, a former University of Virginia football player seeking a career with the NFL, also honored Guindon. Canady wore cleats with the message: "Officer Guindon 2/27/16 Never Forget" written on them for the the NFL Scouting Combine, according to NBCSports.com.
One cleat will be donated to the Guindon family while the other is auctioned off to support the funeral fund.
Meanwhile, a capital murder case is being built against Hamilton who ended up surrendering to backup police forces. Hamilton was denied bond and is being held at Prince William County Adult Detention Center while also facing charges of first-degree murder for his wife's death.
Virginia Commonwealth Attorney Paul Ebert told reporters that he will "likely" pursue the death penalty.