4 arrested in Baton Rouge burglary, plot to use stolen guns to kill cops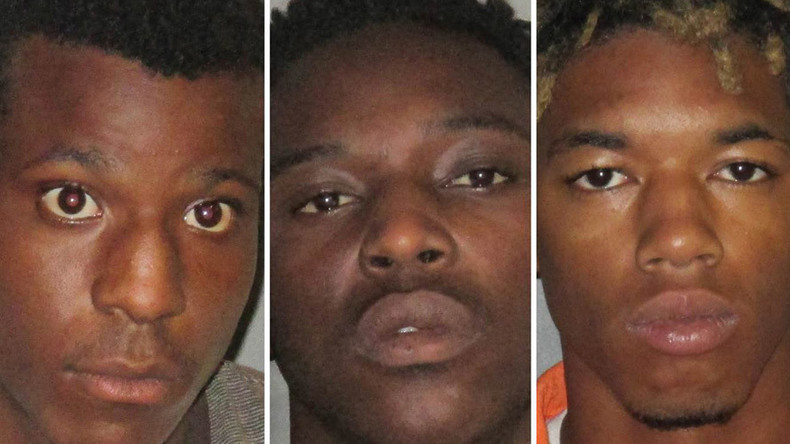 Three young men and a juvenile have been arrested by police in Baton Rouge, Louisiana for stealing handguns from a pawn shop. The suspects were going to use the weapons to kill police officers, law enforcement officers said.
Early Saturday morning, police were alerted to a break in at the Cash America Pawn Store in Baton Rouge. Eight handguns and a BB gun were stolen.
The Baton Rouge Police Department ‒ in conjunction with state police, the East Baton Rouge Parish Sheriff's Office and the US Bureau of Alcohol, Tobacco, Firearms and Explosives (ATF) ‒ reviewed surveillance video from the pawn shop, which showed that the suspects used a ladder to climb onto the roof of the building to break in.
Antonio Thomas, 17, was arrested inside the store with a handgun and a BB gun on him. He told the arresting officer that the group had broken into the shop to get bullets for the stolen guns to use to shoot law enforcement officials in the area, Louisiana State Police Superintendent Colonel Mike Edmonson said at a press conference on Tuesday.
"We learned from that suspect that was taken into custody that the reason the burglary was being done was to harm police officers," Baton Rouge Police Chief Carl Dabadie said. "Their goal and objective in the burglary was to get bullets, I think as his statement was, to get bullets to harm police officers in the Baton Rouge area."
On Sunday, police arrested Malik Bridgewater, 20, at his home, where three guns were recovered. On Tuesday, police arrested a 13-year-old male in conjunction with the robbery.
Trashone Coats, 23, was arrested with two of the handguns from the robbery. He said he had purchased the guns on the street, the sheriff's office said in a statement.
A fourth man from the break-in is still considered to be at-large and is believed to have two of the stolen guns, police said.
Read more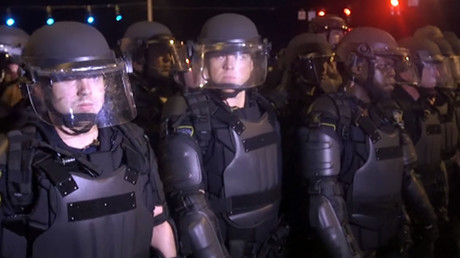 "We ask that suspect, if you know who you are, please turn yourself in," Dabadie said. "Please come on in, you won't be harmed. Turn yourself in and that way we can recover the rest of the firearms that were taken in this case."
Authorities would not reveal more details about the incident, saying that both state and local agencies had undercover agents working on the investigation. However, they used the plot to kill officers, which they described as "real, credible evidence" that police were under a serious threat, as their justification for how law enforcement had handled protests in the city over the weekend.
"We have been questioned repeatedly over the last several days about our show of force and why we have the tactics that we have," Dabadie said. "Well, this is the reason. Because we had credible threats against the lives of law enforcement in this city."
East Baton Rouge Parish Sheriff Sid Gautreaux echoed those remarks.
"We've all been asked numerous times by numerous individuals why the show of force, why are y'all responding in the manner in which you are," he said. "What you saw in the response was because of the very real and viable threat against law enforcement."
"And all I can say beyond that is 'Look what happened in Dallas'," on Thursday night, where police were at a "very peaceful protest and then some crazy madman did what he did," Gautreaux continued. "So I think the threat speaks for itself; we can't take anything for granted anymore."
Protesters have been demonstrating against police brutality in Louisiana and across the country after Baton Rouge police fatally shot Alton Sterling, an African-American man, while he was pinned to the ground last Tuesday.
On Wednesday, Sterling's 15-year-old son spoke out for the first time, calling Sterling a good man and asking people not to resort to violence after his father's death.
"I feel that people in general, not matter what their race is, should come together as one united family," Cameron Sterling told reporters outside the convenience store where his father died. "Yes, you can protest, but I want everyone to protest the right way. Protest in peace, not guns, not drugs, not alcohol, not violence."