Arrests made in Baton Rouge protests; Atlanta protesters in standoff with police on highway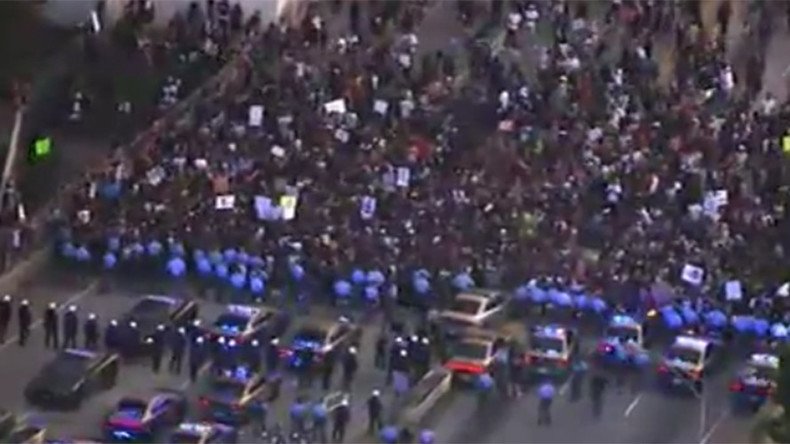 Protesters in Atlanta, Georgia marching against police brutality have shut down Interstate-75 and the northbound side of Interstate-85, where a large police presence is preventing them from advancing further. Meanwhile, in Baton Rouge, Louisiana, some arrests have been made in protests there.
Thousands of people rallied in Atlanta, Georgia and Baton Rouge, Louisiana on Friday to protest the recent police-involved deaths of Alton Sterling and Philando Castile, both African-American men, in Louisiana and Minnesota respectively.
Atlanta
A more local matter important to many Atlanta protesters is the recent hanging of a black man in Piedmont Park, though that death remains under investigation and has not yet been ruled a homicide.
Initially, they rallied at the Center for Civil and Human Rights, then marched to the broadcasting studios of CNN, and blocked a full section of the highway near the studios, facing a line of police.
Local CBS-affiliate WGCL reported that, despite the largely peaceful gathering, some of the officers in riot gear, including masks and with shields, were spat upon, slapped and had water bottles thrown at them by some of the demonstrators. However, there are no reports of any arrests.
Mayor Kasim Reed tweeted out a warning to those entering the highway, saying, "you endanger your own life," adding, "We are better than that."
Among the several groups attending the rally were Black Lives Matter and the Georgia NAACP, who insist that race is still an issue in the US and that people need to rally for a better society.
Organizers said the march ended at 8:00 p.m., but some participants continued to march. The mood appeared jubilant, though some marchers took issue with police shooing them out of the streets and onto the sidewalks.
Hip hop artist T.I. was spotted in the Atlanta crowd, but it was not clear if he was part of the group on the highway.
Marchers covered downtown Atlanta streets earlier in the afternoon.
Baton Rouge
In Baton Rouge, Louisiana, several hundred protesters assembled across the street from Baton Rouge Police Department headquarters, temporarily blocking streets around 8:30 p.m.
Protesters are reportedly attempting to block Airline Highway, located near the Baton Rouge Police Department.
At least two protesters were arrested on Friday at the rally for Alton Sterling, according to local reports. Police created a line to keep protesters on the sidewalk and off the Airline Highway, and told protesters that they would be arrested if they tried to cross the line, according to WBRZ.
The protesters chanted, "No justice, no peace!" and "Y'all have guns. We have posters," according to the Associated Press.
A line of officers, some with riot shields and batons, cleared the street pushing protesters to the curb. Another large presence of police officers stood guard on each street corner of the intersection where the protesters were.
Baton Rouge has been on edge since the Tuesday shooting death of Alton Sterling, a black man, at the hands of two white police officers.
For the third night, people gathered at the Triple S Food Mart, where Sterling was shot to death.
Earlier on Friday, more than two dozen protesters briefly laid down in front of the New Orleans Police Department headquarters in a symbolic die-in.
You can share this story on social media: