Road blocks and peace signs: Black Lives Matter protests across America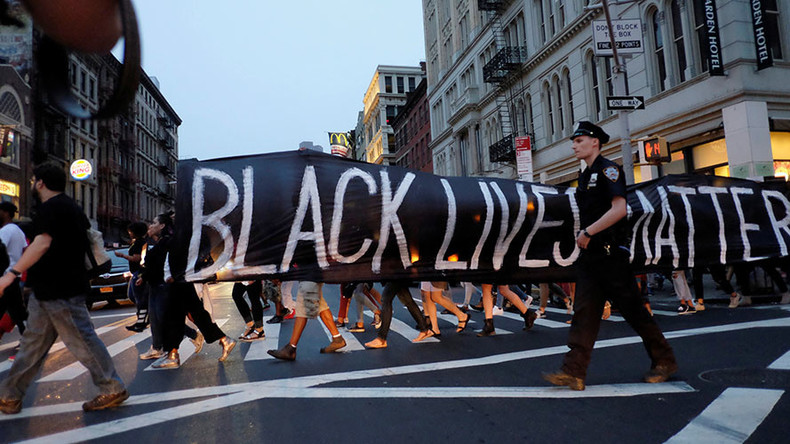 Protests against police violence blocked highways in several US cities late Sunday and on Monday morning, calling attention to the plight of black Americans. While demonstrations were peaceful in some places, things got heated in Minnesota and Louisiana.
On Monday morning, a group of 150 or so protesters blocked traffic in the center of Philadelphia, Pennsylvania, demanding of the mayor to "take a stand for black lives and stop bailing out crooked cops." The demonstration dispersed after about an hour – without any arrests, according to WCAU.
Hundreds of protesters lined up in the shape of a peace sign in the Los Angeles suburb of Inglewood on Sunday night, protesting the recent deaths of African-American men in Louisiana, Minnesota and New York at the hands of police officers.
Around 10:30 pm local time, several dozen protesters had split off from the main body and formed a line across Interstate 405, blocking traffic in both directions for about 10 minutes, according to the Los Angeles Times. The protesters then moved back towards the main demonstration on Manchester Boulevard, estimated at about a thousand people.
"There has been no reason for interference by us," said Lieutenant Gregory Held of the Inglewood Police Department. "It's all been peaceful."
In Memphis, Tennessee, a thousand protesters blocked the Interstate 40 bridge across the Mississippi, after picketing the police headquarters. Interim police chief Michael Rallings de-escalated the situation by locking arms with the protesters and marching with them off the bridge.
"I'm not scared of my people," Rallings, an African-American, said after the protest.
Earlier in the day, Rallings had suspended two white MPD officers for posting a "disgusting" image on Twitter. The photo showed a white hand holding a gun, aimed at an emoji of a running black man. The gun also had a skull logo associated with the Punisher, a Marvel Comics vigilante.
"The image is disgusting and will not be tolerated," Rallings said, according to WHBQ.
Demonstrations were far less peaceful in Baton Rouge, Louisiana, where 37-year-old Alton Sterling was killed by police outside of a convenience store last week.
Police in riot gear squared off against hundreds of demonstrators who were attempting to block Interstate 110, eventually using armored vehicles to disperse the crowd and arrest some 40 people. The confrontation followed the arrest of 125 demonstrators on Saturday, including prominent Black Lives Matter activist DeRay McKesson.
Police blamed the large number of arrests and several incidents of violence on outside agitators such as McKesson, pointing out that one officer lost teeth to a "projectile" thrown outside the police headquarters. Officers confiscated three rifles, three shotguns and two pistols during the protest, Sergeant Don Coppola, spokesman for the Baton Rouge PD, said in a statement.
"It appears the protest at Baton Rouge Police Headquarters have become more violent as out of town protesters are arriving," Coppola said.
In St. Paul, Minnesota, where 32-year-old Philando Castile was killed last week, his relatives urged peace after a violent confrontation between demonstrators and police on Interstate 94 during the night between Saturday and Sunday. Over 100 protesters were arrested, and 21 officers were injured during the clash.
"Our officers acted admirably and incredibly professionally," Mayor Chris Coleman told MSNBC on Monday, explaining that the police had used smoke bombs and mace, but not teargas.
One of the officers suffered a spinal fracture after demonstrators dropped a large concrete block on his head, reported St. Paul's KARE-TV.
At least eight of the people arrested were from outside of Minnesota, the police noted.
Police across the country have been on edge after a man opened fire on officers during a Black Lives Matter march in Dallas, Texas on Thursday, killing five and injuring nine officers before he was killed by a police robot. He was identified as Micah Xavier Johnson, 25, an African-American.