New York to pay $4mn settlement to family of Akai Gurley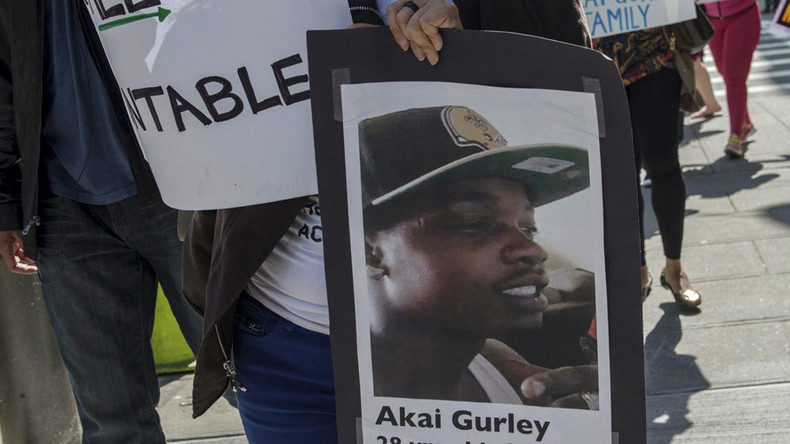 New York City has agreed to pay more than $4 million to settle a wrongful death lawsuit filed by the family of Akai Gurley, an unarmed African-American who was fatally shot in 2014 by a police officer in a Brooklyn housing complex.
Kimberly Ballinger, the mother of Gurley's young daughter Akalia, filed the suit. The settlement money — including $4.1 million from the city, $400,000 from the New York City Housing Authority, and $25,000 from Peter Liang, the ex-cop who shot Gurley — will be placed in a trust fund for Akaila Gurley, according to reports.
Negotiations over the settlement lasted two months, under the supervision and approval of Brooklyn Supreme Court Justice Dawn Jimenez-Salta.
"I'm glad it's all done. I'm pleased with the outcome," Ballinger told the New York Daily News while waiting for Jimenez-Salta to end the negotiation process.
Ballinger's wrongful death lawsuit cited rookie New York Police Department officers Liang and Shaun Landau as being negligent and reckless during their vertical patrol of a stairwell at the Louis H. Pink Houses, a Brooklyn public housing project, on the evening of November 20, 2014. The Housing Authority was included in the suit for failing to repair broken lightbulbs in the stairwell of the housing complex.
Money won't bring #AkaiGurley back. I hope the settlement improves his families stability.

— TariqTouré طارق تورى (@TariqToure) August 16, 2016
During their patrol of the darkened stairwell, Liang and Landau were holding flashlights and had their guns out. According to his testimony, Liang was opening the door of the eighth floor landing with the same hand in which he was holding his Glock. He claims his gun went off by accident.
Pink Houses resident Akai Gurley, 28, and his companion Melissa Butler, 27, were entering the stairwell from the seventh floor at that time. According to Liang and Brooklyn District Attorney Kenneth Thompson, the bullet from Liang's gun ricocheted off the wall and struck Gurley in the chest. Gurley made it down to the fourth floor and collapsed, while Butler struggled to conduct chest compressions with the aid of a neighbor who called 911.
Akai Gurley's family's settlement includes $25,000 from Peter Liang.

If he has to pay...shouldn't he be in jail?

— Olivia A. Cole (@RantingOwl) August 16, 2016
Liang and Landau, meanwhile, argued for several minutes about who would call their supervisor about the incident, all as Gurley lay dying. Instead, Liang reportedly decided to text a union representative during that time. His text messages reportedly reveal that the officers did not even know the precise address of the building they were in.
In addition, neither officer knew how to perform CPR. Both officers had been on the force for 18 months at the time of the incident. They were eventually fired from the NYPD.
Read more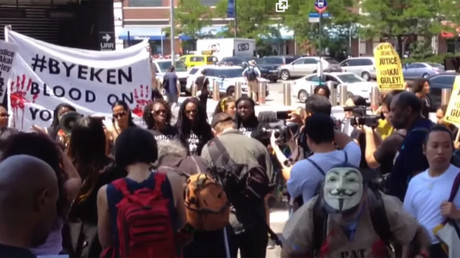 "We hope the new incoming police commissioner James O'Neill will use this case as an example to review practices and procedures that are ongoing in the academy as well as in the street with pairing two rookies together," said Ballinger's attorney Scott Rynecki, according to the New York Daily News.
Liang was convicted by a jury of second-degree manslaughter in February, yet Kings County Supreme Court Justice Danny Chun reduced Liang's conviction to criminally negligent homicide, sentencing him to five years of probation and 800 hours of community service.
The officer has appealed the criminal conviction, but the decision in that case will not impact the settlement. The fund set up for Akaila Gurley cannot be accessed without court approval until she turns 18. In the meantime, the money will be invested in annuities, which will increase the total to an estimated $10 million in her lifetime, according to reports.
A New York City spokesman said the city Law Department believed it was "a fair resolution of a tragic matter."
Liang is only the second NYPD officer convicted of on-duty homicide in more than 10 years. He has apologized to the Gurley family, maintaining that the shooting was an accident.
The Gurley settlement is the latest among a string of efforts by major US police departments to compensate families of people killed in officer-involved shootings rather than deal with wrongful-death lawsuits in court. It is also the third major payout in the last two years from New York City to families of unarmed black men killed by police.
In January 2015, the family of Ramarley Graham, an 18-year-old chased into his home and fatally shot in February 2012 by an officer who believed he had a gun, was awarded $3.9 million.
In July 2015, the family of Eric Garner was awarded $5.9 million. Garner died after an undercover police officer, Daniel Pantaleo, put him in a chokehold in July 2014. At the time, Garner was selling loose cigarettes on the street in Staten Island, drawing the attention of police.
Elsewhere, the city of Cleveland agreed in April to pay the family of slain 12-year-old Tamir Rice $6 million. In 2015, Baltimore agreed to pay $6.4 million to the family of Freddie Gray, who died from injurers sustained while he was detained in a police van. The family of Walter Scott, fatally shot in the back by a South Carolina officer amid a traffic stop, settled with North Charleston for $6.5 million in October.