Man who filmed fatal arrest of Eric Garner sues NYC for $10 million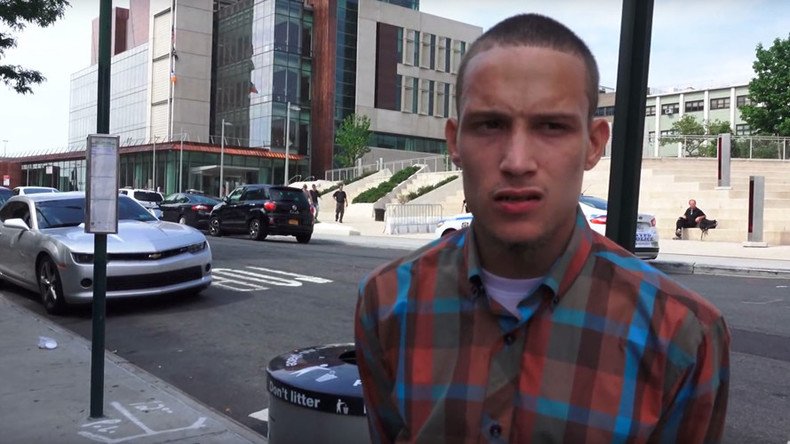 Ramsey Orta, the man who filmed the fatal arrest of Eric Garner, is suing New York city for $10 million, arguing this own arrest was a "retaliation" for the Garner video. Orta is soon to be sentenced on drug charges and gun possession.
The man who videoed the NYPD's fatal arrest of Eric Garner, which led to national outrage and nationwide protests over police brutality, is suing the city for $10 million. Ramsey Orta argues his own arrest was "retaliation" for making the Garner video.
"He feels he was unjustly singled out for arrest because he took that film of his friend getting arrested. The police have gone out of their way to follow him and arrest every change they get," Orta's lawyer, Andrew Plasse, told the New York Daily News.
Two weeks after he filmed New York City police killing Garner by putting him in a chokehold, Orta, 26, was arrested on charges of possessing a .25 caliber Norton semiautomatic handgun. Six months later, he was charged with selling $40 worth of heroin to an undercover cop.
The lawsuit filed on Tuesday in Manhattan Supreme Court argues that those arrests were unwarranted.
The video, which was first posted on the New York Daily News website, shows police officer Daniel Pantaleo of the New York Police Department putting Garner in a banned chokehold, despite the suspect's plea of "I can't breathe." That video caused a national outcry over police brutality that led to nationwide protests and contributed to the birth of the Black Lives Matter movement.
In the complaint, Plassa said Orta's film "was seen by millions" and led to "calls for change in the way the NYPD handles arrests and medical care for arrestees."
Plasse argued that, instead of being supported for exposing police tactics and the failure of the EMT's to assist a victim, his client was "arrested on false and/or trumped up charges."
"Twenty six felonies on Staten Island!" Plasse told the Daily News. "If he was sentenced on all of them, he would do more time that (Son of Sam serial killer) David Berkowitz."
In the end, 25 of those felonies were tossed.
Plasse argued in the complaint that the arrests were "retaliation for (Orta's) exercising his first amendment rights in protesting police brutality and as a result, (Orta) sustained an unreasonable search and seizure and deprivation of liberty without the process of law."
A representative of the city Law Department told the New York Daily News, "We will review all the allegations once we get the complaint."
Orta is currently living with his wife in Las Vegas and is due to report to court in October for sentencing on gun possession and drugs charges that did stick. He is facing four years for pleading guilty to those charges.
You can share this story on social media: