Tennessee highway gunman was 'troubled' by police shootings – authorities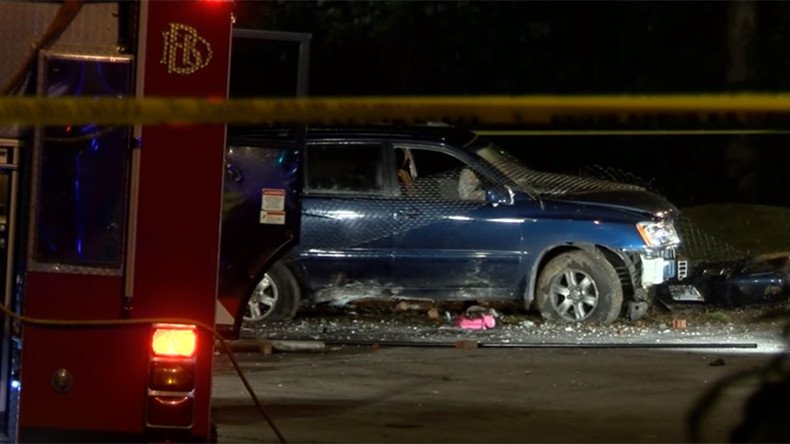 Officials have identified the victims and the gunman who opened fire on a highway in Bristol, Tennessee on Thursday, and said that the attacker was motivated by anger at police shootings of African-Americans.
A man armed with a rifle and a pistol shot at a motel on Volunteer Parkway around 2:20am (6:20am GMT) Thursday, and then at passing cars, before exchanging gunshots with police officers who responded to the incident.
The Tennessee Bureau of Investigation (TBI) identified the suspect as Lakeem Keon Scott, 37, an African-American.
We've released an update in the ongoing investigation into Thursday's shootings in Bristol, TN. -->

— TBI (@TBInvestigation) Jul 08 2016
"Scott may have targeted individuals and officers after being troubled by recent incidents involving African-Americans and law enforcement officers in other parts of the country," TBI said in a statement Friday. "Late this morning, investigators had their first opportunity to speak with Scott, and the work to develop a thorough understanding of his motivation for this incident remains central to the ongoing investigative work."
One person was killed in the shooting. The TBI identified her as Jennifer Rooney, a Bristol Herald Courier newspaper carrier killed in her car on Volunteer Parkway.
Deborah Watts, a clerk at the Days Inn, was injured and is in "serious but stable" condition at the Bristol Regional Medical Center. David Whitman Davis received "minor injuries" by flying glass, while Officer Matthew Cousins sustained a "superficial wound to the leg" and was released after treatment, the authorities said.
Scott was shot by the officers and is being treated at a hospital, according to the TBI.
Police departments across the US are on high alert after 12 police officers were shot – five fatally – in Dallas, Texas on Thursday night, during a Black Lives Matter march. Demonstrations across the US protested the police killings of Philando Castile of St. Paul, Minnesota and Alton Sterling of Baton Rouge, Louisiana, earlier this week.
On Friday, authorities in Valdosta, Georgia said one of their police officers was shot and wounded after being lured into an ambush by a 911 call reporting a break-in. Another officer was ambushed and shot from behind during a traffic stop in Ballwin, Missouri.
The Dallas attacker was identified as Micah Xavier Johnson, 25, a US Army reservist and Afghanistan veteran. Johnson was later killed in a standoff with police.
You can share this story on social media: