Names of 1 in 5 police officers involved in fatal shootings stay secret - report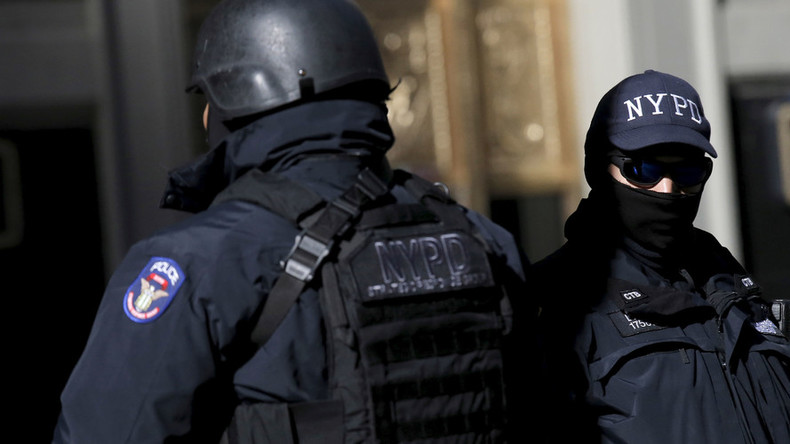 In more than 20 percent of fatal police-involved shootings that occurred in the US in 2015, the officers responsible have not been publicly identified, according to a new report.
In 2015, officers involved in 780 of the 990 fatal police shootings tallied by the Washington Post were named, mostly through police department disclosures revealed in media reports. Other officers were identified in lawsuits or via leaks to a news outlet, according to a new Post analysis.
In 145 fatal shootings, police departments said pending investigations, state or federal records laws, internal policy, or agreements with local police unions barred them from releasing names of officers involved, the Post reported. In an additional 65 cases, the departments did not respond to the paper's inquiries.
In 14 cases, police departments declined to name names citing endangerment to the officer; in 17 cases, departments said an officer's name is concealed unless charges are filed; in 22 cases, they cited department policy; "other reasons" were cited for 32 cases; and in 60 cases, pending investigations impeded disclosure.
Experts told the Post that more than 18,000 police agencies across the US have little uniformity in the way they handle disclosure of an officer's name following a fatal shooting.
"I think police chiefs and departments have a wide variety of responses, and we have not found any model policies or standards," said Chuck Wexler of the Police Executive Research Forum.
WaPo's police shooting database 2.0: relaunched with additional data, search functions. Will continue to update https://t.co/AGy0UdHNyp

— Wesley Lowery (@WesleyLowery) April 1, 2016
California law, for instance, requires police agencies to publicly release the name of an officer involved in a fatal shooting – unless there is a threat made to a department or officer. The Chicago Police Department and federal agencies, however, only release an officer's name if the individual is charged with a crime involving a shooting. Last year, the Philadelphia PD began disclosing names of officers involved in shootings within 72 hours. The Las Vegas Metropolitan PD releases names of all officers involved in shootings.
"The name creates that true accountability," Sheriff Joseph Lombardo of the Las Vegas Metropolitan PD told the Post. "Once the name is put to the person or the act, it's very hard for an organization to avoid the tough questions about that individual's past."
Publicly disclosing the name of an officer involved in a fatal shooting is often governed by state open-records laws, the Post reported. Most states, however, offer police departments substantial discretion to shield such information, with police unions throwing significant support behind efforts to allow departments to withhold names.
In Chicago, the collective bargaining agreement between the police department and the union bars the department from identifying an officer to the media unless charges are filed.
"Just because an officer is involved in a fatal shooting doesn't mean that the officer has done anything outside of protecting their own life and the life of their partners," Dean C. Angelo Sr., head of the Fraternal Order of Police Chicago Lodge No. 7, told the paper.
According to the Post, as of the end of March 2016, 255 people in the US have been killed by police officers – 10 more people than in the same time period last year.
You can share this story on social media: