Lack of transparency in El Cajon Police fatal shooting divides community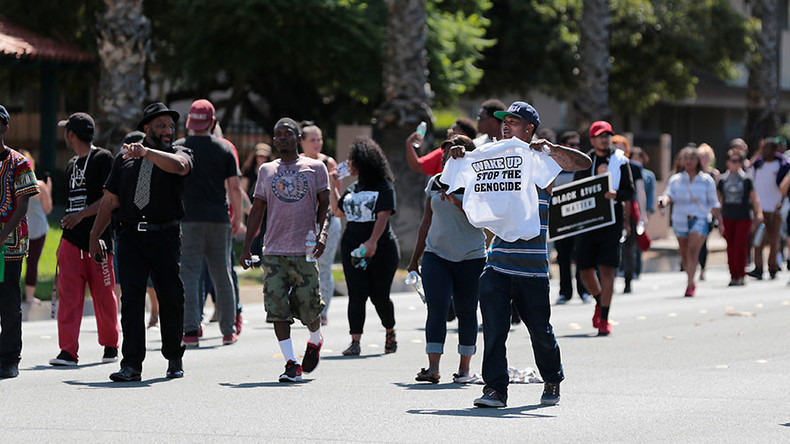 The killing of an allegedly mentally ill man by police has resulted in protests in San Diego's East County. Demonstrators peacefully confronted law enforcement to demand answers and the release of a recording documenting the shooting.
UPDATE: El Cajon Police have confirmed that the victim of Tuesday's shooting was Alfred Olango and he was pointing a vape smoking device at the officers.
UPDATE 2: The officer involved in the shooting has been identified as Richard Gonsalves, a veteran of the force of 21 years. He was formerly a sergeant, but was demoted after multiple sexual harassment complaints were filed. The first was in 2015 and another was filed by the same officer in August.
Alfred Olango, 38, was killed Tuesday by police officers in El Cajon, California. Police were summoned to the scene after his sister called 911 to get her brother help while he was in the throes of some kind of mental distress. Officers claim that he refused to show them his hands until he revealed them rapidly with both hands on an object that was determined to not be a weapon.
The situation quickly went viral on social media after one witness began documenting the aftermath of the shooting on Facebook Live. Rumbie Mubaiwa recorded Olango's sister wailing to police, "why couldn't you guys tase him? Why, why, why? I told you he's sick."
El Cajon Police Department has not offered many details about the incident other than to dispel rumors being perpetuated by social media that Olango had his hands raised when he was shot.
In a press conference Tuesday night, Police Chief Jeff Davis addressed these rumors along with reports that police had confiscated cellphones from witnesses.
Davis acknowledged that the police were responding to a call about a man "who was 'not acting like himself'" and behaving unusually.
"The subject refused multiple instructions by the first officer on scene to remove his concealed hand from in his pocket," Davis said.
"The subject paced back and forth while officers tried to talk to him," a police press release read. "At one point, the subject rapidly drew an object from his front pants pocket, placed both hands together and extended them rapidly toward the officer taking up what appeared to be a shooting stance. At this time, the officer with the electronic control device discharged his weapon. Simultaneously, the officer with the firearm discharged his weapon several times, striking the subject."
Davis confirmed that a video recorded by a witness had been turned over to the police. And to prove that Olango's hands were not up, the department released a single still image of Olango before the shooting. However, the video has yet to be released, and rumors that Olango was killed while having a seizure continue to circulate.
When asked why the department was not releasing the video that supposedly corroborated the officer's story, Davis explained that a new countywide protocol considers recordings of these altercations to be evidence in officer-involved shootings. As a result, all law enforcement agencies in San Diego County require that this kind of evidence be under control by the district attorney's office.
That also means that the San Diego County District Attorney's Office is handling an investigation into the incident review.
However, this presents an issue to protesters who believe that keeping the investigation local could compromise the impartiality of the case.
"We do not trust local prosecutors to investigate local police," Rev. Shane Harris, president of the National Action Network in San Diego, told the Los Angeles Times.
The lack of transparency from the El Cajon Police Department has troubled members of the black community in the area. Protesters demanded the release of both the video as well as the 911 call – allegedly from Olango's sister Lucy Peterson.
"I called the 911 three times to come and help my brother, that he's mentally perturbed and he needed help" Peterson told KNSD. Peterson explained that before police arrived, her brother had been running in and out of traffic and that she had followed him in her car while trying to get help for him.
Peterson claimed that she had told police that her brother was unarmed and mentally sick. She also tried to convince Olango to remove his hands from his pocket.
While El Cajon police have yet to officially identify Olango as the victim, information about who he was has become available. Both he and his sister were Ugandan refugees who immigrated to the US during the 1990s as refugees fleeing civil unrest and threats of violence against his family from his father, KNSD reported.
The family settled in San Diego, where Olango would go on to receive his GED, get married and start a family. While he and his wife have been separated for two years, there is no documentation of Olango having a history of mental or emotional problems.