2 controversial state laws have just gone into effect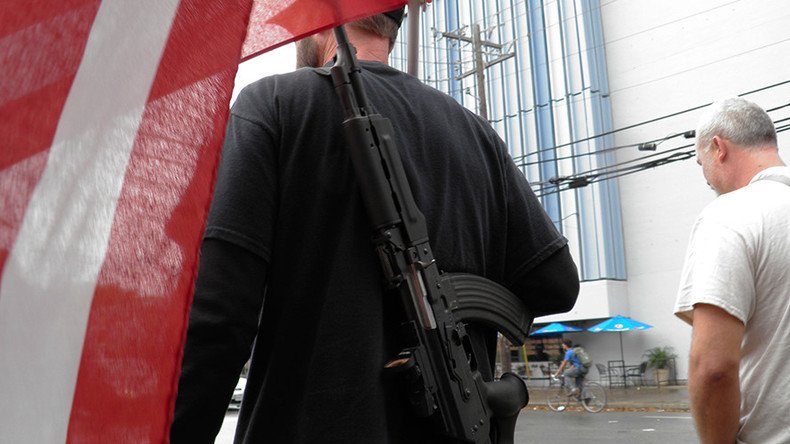 Louisiana's Blue Lives Matter hate crime law and Texas' college campus gun law allowing students and faculty to carry concealed handguns have been enacted. However, public debate is not letting up in the slightest.
Monday marked 50 years since a student opened fire at the University of Texas at Austin (UT Austin), leaving 17 people dead, commonly believed to be the first mass shooting in US history. It is also the first day of Texas' new open carry campus law.
UT Austin spent the day remembering the victims of the sniper-style attack carried out by former Marine Charles Whitman. Flags were lowered to half-mast, and the campus clock was stopped at 11:48 am – the time the attack began. The clock resumes keeping time Tuesday.
Amid remembrances of the victims, students at UT Austin protested the "campus carry" law – which allows students and teachers to defend themselves from mass shootings. The controversial law motivated frustrated students to push back against it, including Jessica Jin, founder of "Cocks Not Glocks" – a student group at UT Austin.
"The purported benefits of this law are not worth the potential for accidents, suicides, escalating ordinary conflicts to deadly levels, or the brain drain of teachers who are either resigning or withdrawing their applications to the university," Jin explained to Vice.
Her group is organizing the August 24 "Campus Dildo Carry," where protesters will strap dildos to their backpacks.
"It's to help people visualize how ridiculous it would look if everybody in our community were 'carrying' [a gun]," Jin told Vice. "Hopefully the dildos will churn up the sense of shock and discomfort that people should feel about guns being everywhere."
Texas is one of eight states to allow campus carry. In 2011, the Oregon Court of Appeals ruled that Oregon public colleges cannot ban weapons on their grounds, but can ban them from classrooms, dormitories and events. In 2015, a student at Umpqua Community College opened fire, leaving 10 dead.
The Texas campus carry law allows for guns anywhere on campus, except for sports arenas, on-campus daycare facilities and research labs. Some universities have taken the liberty of banning them from dorms.
Meanwhile in Louisiana, the "Blue Lives Matter" bill has gone into effect. The state now considers intentional attacks on police or first responders to be a hate crime. The bill was signed in late May by Governor John Bel Edwards and has garnered mixed reactions.
Given the recent brutal attacks on law enforcement in Baton Rouge that left five dead, many support the Blue Lives Matter bill.
"Our job is in a tumultuous time right now because you've got individuals out there that don't mind hurting somebody," Louisiana State Police Superintendent Colonel Mike Edmonson said, KSLA reported.
The NAACP's reaction was not entirely positive, but not particularly negative either.
"Laws like this to me tend to divide because now you're going to separate, where you've got 'Black Lives Matter' and 'Blue Lives Matter,' and you got this contest going on and it's just not helpful," NAACP President Ernest Johnson said.
For what it's worth, Shreveport's NAACP chapter president, Lloyd Thompson, has spoken out in support of the law, saying, "I've said all along that it should be all life matters, regardless."
Other citizens are approaching the bill with mixed feelings and the belief that the blanket of hate crimes may be a bit too much.
"I think it should be judged on a case to case basis regardless," Bossier City resident Trey Cockrell told KSLA.
You can share this story on social media: